Surprising 6: Mazda's big sedan gets a nip and tuck
SINGAPORE — The life of a typical mainstream car is now about six years. In that period, it will usually receive one mid-life facelift, then be replaced by a new-generation model a few years later.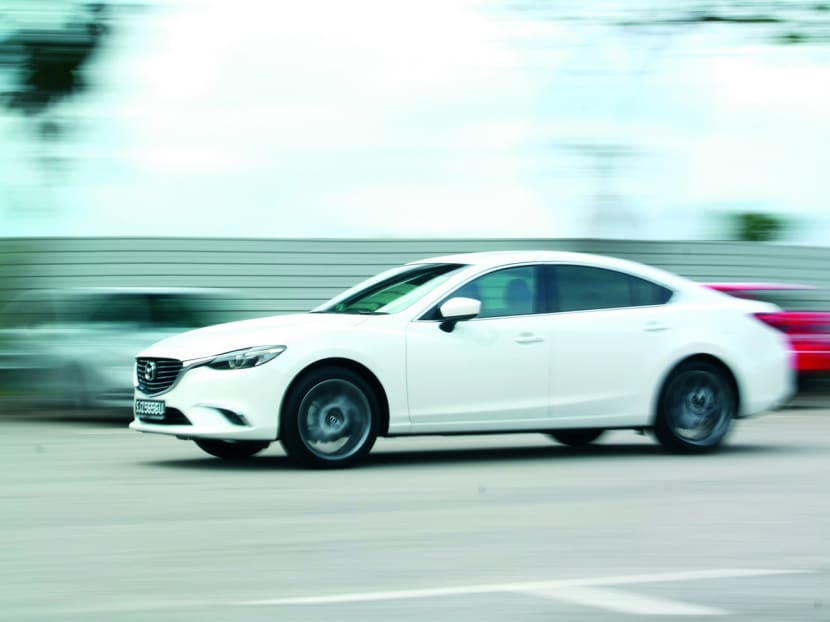 SINGAPORE — The life of a typical mainstream car is now about six years. In that period, it will usually receive one mid-life facelift, then be replaced by a new-generation model a few years later.
Mazda's big sedan, the 6, first appeared in late 2012 and now gets its mid-life nip and tuck. This usually causes a case of the yawns since manufacturers leave the car unchanged mechanically, while giving it cosmetic updates.
The Hiroshima-based brand has done just that here with a subtly reworked front end consisting of a modified grille, sharper-looking headlights and a re-modelled lower face.
The good news is that Mazda has also put plenty of effort into improving the 6 in more subtle, yet substantial, ways that are quite a surprise for this segment.
IT HAS GONE HIGH-TECH INSIDE
Much like the Volkswagen Tiguan, the Mazda 6 also packs a few new high-tech features that make driving it a little easier.
As before, it has a heads-up display (HUD) that lets you view driving and navigation information without taking your eyes off the road, but it now incorporates colour, improved contrast and safety information.
The instrument panel on the extreme right gains a computerised screen that replaces the old monochrome LCD screen, so you can easily view information such as the car's status and fuel consumption. It adds an almost Porsche-like touch to the driving experience.
IT IS EVEN SAFER THAN BEFORE
One motoring trend that we are fully behind is the proliferation of advanced safety systems in less expensive cars.
The Kia Niro and Hyundai Ioniq are great examples of this. Now, the Mazda 6 joins their ranks. A new feature on this car is Smart City Brake Support, a system that autonomously brakes the car at certain speeds (from 4kmh to 80kmh) if it detects an imminent collision and if the driver does not react.
Volvo debuted this sort of technology, called City Safety, in its XC60 SUV almost half a decade ago, and Mazda is one of the first mainstream Japanese car makers to offer it locally.
This is only standard equipment on the most expensive Mazda 6 2.5 variant, the Super Luxury, and it costs S$5,000 more than the Luxury variant, which omits the system.
This is still far cheaper than being involved in an accident, and even lesser variants of the 6 have plenty of other safety features like blind-spot warning, lane-keeping assistants and six airbags.
IT WILL WORK QUIETLY TO MAKE YOU A BETTER DRIVER
The most interesting new feature on the updated Mazda 6 may not be immediately obvious, but has a profound effect on the car's safety, handling and comfort. The 6 comes with Mazda's new G Vectoring Control (GVC), a system that helps reduce cornering forces by adjusting the engine's torque output minutely and very quickly.
It took eight years to develop and having experienced it for ourselves at Mazda's driving development centre in Japan, we can say that it works. For drivers, the car will track a desired line with more accuracy, while passengers will sway around much less.
IT IS STILL A DRIVER'S CAR AND IS VERY EFFICIENT FOR ITS SIZE
Mazda made its name by being one of the more driver-focused manufacturers, and it still shows in the 6.
GVC adds a cleaner edge to the car's already impressive ride and handling, and while it does not have as much legroom as something like a Toyota Camry, the Mazda 6 makes it much easier to pretend that you are not driving a regular family sedan.
While the 2.5-litre engine takes time to spool up compared to a turbocharged one, it is extremely frugal, thanks to Mazda's SkyActiv suite of fuel-saving technologies. These help the car produce fuel-economy figures that are very close to the quoted figure and one of the best in the big-sedan class.
Mazda 6 2.5 Super Luxury
Engine: 2,488cc, in-line 4, 192hp, 256Nm
Performance: 221kmh, 0-100kmh: 8.2s, 6.5L/100km, 153g/km CO2
Price: S$149,800 with COE
On Sale: Now
PROS: Still a sweet drive, efficient and now even safer
CONS: Autonomous braking only on top-line variant