Dining Guide: Where to get your tasty treats (Aug 26 to 27)
ATLAS INTRODUCES NEW DINING MENU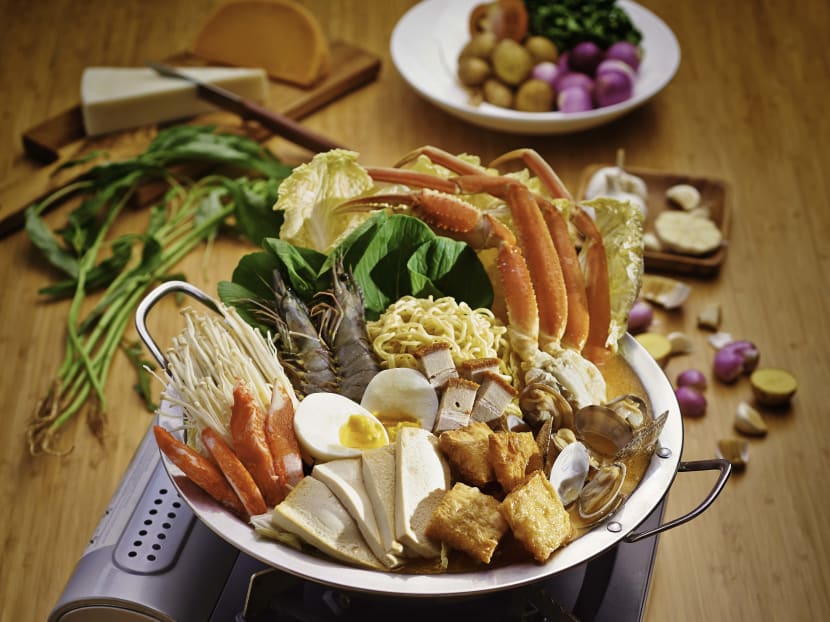 ATLAS INTRODUCES NEW DINING MENU
ATLAS' executive chef Daniele Sperindol has introduced new items to Atlas' dining menu. His additions include hot snacks like The Burnt Edges of the Margherita, Olive tapenade, Basil (S$14), which features a base made of puffed pasta cracker topped with ingredients like mascarpone cheese and oven roasted Perini tomatoes. The Crispy prawn heads, Cod skin, Cucumber Relish and Sawagani Crab (S$24) is a dish that depicts a scene from the bottom of the sea. New main courses include the Saucisson Black Pig Ravioli, Sweet Chestnuts, Veal Consomme, Marjoram (S$34) showcases saucisson stuffed alongside cheese and chicken liver; and Mayura Wagyu Beed Knuckle Steak, Friggitelli peppers, Glazed Borretane Onions (S$40) with pan seared lean meat. Available during lunch hours from Monday to Friday, 11.30am to 3pm; dinner from Monday to Saturday, 5pm to 10pm. Hot snacks are available during limited hours. Visit www.atlasbar.sg for more information. Located at ATLAS Grand Lobby & Bar, Parkview Square, 600 North Bridge Road.
HOTPOT AT JIN HO MIA
Diners at Jin Ho Mia can enjoy hotpots in three variations. The choices are: the signature Tok Kong Pot (S$48.80) featuring an Alaskan King Crab, accompanied with juicy Tiger Prawns and Flower Clams; the meaty Ah boy Pot (S$33.80) filled with salivating roasted pork, bacon, luncheon meat, sausages and meatballs; and a guilt-free yet delicious alternative Giam Pui Pot (S$28.80) that boasts a range of nourishing and fresh seasonal ingredients. Choose from a selection of soup bases such as Tom Yum Broth, chicken broth, tomato broth, Jin Ho Mia's signature fish broth, or the quirky cheese broth. Available on Mondays to Fridays, from 5.30pm to 10pm; Saturdays and Sundays, 11.30am to 10pm. Located at 460 Alexandra Road #02-20.
FLAKY PASTRY MEETS CHOCOLATE GOODNESS
PrimaDeli and Nestle have joined forces to come up with the all-new PrimaDeli Chocolate Croissant. Kit Kat wafers are enveloped in light and flaky pastry. The Chocolate Croissant is available at all PrimaDeli outlets at S$2.40 each or S$5.50 for three.
STARBUCKS CLASSIC BAKED AND SNOWSKIN MOONCAKES
Enjoy Starbucks mooncakes this Mid-Autumn festival. In addition to the all-time favourite Traditional White Lotus Paste with Egg Yolk mooncake, other flavours include the Yuzu White Lotus Paste with Red Bean, Matcha Green Tea with Black Sesame mooncake, and Coffee White Lotus Paste with Maple Walnut. Indulge in unique flavour combinations such as Chocolate with cream Cheese Truffle mooncake, Black Sesame with Yuzu Truffle, Passion Fruit with Milk Chocolate Truffle, and Starbucks Coffee with Dark Chocolate Truffle. Available now in all stores from S$5.50 each. Alternatively, purchase a box of eight assorted baked mooncakes from S$55.90. Visit www.starbucks.com for more information.
SHANGRI-LA'S LIMITED EDITION MOONCAKES
In celebration of mid-autumn festival, Shang Palace at Shangri-La Singapore, presents limited-edition mooncakes with traditional and contemporary fillings in three Shang Palace gift boxes. The Mini Snow Skin Eight Treasures collection (S$88) includes two new flavours, Yuzu Bird's Nest, a tangy sweet and sour yuzu filling with bird's nest in its core, and Chocolate Salted Toffee with French chocolate blend made of 40 per cent cocoa milk chocolate and 66% cocoa dark chocolate. The Shang Palace Mini Eight Treasures Gift Set (S$88) contains eight mini baked mooncakes of two flavours (four pieces each): Low Sugar White Lotus Seed Paste with Quarter Yolk, Red Bean with Almond. The Shang Palace Four Treasures Gift Set (S$78) features four traditional hand-baked mooncakes: Low Sugar White Lotus Seed Paste with Double Yolks, Low Sugar White Lotus Seed Paste with Single Yolk, Low Sugar Plain White Lotus Seed Paste and Mixed Nuts with Chicken Sausage Ham. Available for purchase online at http://slsfestive.oddle.me/ from now to October 2. Alternatively, purchase at the hotel lobby. Located at 22 Orange Grove Rd.
CEREALOUSLYGOOD BEN & JERRY'S ICE CREAM FEAST
Ben & Jerry's brings customers back to milk-splashed morning breakfast meals with new flavours Cocoa Loco, chocolate cereal milk ice cream with chocolate cereal swirls; and Frozen Flakes, a cereal milk ice cream with cereal swirls, Frozen Flakes. The new flavours are exclusively available at Ben & Jerry's Scoop Shops 313@Somerset, VivoCity and Dempsey, or as pints via Deliveroo (S$6) from August 27.