Spread the love, mind the sugar
SINGAPORE — We saw the toddler take a swig from his bottle of soft drink, little droplets of sugared water dripping down his tiny chin. He looked no older than four.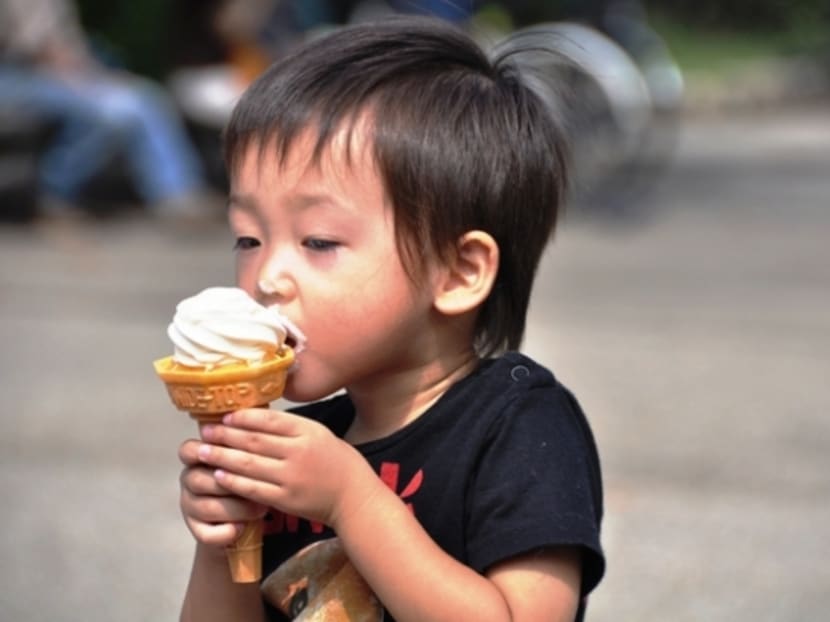 SINGAPORE — We saw the toddler take a swig from his bottle of soft drink, little droplets of sugared water dripping down his tiny chin. He looked no older than four.
My eldest child, eyes widening as if he had just witnessed the kid down a vodka, shouted: "Mummy, that baby just had a soft drink!"
Busted. My kids were brought up to believe that soft drinks, like alcohol, were anathema to very young children.
I had earlier noticed a group of preschool age kids sharing the playground. Each was nursing a bottle of soft drink the way my kids tended to their water bottles.
Then came the inevitable question from my three monkeys: How come they can have soft drinks — and we can't?
Every parent has faced this situation: Having to explain house rules to the little tykes without comparing them with another family.
CHILDREN SHOULD EAT WHATEVER THEY WANT?
Parents managing their kids is one thing; but when it comes to other adults, such as doting grandparents or well-meaning relatives and friends — let us just say things can get a little awkward at times.
"Whatever the children want to eat, just give them. No point being too strict." This was dispensed gently by a relative when I tried to stop my toddlers from wolfing down an entire box of chocolates right before dinner. What she really meant was: You are depriving your kids and they will grow up to love — and want — chocolates even more.
Look, I totally get it: the Forbidden Fruit Effect is real. Some psychology research suggests that restricting junk food may have the paradoxical effect of making kids like it even more than they already do.
What I do not understand is why some adults, however well-intentioned, assume that I am "too strict" just because I have other plans for my kids.
By all means, give the chocolate or candy or soda to children. But trust their mother or father to manage when and how much they can consume.
We are already working very hard to teach our kids to make sensible choices in this junk-filled environment, so any support will be much appreciated.
Now, I have an ally — in the Cabinet, no less. When the Prime Minister sounded the battle cry against diabetes at the recent National Day Rally, I say it is a campaign worth fighting for, especially in our young.
KK Women's and Children's Hospital has reported that more children and teenagers are diagnosed with Type II diabetes, the type commonly associated with being overweight or obese. Among five-year-olds in Singapore, one in 10 is overweight.
So uncles, aunties and grandparents, at the next festive gathering, when Mummy stops the child from taking the candy, understand that it may be because he has been eating it all morning.
I am always grateful when people ask me "Is it alright if I give her a chocolate", instead of just handing over the snack to my child.
It gives me room to respond in a positive way that "saves face" for all. For example: "Please thank the Aunty for the candy, and we can enjoy it after dinner!"
TIME TO REDEFINE TREATS
In a 2013 study of 2,000 parents, commissioned for family comedy film Parental Guidance, 83 per cent said their children were regularly spoilt by their grandparents. Chocolate or cakes were the most common treat.
Our culture is obsessed with giving food as a reward, or to show affection. I am guilty of that too — I have often positioned sweet snacks and drinks as "treats".
Been a good boy? Let's go for ice-cream! Full marks for spelling? Wow you deserve a flavoured milk shake!
The problem is, children are wired to love treats. If we continually position sweet stuff as "treats" or rewards, are we inadvertently conditioning them to love sugar?
Firstly, there are so many other ways to reward our kids for good behaviour or performance. Treat them to an experience at the zoo, or go for a boat ride. The latest comic book to add to his collection might not be a bad idea, too. We need to find more ways to show our love.
Secondly, neutralise the appeal of the Forbidden Fruit. A useful tip I learnt some years ago was to designate a certain day for their favourite snack, usually something sugared or deep fried.
My son was craving to buy something from a vending machine. Every time we walked past the machine after school, he would beg me to let him. I refused, for fear that he would get used to buying junk from machines.
Finally, tired of the incessant argument, I designated a "vending machine day". He would get to slot in the coins and make his purchase every Wednesday. That settled it. No more negotiations henceforth. It was not too long before he got tired of the vending machine.
Granted, a recent NUS study has found that having overweight parents is the likeliest cause for obese children, not sugary treats from other doting adults like grandparents and uncles and aunties. But while parents work hard to be the best role models we can be, let others not throw sugary spanners in the work.
Which brings me back to the day when the kids were looking intently at me, waiting for a response.
"In our family, we do not take sugary drinks on a regular basis," I finally said.
"Not fair!"
"Not fair then you go and live with them!" was the only thing I could come up with.
Sugar coat my words? Nah, not me.