A Stay-at-Home mom survival guide
SINGAPORE — Before I had a baby, becoming a stay-at-home mother (SAHM) never crossed my mind. I would make it work, I thought, find a way to balance my career and raise my child without having to give up anything.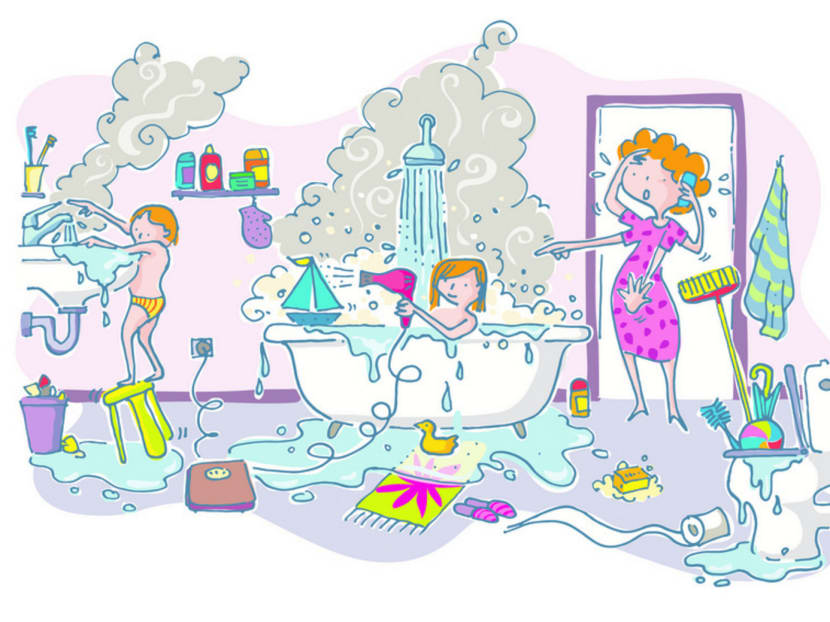 SINGAPORE — Before I had a baby, becoming a stay-at-home mother (SAHM) never crossed my mind. I would make it work, I thought, find a way to balance my career and raise my child without having to give up anything.
I figured I could send her to childcare when she turned 7 months. I'd be the "fun" mum on weekends, and we would find a way to bond properly on family vacations. I'd have peace of mind to focus on doing my job and have enough energy at the end of each day to come back and spend "quality time" with my daughter. I had it all planned.
I was so wrong.
The reality was this — I spent most of my hours at work wondering at the back of my mind what she was doing. I worried endlessly about her physical and emotional development.
Worst of all, it turned out the one with the separation anxiety was me, not her. The idea that all I saw of her for five days a week was her grumpy, half-awake face in the mornings and her angelic countenance at night was torturous.
As we were fortunate enough to be able to survive comfortably (albeit nervously) on a single income, I decided to quit my job.
The past year as a SAHM has been both exhausting and inspiring, imperfect but wonderful.
For those already knee-deep in this journey or if you're considering embarking on this, here are my tips on making the ride a little less bumpier.
STAY IN, OR GO OUT
Entertaining an active toddler can be exhausting. Arm yourself with an arsenal of toddler-safe activities that can capture their attention. Sensory play activities are your best bet. From a kinetic sand table, to water beads, coloured shaving cream, and home-made play-dough recipes, the possibilities are endless! Most involve ingredients you can easily find at home or at the supermarket, and allow for hours of exploration, sensory development and the building of fine motor skills. Also, once your child is able to sit up and move around by themselves, why not sign up for a Mommy and Me class? Good ones to start with are music and movement or drama classes where you get to expose your baby to rhythm, dance and play. Both you and your little one can get some good social interaction — that's always a win-win! By the way, most of these classes offer trial sessions so you can attend many before deciding what's the best fit for you. If you're on a budget but are looking for outdoor activities, head to Singapore's water-play parks. The Jacob Ballas Children's Garden in the Singapore Botanic Gardens and the huge water play area at Gardens by the Bay are good places to check out, as they cater to both toddlers and older children. Did I mention they were both free?
IMPORTANT: FIND A COMMUNITY
Finding a playgroup of other like-minded mamas and children of the same age will make sure you get to catch a breather and finally enjoy some adult conversation. Staying at home all day will often be mind-numbingly lonely and frustrating. So even if it's just a Whatsapp group of other mothers you can seek advice and support from, or an active circle of friends you can meet up with on playdates to the beach, find them — they will be your crutch and your listening ear. Also, try Facebook. Cooking for my baby groups, pre-school resources groups, babywearing groups and much more, it's a veritable goldmine of survival tips.
MAKE TIME FOR YOURSELF
Being a SAHM is a full-time job. Which means you'll burn out if you don't take care of yourself too — something I learnt the hard way. Halfway through my year off, I became so exhausted that my husband staged an intervention and instituted compulsory "days off" for me. That means once a week, I leave my daughter in the hands of a caregiver for an afternoon while I go out and pamper myself — whether with a leisurely, hot meal (a luxury when most days you eat cold toddler leftovers), a massage, a few hours to read and enjoy some tea at home, or simply a long nap so you can recharge. Trust me, you deserve it.
APPRECIATE THE SMALL THINGS
This job is probably harder than anything you've ever done in your whole life. But by being home for my daughter every day, I found my affirmation in the smallest but most beautiful moments. The shining joy in her face as she took her first steps towards me, legs wobbling but eyes fixed on my face. The first time her feet touched the sand and her eyes widened with shock and amazement. The first time she picked up a flower off the ground and offered it to me, wide-eyed and waiting for approval. But most of all, when she looks at me like I am her whole world, places her small palm firmly on my cheeks and says solemnly, "I love you mama. So much." And for me, that was and always will be enough.