25 hawkers get S$10,000 each from Tiger Street Food Support Fund
Stalls with innovative designs, a view towards long-term expansion and allotting part of their budgets towards marketing. These qualities were what won 25 hawkers grants of $10,000 each from Tiger Beer.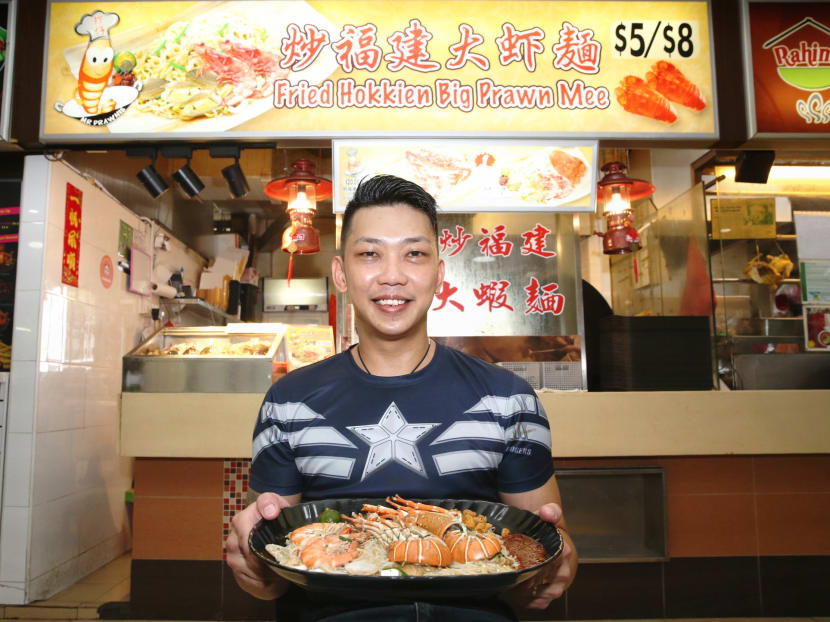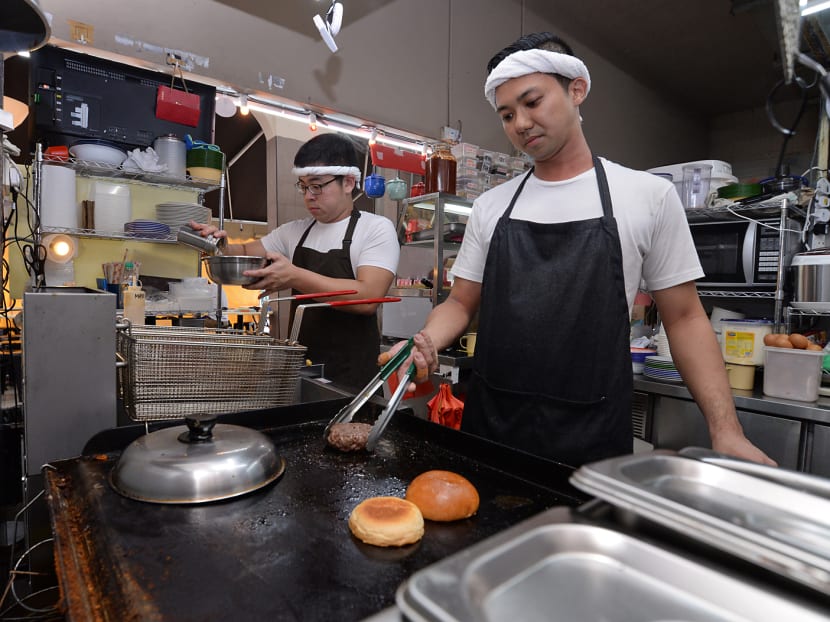 SINGAPORE — Stalls with innovative designs, a view towards long-term expansion and allotting part of their budgets towards marketing. These qualities were what won 25 hawkers grants of $10,000 each from Tiger Beer.
The beer brand, which aims to promote and support the hawker trade in Singapore with the first Tiger Street Food Support Fund, handed out the grants to the recipients at an awards ceremony held at Asia Pacific Breweries in Tuas on Thursday morning.
Sixteen of the recipients currently run stalls, while nine have yet to set up. In order to be eligible for the grant, their commitment is to do so by 31 Dec this year (2017).
One hawker-to-be with a social media marketing plan in place is Tan Yu Yan, 28, an account executive who is working with her brother Tan Wee Yang, 25, to set up a stall in Jurong East. Called Ah Tan Wings, they will offer Har Cheong Gai (prawn paste chicken) at their stall. The duo have already set up the business' Facebook page and are giving out discounts on dishes for Facebook likes.
"We (also plan) to collaborate with food bloggers and social media influencers — not just by asking them to review our food, but also (to do) giveaways," she added.
Tiger Beer's head of marketing, Venus Teoh, said that one of the aims of the Fund is to inspire the next generation of hawkers.
"With the rise of the next generation of hawkers, we are seeing a lot of passionate individuals who are motivated to innovate and modernize traditional methods of cooking," said Teoh. "We have also observed the rise of a new generation of customers who have grown up with better options, seeking novelty and demanding better quality ingredients."
"The challenge for many new hawkers would be how they can keep hawker food affordable, accessible and attractive, without compromising on quality and innovation."
Fund recipients were selected from among 135 applicants, after two rounds of screenings and an interview. Forty-five finalists then presented their business plans, a financial review with post and projected earnings, and longer-term expansion or sustenance plans for their businesses to a selection panel.
The final recipients were selected by a panel of judges that included three members of Asia Pacific Breweries Singapore's management team — managing director Samson Wong, marketing manager Soo Kui Jien, and Teoh.
The Street Food Support Fund marks the end of Tiger Beer's year-long line-up of initiatives that sought to raise awareness and support for hawkers, although Teoh added that the brand will continue to support Singapore hawkers through future initiatives.
There will be check-ins on the progress of Tiger Beer fund recipients to find out more about their challenges, and to see where Tiger Beer can be of help, she said.
The Tiger Beer Street Food Support Fund comes at a time when the government is reviewing the sustainability of the hawker trade. A 14-member taskforce formed in January last year and chaired by Senior Minister of State Amy Khor submitted recommendations earlier this month to develop training programs for young and aspiring hawkers, and to improve customers' dining experience by providing free Wi-Fi access and music performances.
The 25 Tiger Beer Street Food Support Fund hawkers will receive their grants in two tranches. The first S$5,000 was distributed at the awards ceremony, while the next will be given in the form of reimbursements at the end of July. Each recipient can use the grant for any aspect of their hawker business, except for rental costs.
We profiled three fund recipients with stories to tell:
SILAS LEE, CORNER BURGER
This guy is one to watch.
The owner of Corner Burger, located in a coffee shop at 228 East Coast Road, has eight years of experience working first in marketing for a restaurant, then as a bartender at Ding Dong, Tippling Club and Smoke & Mirrors.
His intent is to create a new F&B culture in Singapore where people can access good food at reasonable prices. To that end, Lee will even share a part of his S$10,000 grant from the Tiger Street Food Support Fund with his neighbours at the coffee shop. He will invest the remaining money in equipment that he says will help him to bridge the gap between hawker stalls and high-end fine dining kitchens.
Ask him about why he started up, and Lee - who runs the stall with business partner Desmond Yong - reveals that Corner Burger was a project he had conceptualised with his grandmother.When she was alive, Lee and his grandmother would often talk about opening a stall together. They would plan menus and experiment with different recipes at home. But his grandmother died early last year, before she had a chance to see Corner Burger open for business in October.
"This stall is an homage to her. It's me saying 'Popo, this is my way of fulfilling the end of the deal, even if you are not around to actually see the stall'. I'd like to think she is watching over me in some way. She used to live about two minutes away from where the stall is right now," he said.
Many of the recipes are influenced by his grandmother's cooking. And, in many ways, offerings at Corner Burger — where best-selling dishes include the Wagyu Beef and Cheese Burger (S$13) and Tiger Beer Batter Fish and Chips (S$8) — are the culmination of Lee and his grandmother's best ideas, he said.Asked about his choice to open at a coffee shop, and he said that "a coffee shop is an excellent starting point, because there is a lot of talent around who may not be formally recognised as chefs. Around here, there's Katong Laksa, you have your curry puffs, you have roasted duck rice experts who have been here for decades".
He wants to tap into all that talent and "to learn from places like that, even if it is through conversation".
"This helps us fine-tune what we think about the industry, and the stall is hopefully chapter one of many things that will unfold, from this interaction between the old and the new," he added.
LOIS ER, WONDERFULL NASI LEMAK
The 26-year-old is an example of the next generation of hawkers. She could have spent her youth working as a graphic designer in the relative comfort of an office. Instead, she decided to team up with her father, Alvin Er, 53, to start Wonderfull Nasi Lemak in August last year.
The father-daughter team work in shifts from 8.30am to 10.30pm, five days a week at their hawker stall at #01-96, 51 Old Airport Road. They sell about 180 plates of Nasi Lemak every day, at S$3 to S$4 a plate.
"One of the hardest things for me was really adjusting to the long hours because you have physically do a lot. It is tiring to have to marinate chicken wings, cook rice, carry stuff up and down. Our lives have to revolve around the business," said Er, who has a degree in accountancy from Nanyang Technological University and a diploma in graphic design.
Er plans to use her S$10,000 grant from the Tiger Street Food Support Fund to buy better equipment, like a heavy duty grinder and an extra rice cooker, to help increase productivity. She also hopes to expand her stall, and perhaps move to a bigger space.
"Hopefully in time to come, we can open more stalls," said Er, adding that she and her father chose to sell Nasi Lemak because they themselves love eating the dish. "We really want to reach out to people in residential areas, like helping to bring good food to people, because delivery is a lot more popular than trying to get people to come down to you."
PANG BIAU JUAN, MR PRAWNIE
He is now the proud owner of Mr Prawnie, the Ang Mo Kio hawker stall popular for its fried Hokkien big prawn noodles. He has big plans for his stall, with expansions in two to three months in the works.
But success has not come easy for him.
The 39-year-old opened his first chicken rice stall when he was just 22 years old and, at the height of his career, had a total of 11 chicken rice stalls open across the island. By the time he was in his late 20s, however, he had to close them all.
"I was too young and didn't know how to manage my money. I spent it all on cars, and on alcohol when I went out with my friends to bars and night clubs. I spent about S$3,000 to S$4,000 a day. I wasn't thinking clearly," Pang said in an interview with TODAY.
Laden with massive debts, Pang eventually became a runner for loan sharks. He was in his early 30s when he was jailed for 21 months for unlicensed money lending.
"At one point, I owed about S$100,000 to S$200,000. I nearly broke down," Pang said.
After his release, Pang worked a variety of jobs, including becoming a driver for Uber. He eventually saved enough money to open Mr Prawnie in October last year at 721 Ang Mo Kio Avenue 8, where the wait for a bowl of noodles can take up to an hour during peak dinner times.
Prices at Mr Prawnie start at S$5 for one serving of Big Prawn Fried Hokkien Mee, and go up to S$26 for a combo platter with lobsters, crayfish and big prawns that can serve up to four.
He intends to use his S$10,000 grant from the Tiger Street Food Support Fund to pay for new utensils and equipment for his business, especially as he expands.
His past experiences have also taught him the importance of managing his money prudently.
"When you are doing business, you have to save up money for rainy days," he said.