Dining guide: Aug 31 to Nov 30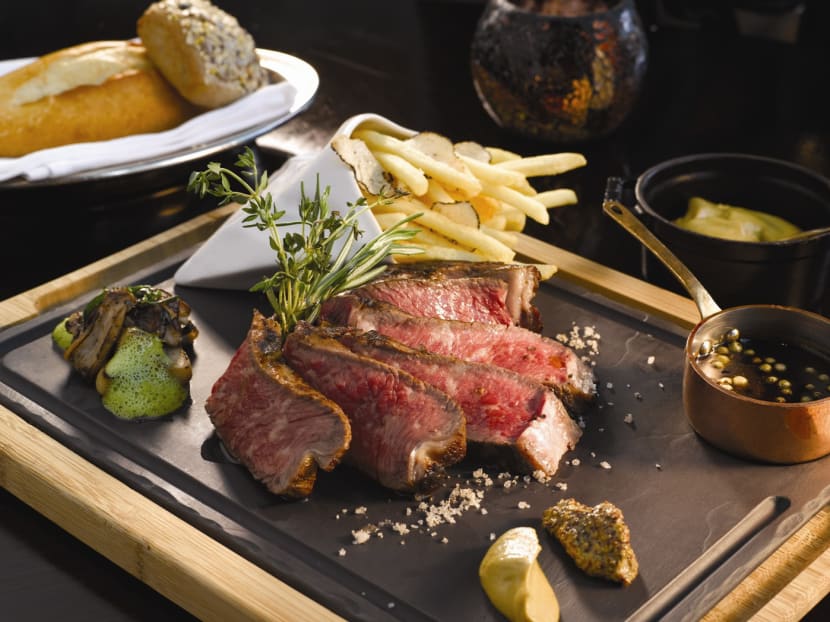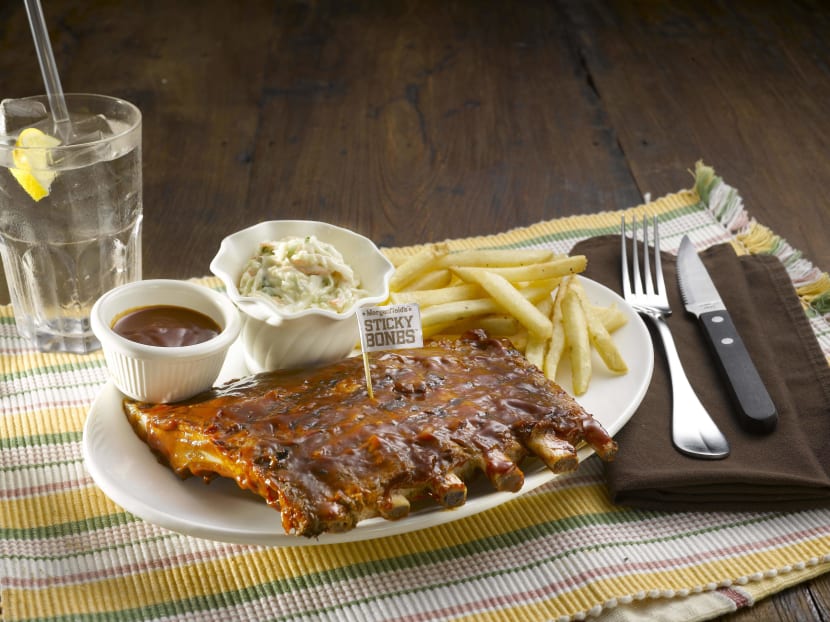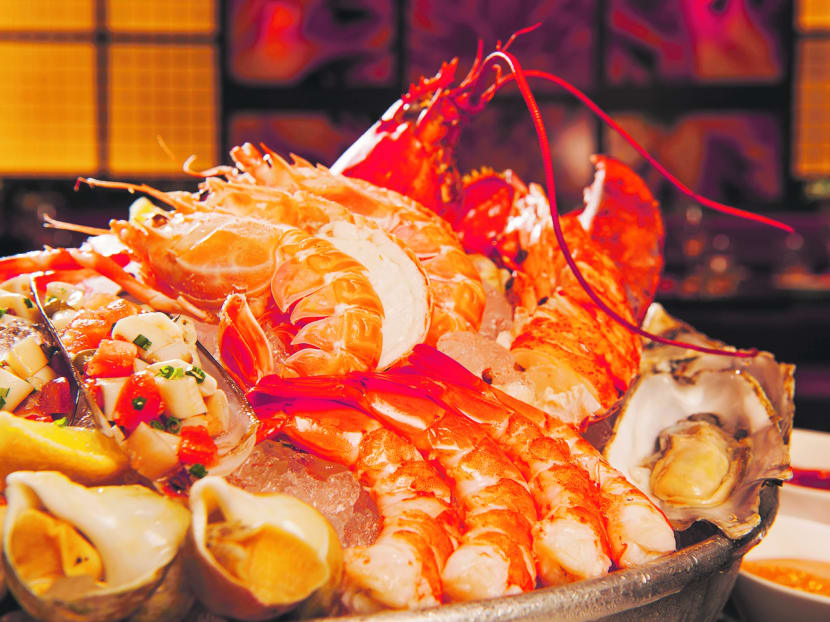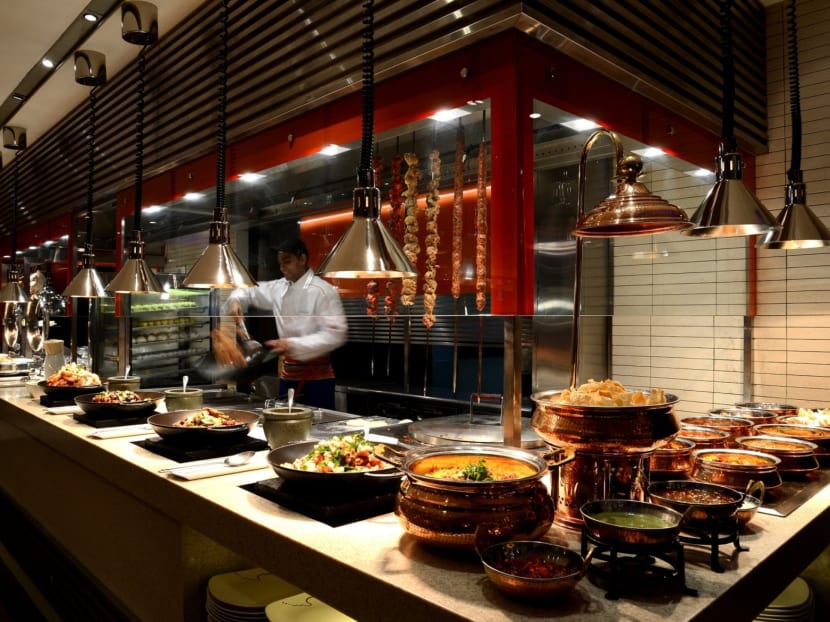 <PRINT>
OLD WORLD SPICE & WINE AT CAPELLA: Over at The Knolls at Capella Singapore, The Old World Spice & Wine Tasting Experience features five "spice and wine stations" each showcasing a notable selection of boutique and hard-to-find wines assembled by leading wine purveyor Ewineasia, paired with specially-made tapas. Today (Aug 31), 11.30am to 5pm, S$68 per person. Call 6591 5046 for reservations.
MORGANFIELD'S SIGNATURE RIBS FOR S$1: In conjunction with the its first anniversary celebrations, Morganfield's will be doling out a series of tempting offers, starting with pound of prime spare ribs glazed with Hickory BBQ sauce (complete with fries and coleslaw on the side) going for just S$1 nett (UP S$26.90) on Sept 17. Conditions apply, though. Or you could just get your ticket (S$48) to Ribfest 2013, which will feature the "biggest rack of barbequed pork ribs in Singapore", aka the Mega Rib.
For details visit www.morganfields.com.sg.
CAPELLA'S MEDITERRANEAN BRUNCH. The Mediterranean brunch showcases the culinary creations of celebrity Moroccan chef Meryem Cherkaoui, and includes a fresh Taktouka Marocaine salad and a savoury Harira traditional Moroccan soup to start, as well as almond "briouattes"among other traditional desserts.
Sept 1, S$188 (inclusive of free flow wines and champagne). Call 6591 5046 for reservations.
TEACHERS' WEEK AT THE CAROUSEL: Reward your mentors at this award-winning buffet restaurant with a lunch treat (S$46 per person) or a relaxed spot of high-tea (S$38 from Monday to Thursday, S$43 on Friday). From Sept 2 to 6, teachers need only flash their teachers' ID to enjoy a 20-per-cent off the total bill.
Sept 2 to 6. Call 6589 7799 for details or reservations.
THE PERFECT PAIRING AT DB BISTRO MODERNE: For a fitting pairing of wine and seafood, db Bistro Moderne's scrumptious Seafood Plateaus can be enjoyed with the Chateau d'Esclans Rose. The luscious platter includes oysters and lobsters, shrimp, clams and scampi. Pair the Petit Platter (S$90) with a petit carafe of the rose, priced at S$5. Or have the Royale Platter (S$295) to pair with the said rose at just S$15 a bottle.
Sept 1 to 30 for lunch, dinner and weekend brunch. Call 6688 8525 for enquiries or reservations.
WAGYU SELECTIONS AT THE CLIFFORD: With its beef dishes already among its most popular items, The Clifford has decided to treat guests with a specially procured Wagyu beef from Australia, celebrated for its high Grade 8 marbling. The beef is featured in an a la carte menu that includes a flavourful French oxtail soup (S$32) as well as aromatic 24-hour orange-scented Wagyu short ribs (S$58), served with salsify puree and green asparagus. A set menu featuring tasting portions of the featured dishes is also available at S$190 per person.
Until Sept 30. Call 6597 5288 for reservations.
<ONLINE>
SPAGHETTI A MEZZANOTTE (MIDNIGHT SPAGHETTI) AT INITALY: Those on the prowl for a scrumptious late-night supper can now pop in for a taste of Chef Mario Caramella's signature Italian cuisine as the restaurant's full a la carte menu will be available till 11.30pm. To complement the occasion, specialty cocktails and its full selection of house wines and spirits are also served. Best of all, the restaurant will be dishing out complimentary serves of Spaghetti a Mezzanotte — piping hot plates of chef Mario's Pasta Of The Night to stir up the appetite. On Fridays and Saturdays at inItaly, 38 Craig Road, telephone: 6423 0918.
MIN-JIANG AT ONE NORTH LUNCH AS YOU LIKE IT PROMO: Diners can now personalise a lunch menu by choosing from the delectable menu of popular and signature dishes conjured by master chef Goh Chee Kong. Priced at S$33 per person for four courses (without rice/noodles) and S$38 per person for five courses from a menu that spans five categories, namely the appetiser platter, soup, fish, chicken or pork, dessert and rice or noodles. Highlights include the Min Jiang Appetiser Trio that boast well-loved specialties like fried fish fillet in Sichuan sauce to start, to a recommended main of braised mini pork belly served with crispy cigar bun. Every day until Nov 30 at Min-Jiang at One North; call 6774 0122 to enquire or for a reservation.
DOLCE VITA'S SUNKISSED SICILY DINNER. Indulge in the authentic and unique flavours of the Mediterranean's largest island, spread across an inspired six-course dinner accentuated with a premium selection of award-winning Donnafugata wines. From a classic warm aubergine starter that is followed by combination of saffron-infused couscous, luscious seafood, and fresh Sicilian vegetables, the menu eases into more robust flavours, such as a serving of pan fried duck breast dressed in the chef's bespoke Sicilian orange sauce. Held in conjunction with the establishment's inaugural Gusto Italiano gourmet festival, the wine-pairing Sunkissed Sicily dinner is helmed by Chef de Cuisine Johnny Meitei, available at Dolce Vita exclusively on September 6, priced at S$178. Call 6885 3500 for dining enquiries and reservations.
CHERRY GARDEN'S MONTHLY SPECIALTIES. Executive Chef Cheng Hon Chau's special of the month is a crisp-fried duck, or, more specifically, boneless duck soaked in a fragrant spiced marinade for over an hour before it is filled with glutinous rice and basted to a golden finish (S$32 per serving). Available for lunch and dinner, from Sept 1 to 30 at Cherry Garden, Mandarin Oriental Singapore, Level 5. Tel: 6885 3500.
SENSO'S SUMMER MENU FEATURING BLACK SCORZONE TRUFFLES. The occasion for Summer "Scorzone" Black Truffle has arrived, along with an exciting invite to enjoy this seasonal rarity with a variety of favourites from around the region, from Venice to Tuscany, at stalwart Senso Ristorante and Bar. A Sardinian artichoke soup with aged parmesan and shaved truffle is a great way to start. And if you're aiming to fill up on something more hearty, its Sicilian adaptation of quail stuffed with figs and braised vegetables, is prepared with lemon sauce and the restaurant's signature puree, then served with more shaved Scorzone truffle, of course. Subject to availability, this menu can be had until Oct. Call 6224 3534 to enquire of make a reservation.
MATSUTAKE MUSHROOM SEASON AT MIKUNI. Back by popular demand, Mikuni invites diners to once again indulge in a celebration of one of Japan's most prized mushrooms, expertly prepared by Mikuni's Executive Chef Moon Kyung Soo. There is even a revival of an old favourite rom the Matsutake mushroom in the form of Moon's Kagoshima Wagyu Sukiyaki, from the a la carte menu. Generous blocks of wagyu are added to a hotpot of onion, burdock and bamboo shoots, topped with a panko-crusted fried whole egg. Guests who opt for the Matsutake Seven Course Dinner Tasting Menu (S$200/S$300 with sake pairing) can look forward to unique creations such as the Modori Katsuo Tataki, interlaced with slivers of Matsutake mushrooms and dressed with a fragrant black truffle mushroom soya. Dishes on the Matsutake mushroom a la carte menu start from S$38. From Sept 15 to Oct 15 at Mikuni, Fairmont Singapore. Tel: 6431 6156
AUSTRALIAN WINTER TRUFFLE AT CAPELLA. This August also marks the height of the black winter truffles season in Australia. And from now till August 31, diners at Capella Singapore's restaurants — The Knolls and Cassia — will be able to enjoy the said tuber melanosporum, some of the finest grade, with their meal. To complement this indulgent season, a special three-course tasting menu (S$130 a person) has been created for diners at The Knolls. It features carefully selected ingredients by Executive Chef, David Senia, starting with an unfussy dish of truffle scrambled eggs with truffle shavings served with a toasted brioche, that is followed by a potato and leek soup served with shavings of Iberico ham and the truffle, to finish with a truffle risotto paired with beef cheek ragout. Truffle shavings, priced at S$8 per gram, are also available for guests to embellish their meals. Call 6591 5046 to enquire or to make a reservation.
10 AT CLAYMORE'S TIMELESS PLATES OF PLEASURES. Available in petite portions and unlimited servings. Don't miss the Indo-China duck breast pan-seared in a tangy citrus honey glaze or the Australian master Kobe wagyu beef that's slow roasted and served in a mushroom crème dressing. Available until Sept 30 at 10 At Claymore, Pan Pacific Orchard. Tel: 6737 0811.
PLATTERS RED OR WHITE DRINKS BARREL PROMO. In celebration of National Day, Platters Bistro & Wine Bar has rolled out this drinks promotion, designed in the same spirit of sharing a good meal. Anyone born in August or in 1965, can purchase a Platter Barrel of Moscato Sangria or Red Wine Spritzer at a special price of S$99 (UP: S$120). That's 2.5 litres or 15 wine glasses. The Platters Moscato Sangria is a blend of moscato and white peach juice, ideal for those who prefer a sweeter tipple, bursting with aromatic fruity flavours. The Red Wine Spritzer, a blend of a fruity red wine and lemonade — a summer version of the classic Spanish Sangria. Until Aug 31. Tel: 6223 8048.
PRE-THEATRE SET DINNERS AT MARINA BAY SANDS. Fans of The Phantom Of The Opera can now enjoy special pre-theatre menus at four celebrity chef restaurants at Marina Bay Sands. Dinners feature signature dishes of the various restaurants with either a two- or three-course meal available from 5:30pm to 7pm until Sept 1. CUT by Wolfgang Puck (Tel: 6688 8517), for instance, is serving a two course set dinner (S$65 per person) with a choice of its signature seasonal starters such as the Heirloom Tomato Salad with Goat Cheese. Diners can have the USDA Prime Striploin "Steak Frites", Norwegian Salmon "En Barigoule" or the Halal Baby Chicken with potato puree and field mushrooms as the main course. Other participating restaurants include db Bistro Moderne (Tel: 6688 8525) with its offer of a two or three course pre-theatre menu at S$58 or S$68 with a glass of wine; Osteria Mozza (Tel: 6688 8522) and its three course pre-theatre menu for S$60 per person; and Guy Savoy (Tel: 6688 8513), which is offering a three-course menu from 6pm to 7pm at $130. Online reservations at www.marinabaysands.com are also available.
AXIS BAR & LOUNGE'S RED AND WHITE AFTERNOON TEA. Enjoy an afternoon (S$42 per person) with tea from Mariage Freres and TWG, and desserts crafted with local flavours such as the jellified Singapore Sling, straits pandan layer cake and gula melaka scones. Available daily (3pm to 5pm) until Aug 31 at Axis Bar & Lounge, Mandarin Oriental Singapore, Level 4. Tel: 6885 3500.
THE LINE'S S$4.80 BUFFET LUNCH AND DINNER. Indulge in Singaporean laska or Hainanese chicken rice in the spirit of National Day. The freshly shucked oysters are one of the highlights. For every two adults paying the full buffet price, the third diner pays S$4.80 for either lunch or dinner. This offer is exclusive to online bookings. Until Aug 31 for lunch and dinner at The Line, Shangri-La Singapore. Tel: 6213 4275.
7ADAM'S SINGAPOREAN MENU. Pay S$S48 to enjoy an appetiser, a main course and a dessert. For mains, try the chicken rice with grilled chicken brochette with Asian herbs and rendang braised beef with steamed basmati rice and pickled achar. Pair it with a 7Adam Singapore Sling at S$10. Until Aug 31 at 7Adam Gallery Restaurant, 7 Adam Park. Tel: 6463 0777.
RICCIOTTI'S 1-FOR-1 REOPENING SPECIALS. Celebrate the reopening of Ricciotti at China Square with 1-for-1 reopening specials on selected pizzas, pastas, wine, beer and cakes. Until Aug 31 from Mon to Fri (3pm to 10pm) and all day on Sat at Ricciotti Pizza Pasta Grill, China Square Central, #01-36/37, Nankin Row. Tel: 6438 8040. www.ricciotti.co.
RED HOUSE SEAFOOD OPENING SPECIALS. Expect quality seafood from this restaurant with 37 years of experience. Signature dishes include the lobster covered in a velvety signature cream custard sauce, and the spicy seafood combination of scallops, prawns, fish and squid in a spicy Thai-inspired curry. The tangier and slightly sweeter version of the crab in Red House chilli stew is also a must-try. Enjoy 20 per cent off a la carte food menu during lunch and enjoy S$50 off your bill when you spend above S$150 on the a la carte food menu during dinner. Until Aug 31, only exclusive to Red House Seafood at 68 Prinsep Street. Tel: 6336 6080. www.redhouseseafood.com.