First-time operators add spice to Punggol bistro park
SINGAPORE — Seven new eateries quietly opened earlier this month at a new container park in Punggol East.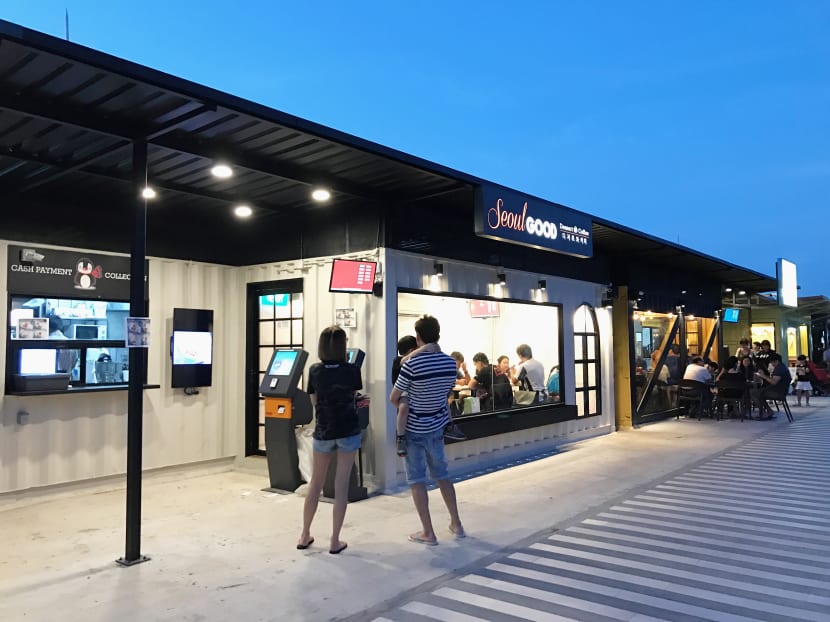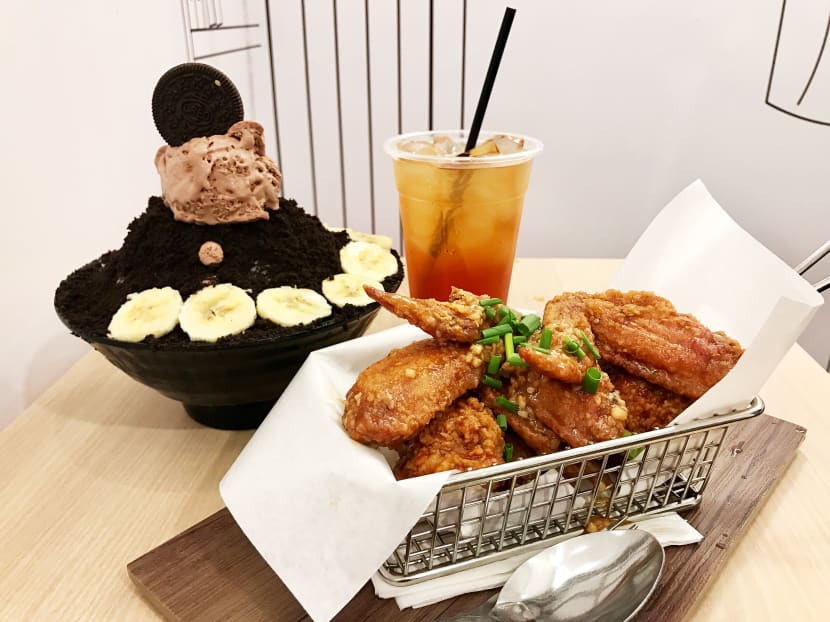 SINGAPORE — Seven new eateries quietly opened earlier this month at a new container park in Punggol East.
Located at Tebing Lane and facing the Punggol Promenade Riverside Walk, the new cafes offer anything from Korean chicken to fish and chips, craft beers and Peranakan food.
The eateries are mostly run by people new to the F&B scene, who were drawn to the container-park concept.
Ani Wen Xing, 33, sold mobile phones and accessories until last year. He decided to open Boost @ Banks, the first bar in Punggol to feature electronic dart machines, upon hearing from a property agent contact that Punggol was to get its own container park dedicated to eateries.
"I thought it was an interesting concept, and I wanted to do something different. I didn't want to open in a mall, for example," he said, adding that the open-air design and outdoor seating options were important to him.
A. Lee, 45, who declined to give her full name, was an interior designer for 10 years before opening L'Chiam Bistro. She had worked on the design of various eateries in the course of her work.
When the opportunity arose to open in the Punggol park in Oct last year, she took it. As a Punggol resident, she had been constantly saying that "if there was the right location" in her neighbourhood, she would go for it. She has long admired container parks such as Artbox in Bangkok and Boxpark in London, which she has seen when travelling to such countries for trade fairs.
"It's an interesting concept that helps artists and young entrepreneurs set up their own (businesses)," she said, adding that the set-up cost for a container eatery — where the physical space of a 20ft container is limited — is often distinctly more affordable than that of a physical store.
Set-up costs, various operators said, can range from around S$150,000 to S$250,000. Rent in a container park can start at just S$1,500 per month.
Alvin Chua, 38, had a little more experience in the food and beverage industry than his neighbours at the container park.
He had been part of a company that conceptualised and developed restaurants and cafes. He quit his job in 2015, and the idea of starting his own restaurant stuck with him. His former employer encouraged him to open a spot, even coaching him through the opening process for Seoul Good, Chua's new bistro in the Punggol container park.
Like Lee, Chua knew of other container park enclaves abroad, and was intrigued.
"There's space for more in Singapore," he said, noting that Bangkok's Art Box, Seoul's Common Ground and London's Box Park all opened to wild success. Timbre+, too, the Singapore container gastropark that has live music at night in Ayer Rajah Crescent, packed in the crowds when it opened last April (2016).
The Punggol operators are banking on one other thing for their container park bistros' success — Punggol's riverside vibe.
Ong Wei Sheng, 32, the owner of Big Fish Small Fish, a store that serves traditional British chip shop fare such as fish and chips in paper cones, said Punggol is the perfect place for a start-up. Ong also owns Ah Dong Teh House, also located along the promenade and which opened in 2013.
"Punggol is an up-and-coming place, with Build-To-Order and Executive Condominiums being launched," said Ong, adding that the target market for many of the container park eateries is young working executives and families.
The atmosphere is fun, and visibility for the container park is high — many pass by the promenade on walks or jogs, he said.
L'Chiam's Lee was one person who often walked or jogged past the site where the containers are now set up. It was formerly an empty plot of land.
She loves the view of the water, and says that "in terms of concept, this is what I was really looking for. I wanted to be close to nature".
Kristina Yap, 26, a ride operator at Universal Studios, lives in Jurong but made the hike to Punggol to check out the new container park. She had heard of its opening from online reports.
While Timbre+ offers more variety in terms of food, she said she liked the "relaxing" atmosphere at the Punggol promenade, noting that "Timbre+ can be rather hot".
The Punggol container park has several places she'd like to visit again.
"I am looking forward to return with my family to try the Korean desserts and play darts," she added.
The Punngol container park is located at Tebing Lane in Punggol East.
NEW TWIST ON OLD FAVOURITES
1) SEOUL GOOD
Seoul Good offers a wide range of Korean dishes including bingsoo, a popular Korean shaved-ice dessert.
There's a local twist on one shaved-ice offering: Red bean bingsoo (S$16.90). Other flavours include strawberry yogurt (S$18.90) and Oreo cookies (S$14.90). Alvin Chua, the owner of Seoul Good, uses imported milk powder from Korea for the most authentic bingsoo experience. The store also serves Korean fried chicken in four flavours, such as bulbogi. Prices start from S$9.90, depending on how many pieces of chicken you want.
2) BIG FISH SMALL FISH
This eatery serves traditional British fare, with fish and chips being the focus of the menu. Pick from five different types of fish such as dory (S$6.90), salmon (S$12.90) and red tilapia (S$7.90). The dish comes with heaps of potato crisps, and the sauces come in flavours such as salted egg. Salted egg fried calamari with dried bonito flakes (S$7.90) and XO Shrimp (S$7.90) are also on the menu. Desserts include churros with chocolate sauce and mini marshmallows (S$6.50) and chocolate lava cake (S$5.90).
3) L'CHIAM BISTRO
L'Chiam pairs home-style Peranakan food with beer. The popular curry chicken set (S$18) with fragrant jasmine rice is a hot crowd favourite. Sample the complete range of Archipelago Brewery's craft beers at Happy hour, from 5pm to 8pm, when two pints of beer cost just S$18+ (S$16+ a pint after 8pm).
4) D'GRILL
At D'grill, the piping-hot tze char food includes a special seafood platter with mussels and baby octopus (S$18 for two people, S$28 for three people), grilled hot plate sambal stingray (S$13) and fried bamboo clams with garlic sauce (S$13).
The eatery offers outdoor seating only, with metal chairs and wooden tables that fit right into the riverside atmosphere.