Dining guide: June 18 to 24
DINE WITH DAD AT PUTIEN. In conjunction with the restaurant's 15th anniversary, diners enjoy 15% off all Fathers' Day dishes when they dine in with their dads. ON the menu are exquisitely prepared home-style dishes that put the spotlight on the original taste of ingredients used. These include wholesome dishes such as the Herbal Sea Cucumber Stew with Maca (S$22.80) and Braised Fish Maw with Leeks (S$38.60). Available until June 21. Visit http://www.putien.com for details.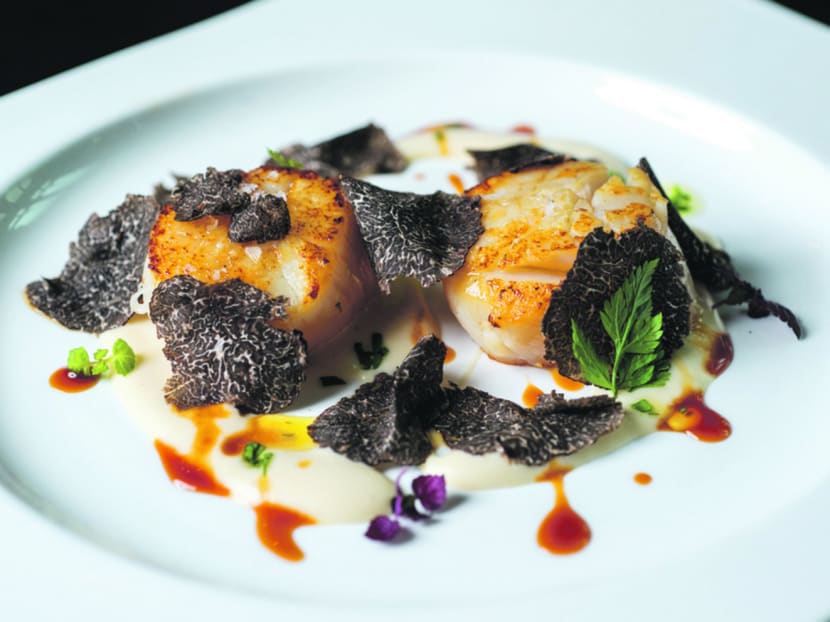 DINE WITH DAD AT PUTIEN. In conjunction with the restaurant's 15th anniversary, diners enjoy 15% off all Fathers' Day dishes when they dine in with their dads. ON the menu are exquisitely prepared home-style dishes that put the spotlight on the original taste of ingredients used. These include wholesome dishes such as the Herbal Sea Cucumber Stew with Maca (S$22.80) and Braised Fish Maw with Leeks (S$38.60). Available until June 21. Visit http://www.putien.com for details.
A CASUAL CELEBRATION AT XI YAN. Father's Day is just around the corner, and from now until June 21, diners, can consider a value meal at the brand's casual dining outlet at Shaw Centre. These menus of six to eight courses are priced from S$28.80, S$38.80 and S$44.80, and include drunken chicken with Chinese plum and wine, stir fried rib eye with pickled green mango, stir fried Sichuan garlic prawns, and silken tofu with salted yolk broth, among other signatures. Call 6733 3476 for enquiries or to make a reservation.
ITALIAN WINE DINNER AT ZAFFERANO. As part of a series of activities, Zafferano, a newly appointed Singapore Ambassador of the Biondi Santi wines, is offering an exclusive five-course wine-pairing dinner on June 26 where winemaker Tancredi Bondi Santi will be providing guided tastings of several 2010 releases from both the historical Tenuta Greppo in Montalcino, and the relatively new Tenuta Castello di Montepò in Scansano. Dinner is priced at S$138 per person. Call 6509 1488 for reservations and enquiries.
FATHER'S DAY DINING AT FAT COW. Treat dad to Fat Cow's popular dishes, such as pan-seared foie gras and well-marbled A3 Wagyu Sumibiyaki. The six course Japanese Wagyu set dinner (priced at S$188) comes with a complimentary glass of Glenmorangie 10 Years Old or Veuve Clicquot Yellow Label Brut. Available throughout the month of June. Call 6735 0308 to enquire or make a reservation.
FATHER'S DAY FEAST AT MAN FU YUAN. Executive Chef Kwan Yiu Kan and his culinary team present two specially crafted 8-course set menus. Fathers dine free with every three set menus purchased. Paired with a complimentary bottle of red wine, highlights include braised baby abalone and Chinese mushrooms (part of the S$128 per person menu) and smoked duck with Chinese tea leaf and brown sugar (for the S$148 per person menu). Available on June 20 and 21. Call 6825 1008 to enquire or make a reservation.
TURKISH CUISINE RETURNS TO CAROUSEL. Following last year's successful introduction of Turkish cuisine, Carousel welcomes Chef Ahmet Akpinar back to showcase his take on traditional Turkish cuisine and desserts, from the Black Sea, Mediterranean and Ottoman regions. Signature dishes include the karalahana dolmasi (cabbage rolls with minced beef stuffing); patlican kebab (served with eggplant, hot pide bread and yoghurt sauce) and the classic musakka. Available during the dinner at S$83 per person, from June 18 to July 16. Call 6589 7799 to enquire or make a reservation.
ASEAN FLAVOURS AT HOTEL FORT CANNING. The Salon Restaurant at Hotel Fort Canning is featuring a collection of dishes from around the region inspired by this year's SEA Games. Special creations are the hotel's signature laksa spaghetti (S$18), fried mee siam with Boston lobster ($24), Singapore chilli crab pizza (S$20) and Thai prawn bolognaise pizza (S$20). Available for lunch and dinner in June. Call 6799 8809 for reservations.
HERBAL GOODNESS AT MIN JIANG. For a limited period, guests can enjoy six new soups creations that boast the goodness of quality Chinese herbs and ingredients, with two soup selections available each week. They include Double Boiled Duck Soup with 'Ching Bo Leung' (made with various herbs including solomonseal rhizome, eurayle seeds, Chinese yam, glehnia root and dried longan) and the Double Boiled Venison and Pork Rib Soup with Sea Dragon, which is rich in herbal flavour, balanced with Chinese yam and dates. All soups served in individual portions. Prices range from S$16 to S$18 per order. Until July 26. Call 6730 1704 for availability and reservations.
MORE THAN THE USUAL TREATS AT BAO TODAY. Under the supervision of Chef Wong from Hong Kong, Bao Today's selection of dim sum is made fresh daily. But as its name implies, regulars frequent its three outlets (at 313@Somerset, Marina Square Mall and Hotel Rendezvous) for its unique take on the traditional bao, such as the Half Bao — literally one half of a whole bun, filled with a mix of mushrooms, Chinese sausage, shrimp, chicken meat, salted egg yolk and pork. Steamed whole buns in unique flavours include fillings such as black sesame, sesame skin chicken (a dark-coloured dough encasing a combination of chicken and asparagus), chicken, pork and peanut, as well as sweet white sesame paste filling coloured black (Wang Chao Sesame Skin Bao). Complementing these are Hong Kong café staples such as its XO Sauce Think Think Noodles, curry chicken and an assortment of claypot congee. Visit http://www.baotoday.com.sg/ for details.
EXPANDED LUNCH MENU AT LA TAPERIA. More choices are abound for the same price of S$35 for a three-course set lunch at Les Amis Group's new Spanish eat. Choose from five appetisers, including a starter of Spanish serrano ham and homemade cold cuts with picos cracker and pickles (additional S$4). Options for the main course are even lusher, from braised pork belly and chorizo sausage in chickpea stew, to grilled Australian lamb leg with caramelised piquillo pepper. For an additional S$10, diners can have the grilled Black Angus striploin (200G), or the seafood paella for an additional S$15. Ongoing. Call 6737 8336 for enquiries or to make a reservation.
CELEBRATORY MEALS AT POLLEN. In celebration of its third anniversary, executive chef Colin Buchan has created a five-course tasting menu showcasing signature dishes of the new season, designed to stir the five senses. The anniversary tasting menu will include dishes such as raw Hokkaido scallops served with dashi jelly, apple, shiso, wasabi and avocado puree to start, and for mains roasted cod with new season morels, and roasted lamb rump with confit shoulder. A dessert of Crème Catalan, served with an assortment of sweet berries, pistachio sponge, basil sorbet and tarragon ends the five-course dinner, priced at S$160 per person (S$300 with wine pairing). Available from June 29 to July 31, 6pm to 10pm. Call 6604 9988 for enquiries or bookings.
KIDS DINE FREE AT THE MISSING PAN. With every main course ordered from the a la carte menu, one child dines free on items from the kid's menu. Options include the Kiddy Spag with Ham and Mushrooms, or the French Toastie with fresh fruits and maple syrup. Holiday specials are also available. Valid for kids of age 12 years and below, until June 28. Call 6466 4377 to enquire or make a reservation.
WILD-CAUGHT JUMBO PRAWNS AT THE MANHATTAN FISH MARKET. To preserve their sweet flavour, the prawns are grilled, not fried; and available in a pair (S$15.95) paired with a light and fruity cream sauce and mesclun salad on the side. For something meatier, the Jumbo Prawn Celebration Platter (S$44.95) the grilled jumbo prawn is served with hand-battered fish fillets, oysters and calamari, and hot veggies on the side. Available at all outlets until June 30.
SUCKLING PIG FEAST RETURNS. Si Chuan Dou Hua's wildly popular promotion is back, from now until June 30, and with two tantalising new flavours to boot. With the Barbecued Crispy Suckling Pig with Fermented Bean Curd, fermented bean curd is rubbed into the suckling pig before it is put on the grill, giving this a distinctively piquant flavour. For the Whole Pi Pa Suckling Pig with Minced Black Garlic and Pineapple Sauce, the pig's skin is served with the meat and tendons, accompanied by a new minced black garlic and pineapple sauce, which is meant to cut through the greasiness of the dish for a more refreshing experience. Available at Si Chuan Dou Hua Restaurant at PARKROYAL on Kitchener Road as an a la carte order or in a specially designed set menu priced at S$428 for six persons or S$688 for 10 persons. Call 6428 3170 for reservations.
ANGEL HAIR TRUFFLE AT STARBUCKS. Those looking for a light yet satisfying lunch-fix at the coffee chain can now consider a salad of angel hair pasta, tossed in fragrant truffle cream, sakura shrimps and roe, to go with their chai latte or skinny mocha fix. The revamped lunch menu comprises 16 options (priced between S$7.90 and S$11.90), from baked pasta dishes to soups, salads, wraps and sandwiches.
BURGERS AND BURGUNDY AT AXIS BAR AND LOUNGE. Sample the trio of miniature sliders (S$36) comprising a minced lamb burger peppered with fragrant Indian spices; a Wagyu mini slider topped with caramelised onions, cheddar cheese and truffle aioli; and a teriyaki chicken burger; served with a bowl of fries. Complete the meal with an apt pairing of burgundy-style pinot noirs — priced between S$25 and S$29 per glass (S$125 to S$145 per bottle). The wines are also available in a tasting flight of three glasses for S$42. Until July 31. Call 6885 3500 for details and to make a reservation.
DURIAN EXTRAVAGANCE AT COFFEE LOUNGE. Offered as part of Goodwood Park's annual Durian Fiesta, Coffee Lounge is presenting a dessert buffet packed with a range of seven durian pastries in addition to the regular dessert spread during lunch and dinner. There is the all-new D24 Durian Ice Cream with Rainbow Bread (one serving per guest, also available for a la carte orders at S$7.50 per serving), offered alongside durian macaron, mini durian chocolate wafer roll, durian cappuccino cake, durian mousse cake and durian puff, as well as a live station highlight for a la minute durian pancakes. Available at S$35.80 per person (dessert buffet with durian pastries only); S$28.80 per person (as a top-up with any a la carte main course order); S$49.80 per adult, S$24.90 per child (as part of its Taiwan Porridge A La Carte Buffet). Until Aug 2. Call 6730 1746 for reservations.
SEAFOOD AFTERNOON TEA AT THE LOBBY LOUNGE. Complemented by panoramic views of the bay area, the two-course Seafood and Champagne Afternoon Tea set includes a whole poached Canadian lobster and two freshly shucked oysters served with a choice of three sauces. Other savoury highlights served in a three-tier platter include Lobster rolls served in a house-made butter pan-fried brioche bun; and tuna fried bean curd with raw tuna chopped and tossed with wasabi mayonnaise, sesame seed and pickled seaweed salad. Served daily, from 2.30pm to 5pm at the Westin Singapore Lobby Lounge, Level 32. The sets are priced at S$130 for two persons, inclusive of a bottle of Veuve Clicquot Brut Yellow Label or S$85 for two persons, inclusive of two glasses of Veuve Clicquot Brut Yellow Label. Ongoing. Call 6922 6988 for reservations.
SUNDAY BRUNCH SHELTER. Not your typical buffet spread, the restaurant's new brunch menu is all about comforting classic European and brunch favourites such as its take on the French toast, served with grilled cheese and berry compote, and topped with a scoop of vanilla ice cream (S$17.50). Besides perennial brunch favourites such as eggs Benedict (S$16), diners can opt for more substantial options, such as the Maine lobster pasta (S$68 with a whole lobster) in a robust tomato and bisque sauce to share, or the smoky Chorizo Clam Spaghetti (S$26) with white wine sauce. Ongoing. Call 6466 6225 for reservations.
LUNCH SETS AT BEDROCK BAR & GRILL. These 3-course meals comes with a selection of three starters and three sweets. All steak sets are priced at S$58, while seafood and poultry sets are available at S$38. Diners will also get to choose from newly introduced mains such as the woodfire-grilled striploin and sweets like the sticky stout and toffee pudding. Ongoing. Visit http://www.bedrock.com.sg for details. Call 6238 0054 for reservations.
SET LUNCH AT CATALUNYA SINGAPORE. This newly launched menu (available Mondays to Saturdays) lets diners customise their three-course lunch for only S$38 per person. Pick from three options for each course — soup, salad or tapa for appetiser; seafood, meat or rice dish for the main course; and cake, fruits, or ice cream for dessert. Standouts are the salmorejo (a traditional tomato-based soup originating from south of Spain), red snapper in salsa verde, roasted mushrooms and molten egg yolk as a vegetarian option, and the cultural dessert icon that is rice and milk. All red and white house pour wines are priced at S$10 a glass with the set lunch. Ongoing. Call 65340886 for reservations.