A moveable feast: The Singapore GOURMETbus takes to the streets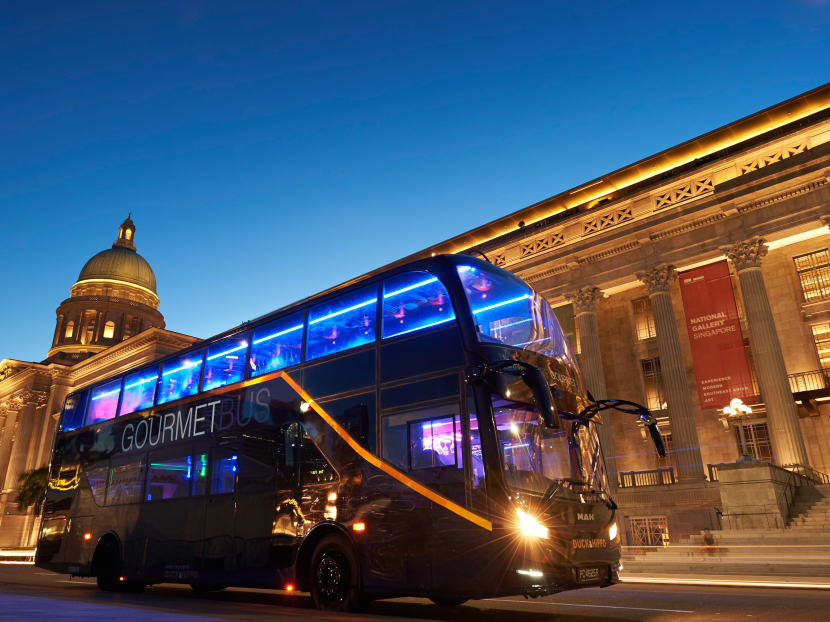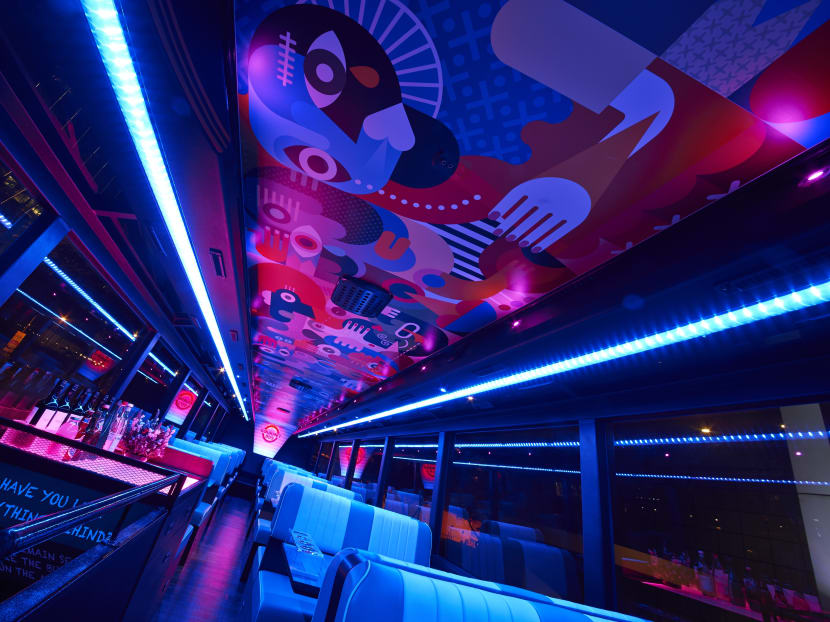 SINGAPORE – Imagine tucking into a plate of Samsui ginger chicken or lemongrass grilled chicken as you wend your way around Singapore's city sights in the Civic District and Chinatown.
That's what Big Bus Singapore City Sightseeing is offering with its new Singapore GOURMETbus (SGB) which begins operations today (April 16). Big Bus is a DUCK & HIPPO company, which is best known for operating the  popular amphibious DUCKtours and open-top bus city sightseeing tours.
Currently, the SGB is offering lunch and dinner provided by two F&B partners. For lunch, guests are treated to a dim sum set menu by Soup Restaurant that includes the restaurant's signature Samsui ginger chicken; while the dinner set menu offers a selection from The IndoChine group that features their popular spring rolls and lemongrass grilled chicken. No food is prepared on the bus though - it is kept heated with a specially fitted food warmer. 
Drinks are a separate charge, and there is no alcohol served onboard. Plans are underway to offer brunch and tea in the second half of the year. 
Zener Teo, assistant director of Communications at DUCK & HIPPO, said while halal and vegetarian options aren't available as yet, they are looking into it.
"Of course, we cannot compete with the restaurants when it comes to the type of food we are serving, but we are not just offering a dining experience. It's a complement to the tour; it's two-in-one – food and sights," she said.
Teo said this is the first of its kind in Asia, and the idea of a bus tour that serves meals came about because guests often inquired if they could eat or drink on the DUCK and HIPPO tours.
"We don't allow that (on those tours) because of security reasons, but we thought, why don't we think of something that can accommodate (these requests)?" she said.
The SGB is a custom-built double-decker bus that has an upper deck designed to look like a dining carriage, albeit one that leans more towards fine-dining, and can seat 32 guests. On the lower deck is a dining area for two people that is wheelchair-friendly and a special seating area with "sofas", as well as the "kitchen area" where the staff plate the meals. 
The bus operates from Monday to Saturday – Sundays are used for maintenance – and plies a route that goes by the Esplanade, Merlion Park, National Gallery Singapore, the Marina Bay area, Chinatown and makes a pit stop at Gardens By The Bay for guests to stretch their legs or take a toilet break, as the bus doesn't have a toilet. The journey then continues with dessert as the bus heads back to Suntec City.
The whole ride takes about one-and-a-half hours, depending on traffic, and commentary onboard is provided via a host as well as a pre-programmed voice commentary triggered by GPS.
Although Teo admitted that this concept might be seen as a tourist attraction, she said that the SGB is also meant for the locals – for example, to celebrate a special occasion – and the bus can be chartered for corporate functions as well.
However, the bus currently cannot accommodate baby chairs onboard, due to space restrictions on the upper deck. "For children who are independent, that's not a problem; but unfortunately, we cannot just pull up a baby chair next to the table," she said.
Teo acknowledged that it will take time for a new product to gain traction, as the SGB is directed at a different target audience from those who take the DUCK or HIPPO tours.
"We see this as something for the seasoned traveller who might be short on time in Singapore – so with this they can see the sights and have a meal at the same time; but for locals, this is something for those who like to try new things and have a different dining experience," she added.
You can get more information at www.GOURMETbus.com.sg.