The new Isetan Scotts supermarket wants you to feel like you're shopping in Japan
SINGAPORE — Freshly-baked bread, a dashi bar serving made-to-order piping hot broth, creamy frozen yogurt made with fresh Hokkaido milk, a sleek sake bar tucked away in a cosy corner — there is a lot more to the newly-renovated Isetan Scotts supermarket than customary aisles of products.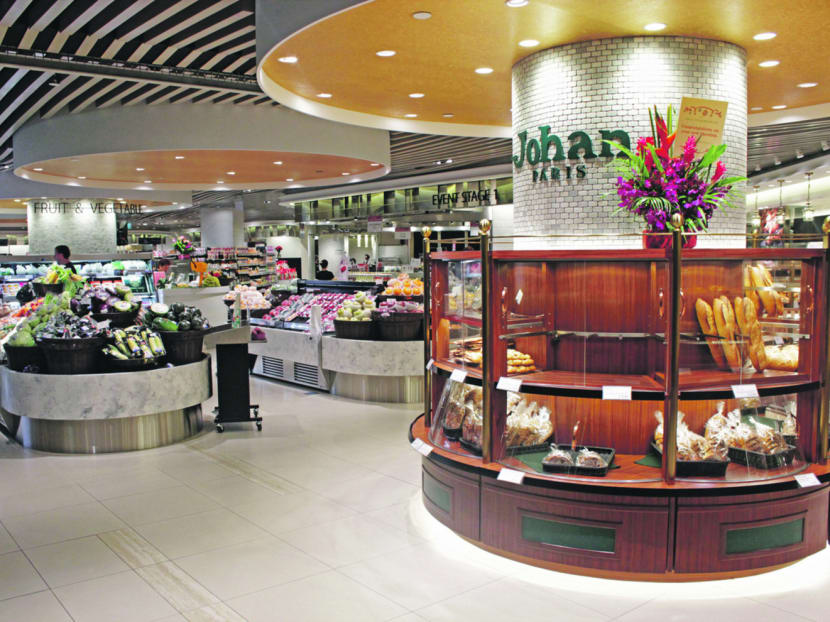 SINGAPORE — Freshly-baked bread, a dashi bar serving made-to-order piping hot broth, creamy frozen yogurt made with fresh Hokkaido milk, a sleek sake bar tucked away in a cosy corner — there is a lot more to the newly-renovated Isetan Scotts supermarket than customary aisles of products.
"We want customers to feel like they're shopping in Japan," said Lim Tay Beng, its division merchandising manager of supermarket and manager of supermarket sales, at the official opening of the supermarket last Friday. He explained that various contact points were strategically designed to increase interaction and enhance the shopping experience.
All 18,000sqft of the supermarket have been redesigned with this in mind. There are designer touches from top design companies in Tokyo, from the wavy ceilings that are meant to evoke the pebble stone paths of Japanese gardens to its comforting, neutral colour concept, and marble and stainless steel surfaces.
Floor space is meticulously carved into distinct areas where shoppers can get to experience Japanese delicacies through food fairs, live kitchen demonstrations and sampling stations. Glass windows, speakers and live camera feeds offer a clear view of the behind-the-scenes processes such as sushi-rolling and tuna-cutting.
Not surprisingly, there is also a greater focus on Japanese offerings. The produce aisles comprise about 40 per cent Japanese items, with the remaining 60 per cent sourced internationally. Among the Japanese produce are the popular Hokkaido 3.6 milk (3.6 refers to the 3.6 per cent fat content, which gives the milk a rich, creamy taste) and high-grade seasonal fruit like Miyazaki mangoes.
It is big on keeping up with the Japanese seasons too, so expect green tea and matcha pastries in May, apples in October and strawberries in December. And while it may not be jumping on local food trends here (baked cheese tarts are not available at the supermarket at the moment), Lim hinted at Japanese pumpkin-flavoured pastries making an appearance soon — and pointed out the food fairs from various Japanese prefectures that are on rotation as examples of how the supermarket keeps things fresh.
So, does this all translate to an authentic Japanese supermarket experience? While the space is smaller than the mega-sized supermarkets of Japan, our rundown of the highlights lean towards a definitive "yes".
YUZU BREAD FROM JOHAN PARIS BAKERY AND SWEET POTATO FROM MATSUZO POTATO
The space at the entrance of the supermarket previously occupied by Sun Moulin is now taken up by Johan Bakery — a popular chain in Japan with two outlets in Singapore (the first opened at Isetan Westgate in 2013 ) — featuring French-style breads and seasonal Japanese flavours. To boot, Johan Bakery's famous yuzu bread is exclusively available at the Isetan Scotts supermarket outlet. The bakery is also located right beside Matsuzo Potato — the first store outside of Japan for the famed sweet potato confectionary, which sources only high-grade sweet potatoes from Kagoshima and Miyazaki prefectures.
ACTIVITIES AT THE EVENT STAGE
Dedicated to food fairs from various Japanese prefectures, the Event Stage area offers food samplings and seasonal delicacies. The Kyushu Food Fair is on until May 16, boasting specialties such as takoyaki made with Japanese octopus. Food fairs are on rotation every 10 days or so, meaning shoppers can sample delicacies from up to three different prefectures each month. Expect the Hokkaido fair, Okinawa fair and more to come.
TAKE-OUTS FROM WA DINING
This Japanese delicatessen serves a range of bento boxes, grilled Hokkaido mackerel, yakitori, pork cutlet and seasonal vegetables to-go, but the star is the Kagoshima wagyu beef bento box, with its slices of wagyu beef over Kumamoto rice. If you fancy dessert, the Yaoya Fruit Juice Bar nearby serves up frozen yogurt made with fresh Hokkaido 3.6 milk.
A PIT STOP AT THE DASHI BAR
The bar may be small, but a freshly-prepared bowl of soba or udon in dashi broth is a quick and satisfying meal amid the bustle. If you like what you taste, there are packets of noodles and dashi stock for you to take home to recreate — it's as easy as throwing it all into a pot of boiling water.
LUSH CAKES FROM CHATERAISE PATISSERIE
It is row after row of gorgeous cake slices that look like they've come right out of an anime book. Plain cakes are freshly flown in from Japan before being decorated in-house with Japanese ingredients. Check out a range of pastries and cakes, including a best-selling Double Fantasy "supreme" cream puffs filled with Hokkaido fresh cream and custard. Personalised whole cakes are available for events.
A QUICK DRINK AT KAKU-UCHI SAKE BAR
Tucked into a corner of the supermarket beside the liquor section is this cosy sake bar where shoppers can enjoy sake by the glass alongside some freshly rolled sushi from the supermarket. The drinking list features sake on rotation, great for sampling something different each time.
THE OMOTENASHI FACTOR
Last but not least, take advantage of complimentary services that add a touch of Japanese hospitality. There is a porter service to the taxi stand or car park, as well as an island-wide delivery service for purchases above S$200 (S$70 for Isetan members). There is also complimentary dry ice to keep your purchases cool until you get home, and gift wrapping for chocolate boxes (gift wrapping for fruit boxes are available at S$20). Packing for produce that you want to send overseas is also available but charges apply.