Quick and stress-free Christmas cooking
SINGAPORE — Preparing a home-cooked Christmas meal can be intimidating and overwhelming.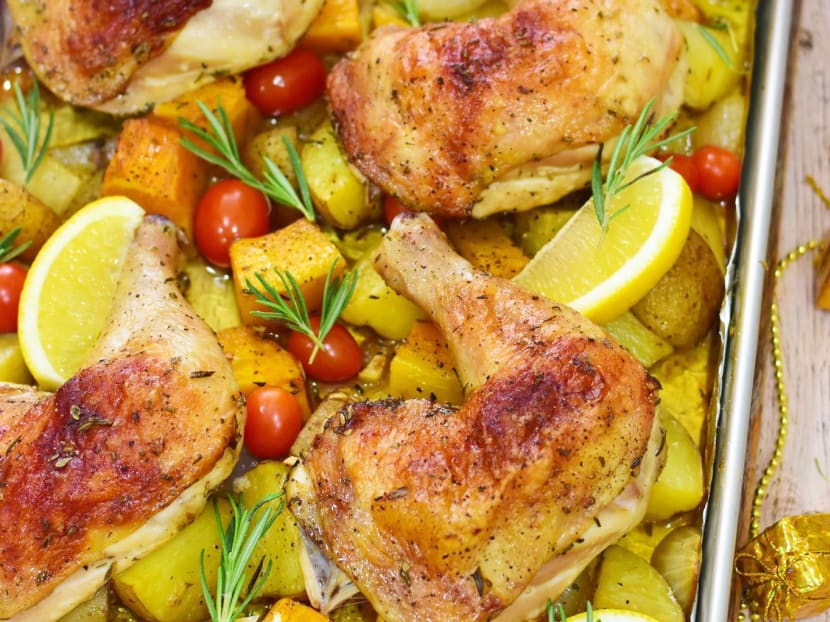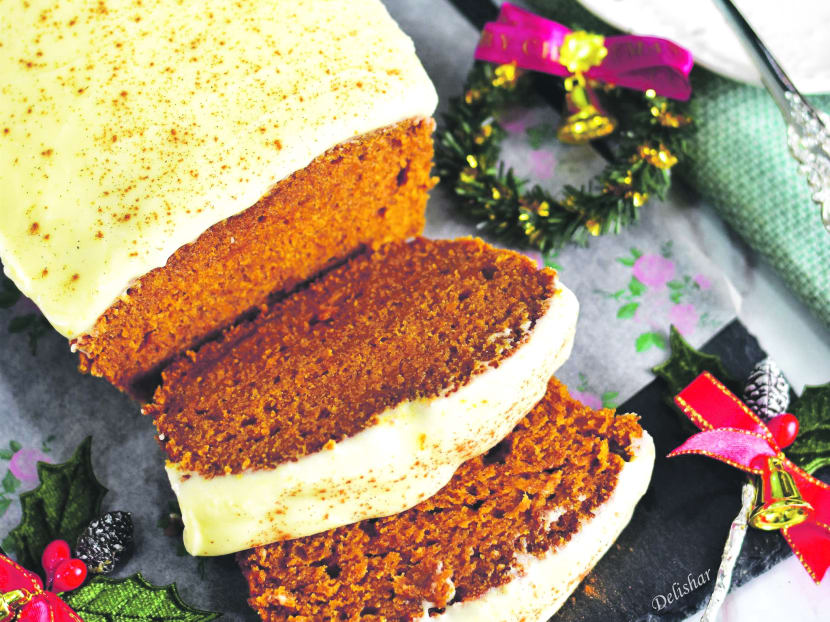 SINGAPORE — Preparing a home-cooked Christmas meal can be intimidating and overwhelming.
But it does not need to be. The key to a successful home-cooked Christmas dinner is timing and a little bit of patience, says Sharon Lam, who runs the cooking blog 
Delishar.
The mother of two started her food blog about three years ago to document and share simple, fuss free recipes with friends.
Lam has put together a three-course Christmas meal that is easy enough to prepare, all within three hours.
THE MENU:
• Appetiser — Cranberries balsamic brussels sprouts
• Main course — Rosemary chicken with pumpkin and
potatoes
• Dessert — pumpkin gingerbread cake with cream cheese frosting
Lam assured: "They are quick and feasible meals."
BEFORE YOU START COOKING
It is advised that you buy ingredients in advance, for example this weekend, to avoid the rush. Ensure you have everything before you start cooking.
Lam suggests reading the recipes at least twice. "This is for you to know the steps and what to prepare."
Prepare all ingredients and practise "mise en place" (putting everything in place). "A good mise en place will make you an efficient cook."
It is time to start cooking (and baking).
PREPARATION
Make the pumpkin gingerbread cake first because it needs a longer time to cool before it can be frosted.
The brussels sprouts and rosemary chicken can be prepared concurrently. Yes, even novice cooks can do it, Lam says. Caveat is, your oven needs to be big enough to house two trays — for the brussels sprouts and the chicken.
Use your hands to toss and mix all ingredients and seasoning, then lay the chicken on top.
The brussels sprouts and the chicken can be baked at the same time. The brussels sprouts need 25 minutes to bake, so set a timer and remove from the oven, whereas the chicken will take about 40 minutes.
It is not that difficult, Lam says: "Just have a little fun in the kitchen, and look forward to appreciative faces."
APPETISER: CRANBERRIES BRUSSELs SPROUTS WITH BALSAMIC GLAZE
(Serves up to 4 pax)
Ingredients:
250g brussels sprouts
20ml olive oil
50ml balsamic vinegar
21g sugar
22g dried cranberries
black pepper and salt to taste
Method:
1. Preheat oven to 190°C.
2. Place brussels sprouts on a baking tray, drizzle with oil, then season with salt and pepper. Toss it around the pan to coat.
3. Bake for 20 to 25 minutes or until brown.
4. In a small saucepan, bring to boil balsamic vinegar and sugar. Then, reduce heat immediately; continue cooking, stirring frequently until liquid thickens and coats the back of a spoon. About 
10 minutes.
5. When brussels sprouts are done, drizzle with balsamic glaze and toss together with dried cranberries.
MAIN COURSE: ROSEMARY CHICKEN WITH ROASTED PUMPKIN and POTATOES
(Serves up to 4 pax)
Ingredients:
4 pcs whole chicken legs
300g potatoes, cut into
1 inch chunks
300g pumpkin, cut into
1 inch chunks
1 yellow onion, cut into
wedges
3 cloves of garlic
16 cherry tomatoes
2 sprigs of fresh
rosemary, finely chopped
1 tsp dried oregano
4 tbsp olive oil
1 lemon, cut into wedges to serve
salt and pepper to taste
Method:
1. Preheat oven to 190°C. Line baking tray with aluminium foil for easy clean up.
2. In a small bowl, mix oil, chopped rosemary, oregano and garlic.
3. Transfer potatoes, pumpkin, onions and chicken onto baking tray.
4. Pour oil mixture all over. Using hands, toss to spread the oil and herbs evenly.
5. Rearrange by placing chicken on top of vegetables. Season with salt and pepper to taste.
6. Bake for 40 minutes, then add in cherry tomatoes, and bake for another 15 minutes.
7. Serve with lemon wedges.
DESSERT: PUMPKIN GINGERBREAD WITH CREAM CHEESE FROSTING
(Up to 10 pax)
Ingredients:
125g plain flour
½ tsp baking powder
½ tsp baking soda
¼ tsp ground cloves
1 tsp cinnamon powder
¾ tsp ginger powder
¼ tsp salt
75g brown sugar
75g white sugar
85g unsalted butter, softened
1 tsp vanilla extract
212g canned pumpkin
1 egg
Frosting:
57g cream cheese
43g unsalted butter
1/2 tsp vanilla extract
188g (1.5 cups) icing sugar
2 tbsp milk
pinch of salt
Method:
1. Preheat oven to 165°C.
2. In a mixing bowl, add flour, baking powder, baking soda, cloves, cinnamon, ginger and salt.
3. Grease loaf pan with butter.
4. In a mixer, beat butter and sugars until completely mixed in.
5. Add vanilla extract and egg to beat until light and fluffy.
6. Add in pumpkin and mix until it is completely mixed in.
7. Add in half of the flour mixture and mix; when it is halfway done, add in the other half of the mixture and continue mixing until it is completely mixed in.
8. Pour batter onto tray and smooth out top with the back of a spoon.
9. Bake for 55 to 65 minutes; or test by piercing the cake with a skewer/knife. If it comes out clean when you remove it, the cake is done.
10. Cool on pan for 10 minutes then turn it out onto wire rack to cool completely.
11. To make frosting, beat cream cheese and butter in your mixer until combined.
12. Then, add vanilla and gradually add icing sugar while the mixer is running.
13. Drizzle in milk 1 teaspoon at a time until desired spreadable consistency.
14. When the cake is completely cooled, cover the top with cream cheese frosting.
15. Enjoy immediately, or allow icing to set in the fridge for an hour.
Note: Do not overmix batter or cake will turn out overly dense and sticky.
For lazier cooks, all the ingredients can also be bought pre-packed from Lam's online Cookit SG service.