Left behind: Why can't older dogs find a home?
SINGAPORE — Ally has one of those faces that could very nearly be human. She has deep creases on her forehead that make her look, quite amusingly, like a worrisome old man. Her dark, expressive brown eyes convey what words cannot — as if she could be hopeful, melancholy, sprightly and joyful, all at once.
But once you get to know her, you'll see that Ally is so much better than human — she is one hundred per cent sweet, goofy, loving dog. 
You'll see it in the way her tongue lolls happily when she goes out for walks, pats and treats; the way her tail wags greedily when she senses a treat or a favourite shelter volunteer coming her way; and, cutest of all, the way she draws her pointy ears back automatically when you stretch your hand out to give her a good pat and rub on the head.
Home for Ally is currently a small enclosure at animal welfare group Save Our Street Dogs' (SOSD) current premises at Pasir Ris Farmway. Not very much is known about where she was born or how she had lived her pre-shelter life, except that she was found under a block of flats in Yishun several years ago when a lady called to say she had spotted an elderly man hitting Ally with his slippers. SOSD found her a foster family, which took her in for a year before returning her to a shelter about six months ago.
Since then, Ally and her team of human friends have been on a mission to find her a permanent home. The problem is that Ally, at nearly six years old, is decidedly middle-aged, and those looking to adopt tend to overwhelmingly prefer puppies over adult dogs, and certainly over dogs as old as Ally. 
Which is why, when Ally was put up for adoption at SOSD's dog adoption drive last month, she didn't get a single enquiry.
The fact is, there are hundreds of dogs younger than Ally, their puppy faces cuter than hers, or even with stories more tragic, all of whom fighting for the same few homes and hearts.
"If we are very lucky, in two to three years' time, we may find a home. But in two to three years, she will be so old already. When she is so old, it'll be really very difficult," said Dr Siew Tuck Wah, president of SOSD, who added that 70 per cent of the dogs adopted from the shelter every month are below a year old.
According to Selina Sebastian, deputy executive director and head of education at the SPCA, potential adopters tend to look for puppies first — both pedigree and local breeds — followed by adult pedigree dogs, and finally adult mongrels.
"When they are puppies, they are really adorable. We do try to maximise this opportunity to find them a home. But at the same time, it doesn't mean just because the adopter finds them cute, we just let them go to any family. We do make sure they go to responsible homes by ensuring the potential adopters go through our counseling scheme," she said.
Even among the older dogs, Ally isn't the only "Ally" around. There is Snoopy, a fluffy nine-year-old Husky, who is so blind he walked into this writer's leg the first time she met him, and who was given up to the SOSD after his owners moved abroad. There is also Lyn, a sweet, friendly mongrel who has spent all six years of her life at Action for Singapore Dogs' (ASD) Adoption and Rescue Centre in Lim Chu Kang, but who has likely been overlooked because of her black fur. And then there is Ida, a ten-year-old white and brown "Singapura Special" who likes to stop by the administrative office at the Society for the Prevention of Cruelty to Animals (SPCA) every morning after her walk to greet her human friends, as well as Bao Bei, a tiny 11-year-old Jack Russell whose tongue is perpetually hanging outside of her mouth.
"Compared to puppies, it is definitely harder to rehome an older dog," said Wee Bian Ann, founder of Gentle Paws, a privately run shelter. "However, there still is opportunity out there. Effort must be made to create opportunities for them and spread awareness to adopters on the availability of an ideal older dog for adoption."
"(People looking to adopt) always think having a young dog would improve the bonding process, and you can train it. That is partly true, but if we look at the other side of the spectrum, older dogs are more stable," said Ricky Yeo, president and founder of ASD, who quipped that there is an ageing population in his shelter, where an estimated 50 per cent of the dogs are above the age of five or six. "Generally, older dogs are also more independent. Once you set up a routine for them, and you have a structure for them to follow, they are quite happy to be on their own. They don't need a lot of fuss or attention like puppies want or require."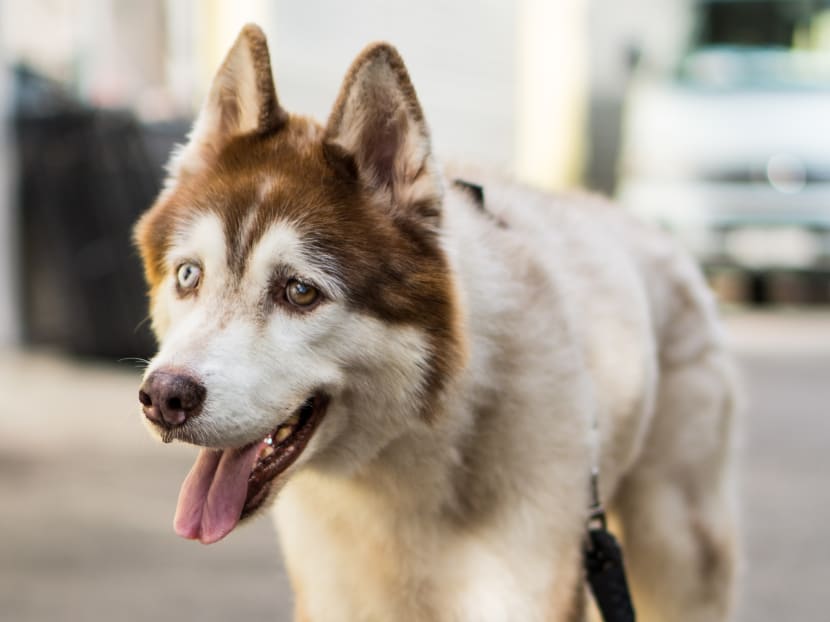 Potential adopters sometimes also shy away from older dogs because some of them suffer from medical problems, even though many of them are perfectly healthy. Ally, for example, currently hops around on three legs because she has a ligament tear in her knee joint, or the equivalent of a common footballer's injury in the human world. Thus far, the shelter has already spent S$2,500 on her treatment, and will need to spend at least the next few weeks paying special attention to Ally as she recovers — mostly because it is not exactly easy convincing a dog like Ally, who is really a puppy in spirit, to just lie down and recuperate.
According to Dr Siew, a large portion of the S$500,000 it costs to run the shelter goes to the dogs' medical care, although some vets like Dr Song V-Lynn of Monster Pet Vet clinic, who is currently treating Ally, offer subsidised rates for animals from animal welfare groups.
"We see an average of three dogs from SOSD weekly, and 30 to 50 per cent of them are older dogs (above the age of 5)," said Dr Song, who also volunteers by setting up information booths and giving educational talks on pet-related health topics at special events like adoption drives. "We started working with SOSD when I personally befriended Dr Siew and learned about his animal welfare group. It has been and still is a great honour to be given an opportunity to do our part for needy animals in Singapore."
Still, there are those who are willing to consider adopting older dogs. Accountant Brian McKinley recently adopted a six-year-old mongrel Jasper, who went from spending his entire life in an enclosure at ASD, where he was walked once a week, to living in the lap of luxury at Sentosa Cove with his human family, two cats and one other dog.
"We first wanted to choose a shelter dog because there are so many dogs waiting to be adopted. It doesn't make sense to get one from a pet shop when there are so many good dogs that need a home, so that was our first starting point — a shelter," McKinley explained. "There are lots of people who are looking to adopt puppies, and puppies are a lot more work as well. You need to give them a lot more training and attention, and so were happy to find a good-natured older dog. We went through the shelter and visited the dogs, and just connected right away with Jasper. We took him home almost right away. 
"He seems like a very, very happy dog. It's incredible to think he was in the shelter for so long. I can't believe nobody adopted him. He's just such a good dog and he's really cute. It's hard to believe it took almost six years for someone to take him home," said McKinley, who acknowledged that it is hard to swallow the fact that they may only have a few years left with their darling dog. Dogs left out in the open typically have a lifespan of four to five years, but can live up to about 15 years if they have a home and are well taken care of.
"My wife and I were saying that we may only have three to five years (with Jasper). He's such a wonderful dog, and to think he's six now...we want him for another ten years."
Of course, more can always be done to make sure more dogs like Jasper can find warm, loving homes. Gentle Paws, for example, sponsors a general health screening for selected older dogs before adoption is confirmed, so that they make take care of existing ailments. The SPCA charges lower adoption fees for dogs above the age of seven and a half. Most of these shelters also try to match adopters with dogs that fit their personalities and lifestyles.
"We also have to take into account our age when we adopt," Sebastian said. "If you are getting on in years, an older animal will be better for you. I do get people to think about things like that — if you are older you might actually consider (getting an older dog) because they are calmer and easier to handle."
Currently under Project ADORE, local mixed-breed dogs that weigh up to 15kg and that meet the shoulder height requirement of up to 50cm may be adopted by HDB homeowners. Dr Siew recommended that these requirements be revised so that more dogs can find homes. (In response, the Ministry of National Development says for Project ADORE, all "policy adjustments must be done gradually and incrementally" to "ensure its acceptance by residents and the wider public".)
"A lot of people living in HDB flats would love older dogs, but unfortunately cannot (adopt). Like Ally, she is over the height limit," said Dr Siew. "If they increased the maximum allowed height and weight to 60cm and 20kg, more than 80 per cent of all rescue dogs will be able to find homes, (compared to) 15 per cent."
At the Animal Lovers League (ALL), where 95 per cent of their 400 dogs are middle-aged and above, founder Cathay Strong says the shelter uses a variety of avenues, such as social media and adoption drives, to get word out on the animals ready for adoption.
"We have a number of dogs we feel are suitable for HDB homeowners. Their size may not meet the criteria allowed in HDB flats but they are gentle and not barkish. If they can live comfortably in condos, I don't see why they cannot in an HDB flat," she said.
Even if she never becomes as lucky as Jasper in finding a home, Ally will likely lead a perfectly happy life, as shelters typically take care or find foster homes for their dogs until they pass away. At the ASD, these dogs are cremated and stored in a mini "columbarium" at the shelter, while Wee from Gentle Paws brings their ashes home. Strong says ALL is a no-kill shelter, and most of the dogs that have been with them since the animal welfare organisation started twelve years ago still live there.
At SOSD, more than 200 volunteers help to walk, rehab and rehome dogs almost daily. One of Ally's favourite volunteers is 24-year-old Serene Xin, who not only takes her out on walks, but also reminds her that she is loved.
"When she is out of her enclosure, she looks at you with this very, very goofy smile. When you take treats out, you can see her eyes brighten, looking up at you. When you put her back in her enclosure, she will look at your with very sad eyes, wondering when you are going to come back next," said Xin. "Last week, after I had (given her) a massage, I spent 30 minutes sitting with her, just doing nothing. She enjoys being there with you, and she just wants to laze with you. She will do things like lean against you, ask for pats and look at you. She's a very chill dog, but she probably has the one of the lowest chances of getting a home."
Meanwhile, Ally will spend the rest of her life waiting. Waiting for her favourite volunteers, who take her out five times a week for short walks around the shelter, who take turns to massage her sore leg and shower her with as much love as they can. Waiting for her meals to be served, once a day in her enclosure. And waiting, most of all, for that one human who can take her home, forever.