Going green at The Singapore Eco Film Festival
SINGAPORE — You must have heard of the celebrity otters residing in our sunny island by now — their adorable antics have thrilled many here and grabbed many a headline.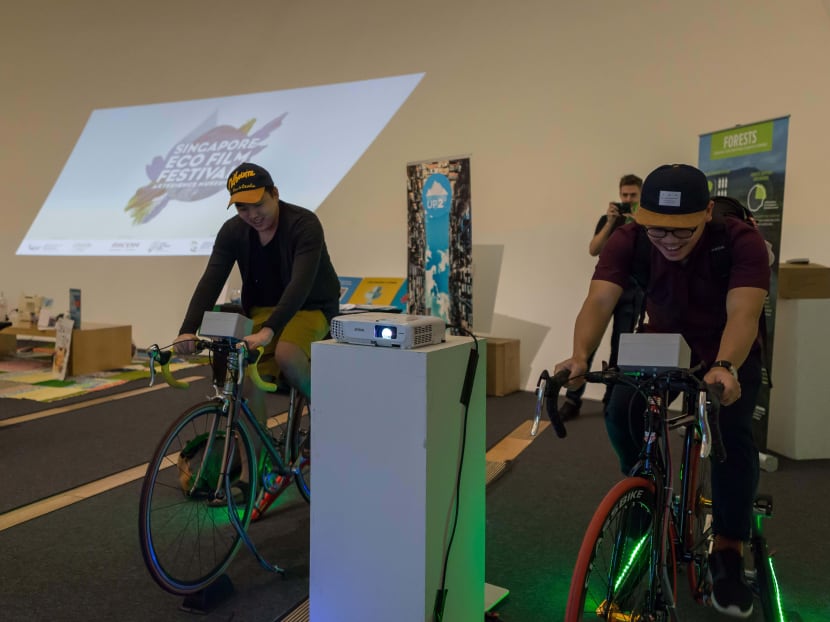 SINGAPORE — You must have heard of the celebrity otters residing in our sunny island by now — their adorable antics have thrilled many here and grabbed many a headline.
Now, you can get to know more about these furry creatures in a film showing at the inaugural Singapore Eco Film Festival (SGEFF). Titled Otter Town, this film by Beach House Pictures and National Geographic WILD shows how two different otter families navigate life in busy Singapore. Otter Town is one of 18 films that will be presented during the festival.
The festival — which launched on Thursday (Nov 10) — is the first Singapore film festival that is showing films with a focus on the environment. Located at the ArtScience Museum, the event will showcase over 18 short and feature-length films that are selected across the world, Singapore included. The films will cover a wide array of topics from climate change and wildlife conservation to "green" banking.
The co-founders of SGEFF — 38-year-old biologist Adeline Seah and 27-year-old social entrepreneur Jacqui Hocking — decided to start a festival that is dedicating to raising awareness on environmental issues as they realised that many environmental films out there are not known by Singaporeans.
"There are so many passionate environmentalists and community groups in Singapore, and so many great environmental films that perhaps don't reach the cinemas in Singapore. So we decided it was time to take action and make it happen," said Hocking to TODAY.
By showing these films, "we want to encourage more young local creatives to collaborate with inspiring eco causes, and see more films and media projects being made in the region," Hocking added.
Instead of showing films that are often seen as gloomy and dark, they decided to take a different approach for the festival and display more films that look at a range of possible solutions for environmental crises. This move was inspired by fellow SGEFF volunteer Celine Lim Su-Fen after a chat with the other volunteers and founders. "We all realised that many of our friends actually shy away from watching any films that have to do with environmental issues because they say it is just too depressing," explained Lim.
As a result, "we chose inspiring films with successful approaches to problems to encourage positive change and, hopefully, ignite a public passion for protecting our environment", Hocking said.
Films wise, visitors can take their pick between Demain, a beautifully made film about people and communities around the world innovating and implementing solutions to environmental problems, or Guardians of the Pangolin, a film that provides you front row seats to witness an organisation on the front line of Pangolin conservation as they journey across Vietnam to free endangered Sunda Pangolins back into the wild.
To encourage people to start being green, Seah and Hocking have organised various hands-on activities and workshops. Children can try out the cycle-powered projection screen, where they can pedal a bicycle provided by the International Bicycle Film Festival to generate the power needed to project the film Nature Is Speaking onto a screen.
For adults, they can attend a Sew Your Own Plushie workshop by using clothes that H&M has contributed and save these garments from the landfill.
There is also a photography exhibition and a film-making workshop.
Through this festival, "we hope it will inspire and motivate the audience to get involved and to adopt a more eco-friendly lifestyle", Hocking said.
The Singapore Eco Film Festival will run till Sunday (Nov 13) at the ArtScience Museum. Admission is free.