Hipster parents, unite this weekend
I confess. I am an irritating hipster parent — I do not like to give up on my lifestyle habits and hobbies just because I now have a kid. I drag my child to cafes with no baby seats, and she visits pop-up markets and events such as Zouk's Flea and Easy and Goodman Arts Centre's Tanjong Goodman Weekend Market.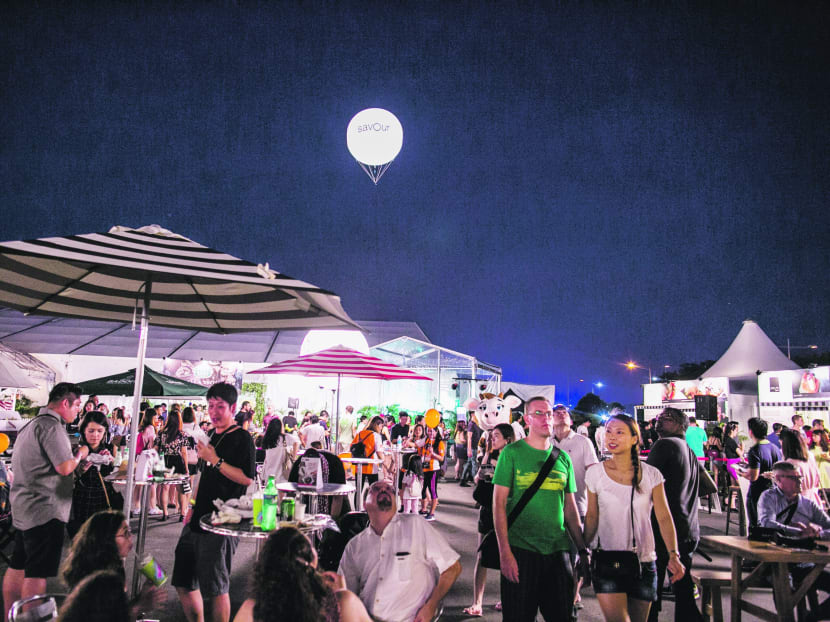 I confess. I am an irritating hipster parent — I do not like to give up on my lifestyle habits and hobbies just because I now have a kid. I drag my child to cafes with no baby seats, and she visits pop-up markets and events such as Zouk's Flea and Easy and Goodman Arts Centre's Tanjong Goodman Weekend Market.
I am happy to report that there are more of such events and activities for parents such as myself. Many weekends are chockfull of ideas and fun initiatives with a kid-friendly element.
For instance, the recent Singapore River Festival's Circular Spectacular at Boat Quay — hardly the most kid-friendly place in Singapore — catered to families with a cardboard playground and chalkboard art as well as a kids yoga session by the river at Robertson Quay.
And now that the school holidays have started, there is more in store starting with Parks Festival, taking place Saturday (Nov 18) and Sunday, bright and early from 9.30am at Bishan-Ang Mo Kio Park. Organised by the National Parks Board (NParks), the festival goes beyond conventional stuff — such as terrarium workshops, mass Zumba lessons in the park and a mangrove exhibition — to include several hip and niche elements thrown in to jazz things up.
For instance, wood-carving demonstrations by the Sculpture Society of Singapore, a screening of Royston Tan's telemovie The Provision Shop, cooking demonstrations by a chef from Japanese-French restaurant Lewin Terrace as well as NParks' Rockestra's concert featuring performers such as Jive Talkin', Shirlyn & The UnXpected and SuperSonic are some of the more interesting events there.
Of course, there are activities to cater to children too, from a playground to meeting the mascots of popular kids' show, Dinosaur Train.
"Bishan-Ang Mo Kio Park is the central venue for the Parks Festival because it is easily accessible and has the capacity to host the myriad of activities and a large-scale concert," explained Kong Yit San, NParks' assistant chief executive officer, Park Management & Lifestyle Cluster. "It features the suite of NParks' signature programmes so that visitors can enjoy a sampling of what NParks has to offer."
And yes, the activities are curated with young families and youths in mind. "Most of NParks' programmes are child-friendly, families are attracted to the recreational or educational activities; and NParks has observed that picnics and outdoor entertainment are very popular with youths and young families," said Kong, adding that workshops on floral art and terrarium-making have also proved to be popular.
Party in the city
Fun for the family goes outside the parks. For parents who miss their bar-hopping days after work in the Central Business District, there is the first-ever Amoy Street Bloc party, where it is safe to booze from restaurant to restaurant with your kids in tow on Sunday.
A section of Amoy Street (from the Boon Tat Street junction ending at the Cross Street exit, and stretching into Gemmill Lane) will be closed to traffic as participating establishments ranging from modern South-east Asian restaurant Ding Dong to wine bar Gemmils will be setting up pop-up stores along the street to sell signature dishes and drinks. In keeping with the street party atmosphere, there will be DJ sets and live performances.
"The idea for the Amoy Street Bloc Party originated with two of our establishments, Ding Dong and boCHINche, moving into the neighbourhood earlier this year. In that time, we also noticed various renowned F&B establishments such as Employees Only and Burger Joint — both of which famed for their New York City outposts — and local eateries serving up a diverse range of cuisine such as Le Binchotan (French-Japanese tapas) and Birds of a Feather (contemporary Western cuisine with a pronounced Szechuan inspiration) setting up shop within the neighbourhood," shared Cynthia Chua, founder and managing director of Spa Esprit Group, which is curating the event.
"The party serves as the perfect opportunity to not just welcome the 'new kids on the bloc', but also celebrate the diverse culture and cuisine that Amoy Street will surely be known for with its new additions. We also wanted to use this festival to introduce a renewed sense of community to the neighbourhood, and breathe new life into an otherwise quiet corner of the CBD."
Chua shared that the event is held on a Sunday to promote Amoy Street as a weekend day-to-night hangout, and that it was not hard at all to convince fellow Amoy Street establishments to join in. There are also family-friendly activities to partake in, such as edible garden workshops by urban farming collective Edible Garden City, a workout class by fitness studio F45, or simply chilling out in hammocks spread out across the street. You can also load the kids onto a Jeep Wrangler for a fun ride around the block.
festive FAMILY feasting
Another event all artisanal food-loving hipster parents can go for is the first edition of Savour Christmas, which kicked off on Thursday and is on till Sunday. Savour has firmly established itself as a culinary highlight, especially among families. "Over the past five years, we have seen the percentage of young families increase to approximately 20 per cent of our attendee base," said Darren Chen, executive director of Savour Events.
"And Savour Christmas is definitely targeted at families with a free-entry model, allowing more families to attend and get maximum value. With the event being held in November, families can plan ahead for their own Christmas celebration while taking their children out for a great day of festival fun and feasting. Of course, the event allows families to come together and spend time with their loved ones — the true meaning of Christmas.
This Christmas edition will have a more carnival feel to it, with game stations set up where you can walk away with party packs, as well as performances from homegrown singer Inch Chua and roving acts. Over at the Christmas Food Market by Jasons, there are delicious offerings such as smoked turkey drumsticks (easier for little hands to handle) and truffle boneless ham, accompanied by festive touches such as the tallest live Christmas tree indoors.
There is also the usual highlight of sampling varied culinary offerings such as Sicilian Seafood Stew and Cheesy Dips and Gravy from the likes of restaurants such as Three Buns and Gattopardo, priced from S$6 onwards.
Food, fun and festivities to keep the family entertained, what more can a parent want?
WHAT TO ZOOM IN ON THIS WEEKEND:
Savour Christmas
There really is no better place to start your Christmas party shoppping than at the Christmas Food Market. You can pick up delicious offerings such as the Black Forest Bone in Ham or a Santa Cake House. If you are at Savour Christmas from 7pm to 8pm, drop by the L'Espace Martell booth, where cocktails will be going for one-for-one.
12pm to 4pm, 6pm to 11pm on Nov 19; 12pm to 9pm on Nov 20. Bayfront Avenue; next to Marina Bay Sands Exhibition Centre. www.savour.sg
Amoy Street Bloc Party
With this much going on out in the streets, it might be wise to duck into the restaurants with the kiddos for a more leisurely meal. Many of the restaurants such as Ding Dong, Maggie Joan's and Burger Joint will be open at their regular hours for dinner, while Bochinche will be open for brunch 10am to 1pm, so you can easily watch the action in air-conditioned comfort.
Nov 20, 3pm to 10pm. Amoy Street. 
www.facebook.com/amoystblocparty
Parks Festival
We think activities such as a Mini Bio-Blitz to discover butterflies found in the park, a bicycle obstacle course and an Ulam Bagus and Going Banana workshop to learn about the health properties of these ingredients sound pretty fun and unique. Different activities take place on different days so check the NPark's website.
9.30am to 9.30pm Nov 19, 9.30am to 5pm Nov 20. Bishan-Ang Mo Kio Park. www.nparks.gov.sg and www.facebook.com/nparksbuzz