The Merchant Of Venice | 3/5
SINGAPORE — The Merchant of Venice is littered with characters who have to suffer the bitter consequences of their poor choices.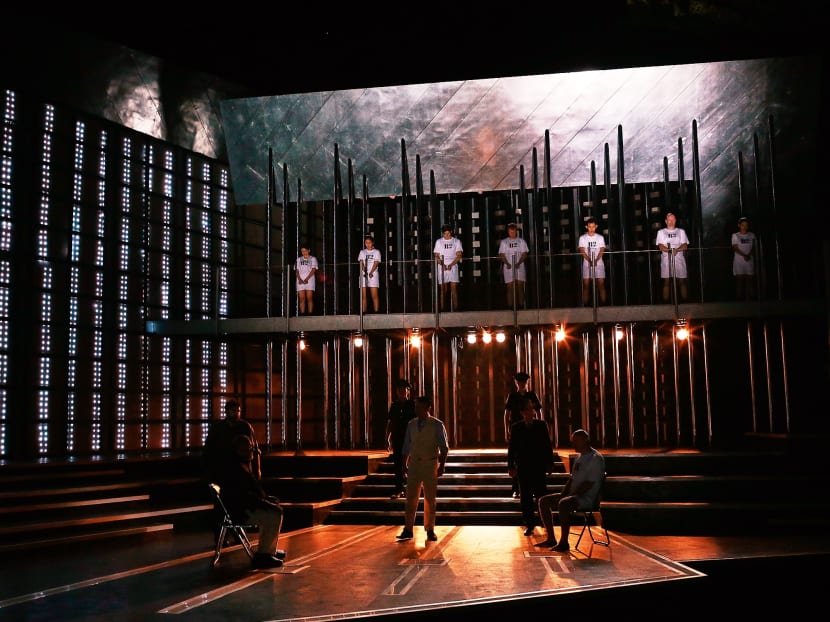 SINGAPORE — The Merchant of Venice is littered with characters who have to suffer the bitter consequences of their poor choices. The merchant, Antonio (Daniel Jenkins) chooses to accept Shylock's (played by Ramesh Panicker) proposal to take security of a pound of his flesh and that choice brings him to the brink of bankruptcy and death; and Shylock's choice to pursue the bond on Antonio's default instead of accepting repayment of twice his principal sum leads to him being forced to forfeit all his property and to convert to Christianity. The Prince of Morocco (Pushan Kripalani) and Arragon (Marcus Lim) choose the wrong caskets in their attempt to win Portia's (Julie Wee's) hand in marriage; and, the final image offered by Bruce Guthrie's production is that of Shylock's daughter, Jessica (Krissy Jesudason) – who has chosen to betray her father, her people and her religion for the love of the Christian Lorenzo (Johnson Chong) – sobbing as she realises that there is now no way out of what has become, for her, a deeply unhappy relationship.
Unfortunately, the act of directing a play about the dangers of making poor choices does not prevent the director from making some mystifying ones himself. Guthrie's decision to introduce a five-minute musical prologue at the beginning of the play is one such example. Set to pulsing techno music and framed by the bright lights of the enormous LED screen-like stage set, movement director Scott Graham's frenetic whirl of mobile phones, iPads, stockbrokers' jackets and body lifts (meant to illustrate a modern-day financial metropolis in action) felt out of place and unnecessary in this otherwise classically-staged Shakespearean play. The production never matched its initial output of energy and movement. At the same time, Guthrie's occasional attempts to demonstrate the extent of Antonio's prejudice against Shylock are, at best, fleeting.
Thankfully, this fault is mitigated by Guthrie's willingness to acknowledge the play's dark undercurrents of racial prejudice. A deliberate choice was made to cast Indians in the role of the Jewish characters, subtly evoking memories of moneylending chettiars in Singapore's colonial past. Guthrie could arguably have done more to mine this rich seam of Singapore's history; as it was, however, it still made for effective scenes – including Panicker's first where, Shylock suddenly switches from an English to a "sing-song" Indian accent, illustrating how those of his race might "bend low and in a bondman's key, with bated breath and whispering humbleness" speak. That one gesture is potent reminder of how willing we were (and still are) to judge others as inferior to ourselves based on just their accent and manner of speech alone.
Panicker's portrayal of the famous Jew is definitely one of the highlights of this production. Despite a five-year absence from the stage, he brings a refreshing level of measure, restraint and versatility to his turn as Shakespeare's famous Jew – particularly to his first scene with Antonio and Bassanio. If he could pick up the energy and passion of his subsequent scenes (including the famous "If you prick us, do we not bleed?" speech), there would be little that could be faulted with this performance. Indeed, with the exception of a small minority of the actors onstage, it would appear that over-acting and poor delivery is something we can increasingly regard as a part of Singapore's Shakespeare past. Wee, with her spunky and nuanced turn as Portia, is the best lead female Shakespeare character Singapore has seen in years and I have to confess that I greatly enjoyed Richard Corgan's excellent comic timing as the lout-turned-honourable suitor Gratiano and the chemistry he shared with Isabella Chiam's feisty Nerissa.
This latest instalment of Shakespeare In The Park may yet offer its audiences all that they desire – if what they desire is the gold standard Shakespeare performances of London or New York. But it is certainly more than just "dull lead, with warning all as blunt". Slowly but surely, it would seem, Singaporeans are getting the kind of Shakespeare productions that they deserve. That, surely, is no bad thing.
When: Until May 25, 7.30pm
Where: Fort Canning Park
Tickets: From S$45 at SISTIC.