Playgrounds for big kids
SINGAPORE — No 18-year-olds getting wasted here, please. That is the modus operandi for at least three recently launched clubs.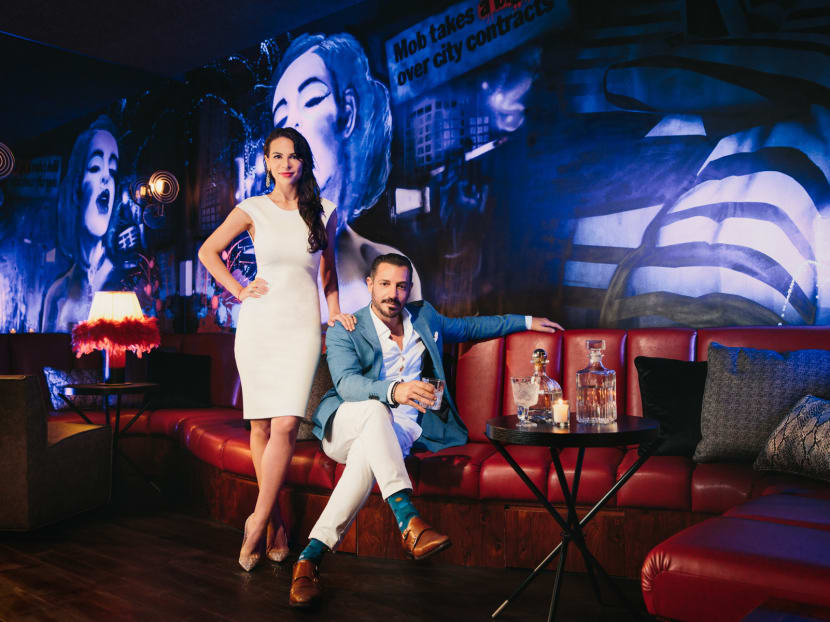 SINGAPORE — No 18-year-olds getting wasted here, please. That is the modus operandi for at least three recently launched clubs.
Lulu's Lounge at Pan Pacific Hotel, a venture between SJS Group and the Prive Group, is set to open on Friday (April 28). It is firmly pitched at the more refined crowd, with a setting that aims to replicate a 1960s New York back alley club, with classic cocktails and retro-carabet furnishings.
Sarissa and Joshua Schwartz, directors and founders of SJS Group are the power couple behind Lulu's. They have been behind hotspots such as Bang Bang and Pangea, and are co-owners of the Singapore offshoot of New York's Employees Only.
"When we set up this club, we had in mind something more suitable for the more mature crowd that want to party, but in a less intense, full-on clubbing environment," said Sarissa, 31.
For Lulu's, what is markedly absent is the loud, thumping music and EDM beats that might appeal to the younger set. Instead, the music will be a throwback to bygone eras such as the 1970s. The Schwartzes hope that Lulu's will be a welcome respite for those who want to dance, but also can be heard above the music without having to shout.
"We never really open clubs with a specific person — or our friends — in mind," said Sarissa. "But we do think this is a place for an older crowd. We wanted to create a playful atmosphere where people can have fun."
The husband-and-wife team drew on a fictional character, Lulu, for inspiration. They imagined her to be the moll of a fictional New York mobster, Lil' Louis. They also drew on films such as Martin Scorsese's Goodfellas. The 1990 film, tellingly, still has a Generation X appeal.
"Lulu is a go-go dancer," said Sarissa, clearly enjoying the story she and Joshua have created. She added that Lulu's Lounge was a place Lil' Louis might have opened for his glamorous mistress, so that they could be together there.
Thus, flickering neon lights and displays like feather boa lamp shades and rhinestone accessories dot the 2,600 sq-foot joint. A piece of art, by London graffiti artist Mista Crowe, adorns one wall for a 1960s back-alley look.
Drinks (from S$24) such as Big Coconuts, a twist on the pina colada and with a tangy, sour punch, will whet clubbers' whistles.
The Schwartzs want to take guests on a journey with music that progresses from live jazz from 9.30pm, and progresses to old school, hip-hop funk or Dancehall. Also on the line-up are retro DJ performances.
Sarissa added that Lulu's aims to be a "journey of nostalgia that will see people staying longer, perhaps until closing time at 6am".
*Lulu's Lounge, at Pan Pacific Hotel (7 Raffles Boulevard; Tel: 8322 418; www.lulus.sg) opens on April 28.
Lulu's is not the only club for the "oldies". Here are two others:
The Atlas bar opened in March, and features the world's tallest gin tower. Photo: Atlas Bar
Atlas
The fact that Atlas does not have a dance floor has not stopped some of its guests from kicking off their Manolos to dance to tunes curated by Parisian DJ duo, Polo & Pan. The two play everything from electronic swing to nu disco. Atlas, opened in March and set in a large hall in the imposing Parkview Square (aka the Gotham Building), recalls the roaring 1920s Great Gatsby era.
The glided interiors and sparkling chandeliers help with the party mood. One almost expects women in beaded fringe dresses and feathered headdresses, champagne glasses in hand, to round the corner.
The atmosphere is decadent, and the clientele chic. Their sybaritic tastes are well-catered for in a bar with the world's largest gin collection housed in an eight-metre-tall gin tower. A pink-and-gold room stocks over 250 labels of champagne.
Drinks are served from 8am to 3am, alongside an European-inspired menu with bites like bruschetta of blue prawn, sea urchin, pomegranate and oscietra caviar. And of course, the music never gets too loud for a tête-à-tête or business deal to be closed.
* Atlas is at 600 North Bridge Road. Tel: 6396 4466, www.atlasbar.sg
Capital, opened at Zouk in February, has "quiet spots" such as its whisky bar and cigar room. Photo: Zouk Singapore
Capital
Zouk's Capital Club, which opened in February, features an ornately-decorated seating area in a well-appointed space which helps to create an exclusive sanctuary for its guests — mainly professionals and guests "with a preference for a finer experience", according to the club's press release. Whispered conversations can take place in the club's cigar lounge and or whisky bar. That bar, by the way, is stocked with whisky with wide-profile of flavours, as well as rare, collector's and limited-edition bottles — including a $36,000 bottle of The Dalmore Constellation 1971 Cask 2.
Capital also boasts an eclectic collection of contemporary South-east Asian art curated by art consultancy, The Artling. Beats played by resident and guest DJs include Top 40s, hip-hop, and R&B. On weekends, there are live performances by vocalists and local DJ collectives with bands.
* Capital is at Zouk, 3C River Valley Road, The Cannery, Tel: 6738 2988, www.zoukclub.com