The rise of artisanal baking at home
SINGAPORE — Bulk fermentation, bench rest, baker's percentage, shape and fold. Since she embarked on an artisanal bread baking course, these words have become part of homemaker Theresa Yong's vocabulary.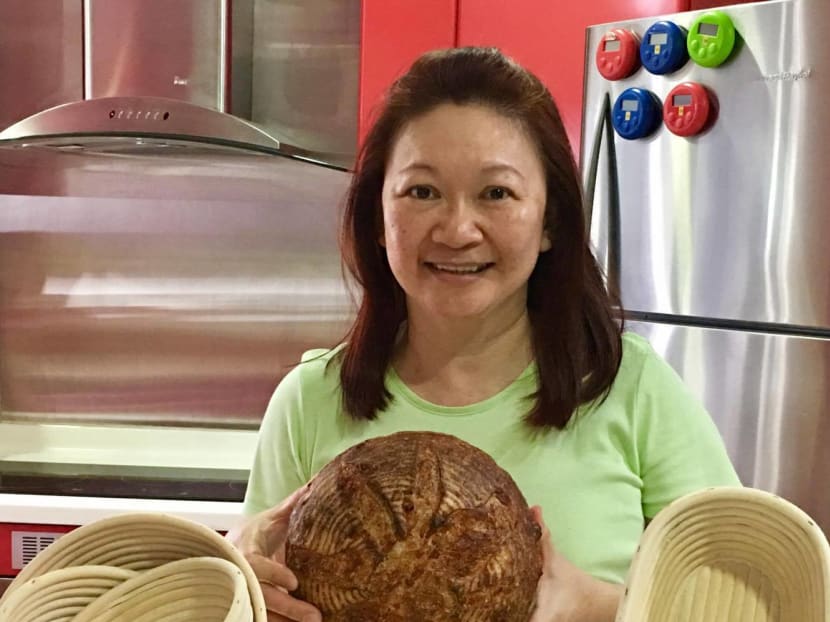 SINGAPORE — Bulk fermentation, bench rest, baker's percentage, shape and fold. Since she embarked on an artisanal bread baking course, these words have become part of homemaker Theresa Yong's vocabulary.
She and three friends recently completed the course at a local baking school, where they made European-style breads such as baguettes, sourdough boules and pain de mie (Pullman's loaf or sandwich bread). They had each forked out about S$1,000 for the six day hands-on programme.
"I have always wanted to learn how to bake authentic European breads using methods employed by craftsmen bakers," Yong said.
"Besides loving the taste and texture of these breads, I like that there are no unnecessary chemicals added. Typically, homemade breads contain flour, water, salt and yeast or sourdough starter."
To her, artisanal bread is made using simple, age-old techniques, leavened with wild yeasts (sourdough) and has as few preservatives as possible.
Artisanal bakeries are a hot trend right now — a slew of them have opened up and are doing healthy business in suburban areas like Katong (Do.Main), Upper East Coast Road (Savour're) and Bussorah Street (Konditori). But there is a high demand for baking courses, including expensive, professional-level masterclasses with a focus on artisanal methods.
RAISING DOUGH
At Bakerz@Work, a baking school at Shaw Tower, it is now comparatively easier to fill up slots in the Artisanal Bread Programme that the school runs, said chef-owner William Woo.
"We started our academy sometime in late 2012 focusing mainly on artisanal bread classes and during that time, it wasn't easy to market the signature Artisanal Bread Programme because consumers were more interested in sweet buns and loaves," Woo said. "We now see consistent interest and enrolment."
He has now taught 50 batches of the classes, with six to eight students in each.
There is now also enough interest, from both home bakers and those working in the industry, for the school to organise masterclasses and workshops taught by expert bakers from all over the world.
"We just completed our first International Artisan Bakers Masterclass in March, where bakers Adon Shifon from Israel and Beesham Soogrim from Sweden shared their different approaches to artisanal bread baking," Woo said. "In early April, we hosted Mickael Chesnouard."
Chef Chesnouard was awarded the prestigious Un des Meilleurs Ouvriers de France (MOF) by the French government, and the two-day class he taught here cost $680 per person for two days.
There will be four to six more masterclasses at Mr Woo's establishment this year, and other organisers are also bringing similar star chefs and master bakers.
Baker and owner of 250,000-member strong Facebook interest group Bakings' Corner, Fiona Lau, brought in Korean chef Sangjin Ko for the first time last year for a two-day workshop on making breads using natural yeasts.
The response, Lau said, was "overwhelming, with over 200 bakers attending in total". She organised another session with Ko recently in late March and is already planning a masterclass, targeting more experienced bakers, in August.
The 29-year-old chef, who started baking when he was nine years old, is famous in his native South Korea for being a "bread prodigy". Students paid close to S$100 to attend his one-day session.
THE BUSINESS OF BREAD
More than a few bakers have made the leap from hobby baking to setting up shop. Run by husband-and-wife duo Nurhasanah Johari, 39, and Chalith Kanchana Kariyawasam, 36, The Bakery by Woodlands Sourdough started life in 2013 as a pop-up shop at fairs and farmers' markets.
The couple also started a bread subscription and regularly delivered bread to their customers' doorsteps.
Their little hobby-business did so well — plus, a co-investor came onboard — that barely two years into the game, they now run a small bakery-cafe at Serene Centre.
"Baking started as a hobby for me and I used to look at books, YouTube, Instagram and just anything I could get my hands on info and tips to bake better bread," Hurhasanah recalled. "I became hooked on breadmaking. With each tweak in a recipe or technique, it's like seeking perfection, a perfection that probably cannot be achieved. It's what keeps breadmaking interesting."
Konstantino Blokbergen, the owner of Firebake, a recently-launched bakehouse along East Coast Road, felt likewise. Part of the attractiveness of such "natural breads", Blokbergen explained, is the age-old traditional methods used to create them.
And for him, bread is at the centre of his restaurant menu. "Bread is part of an essential ingredient of a dish, and not just seen only as slices on a side plate. We serve bread in multiple forms at Firebake — as slices to go with pate, charcuterie or soups, or in croutons to add texture and substance in a salad, or breadcrumbs used as crust on meats and fish, bread chips or crisps for soups and dessert, as well as using sourdough starter and bread in ice-cream and desserts," he said.
Hobby baker Felicia Tang, 52, can well relate to the more "intellectual" aspect of artisanal breadmaking: "I enjoy reading up on the technical aspects of the creation of sourdough bread; from choosing ingredients, mixing the dough, fermenting, shaping, and proofing, to ways of baking it. I experiment with information and tips I gather from other bakers."
Tang, a married mother of two young adults, has not bought commercially produced bread in the six months since she started baking sourdough bread seriously.
"My homebaked sourdough bread tastes better than commercial bread, I don't get hungry as fast after eating sourdough bread, and most importantly, there are many nutritional benefits I derive from consuming sourdough bread," Tang said.
She is referring to the purported benefits of the typically long fermentation time of artisanal breads — it is said that there is less gluten in artisanal sourdough breads as the fermentation process breaks it down. Studies have also shown that sourdough breads are better for diabetics as they have a lower surge in blood sugars upon consumption of the bread.
Indeed, the rise in demand for artisanal sourdough bread is especially remarkable in this day and age where gluten — naturally-occurring proteins in grains like wheat, barley and rye — is considered undesirable and many people are being diagnosed with coeliac disease, the most extreme form of reaction to gluten.
Still, despite attracting more fans, sourdough is not the first choice for many local consumers.
"It's still an educational process to get some people to accept artisanal bread. My husband, who prefers softer breads will eat ciabatta or brioche, which are more 'airy', but will not touch my baguettes," said Yong, whose primary school-going children also prefer softer, Asian-style breads sold at bakeries such as BreadTalk.
"And when I gifted some of my rye sourdough bread to my mother, she asked me why it's chewy and why there are 'so many holes' in it," she lamented.
But, she surmised: "Baking bread makes me happy. And isn't there a saying that goes 'a happy wife makes a happy life'?"