S$1 million set aside for arts fund to promote inclusivity
SINGAPORE — Ms Judith Teo used to suffer panic attacks when she rehearsed for a play about war and refugees.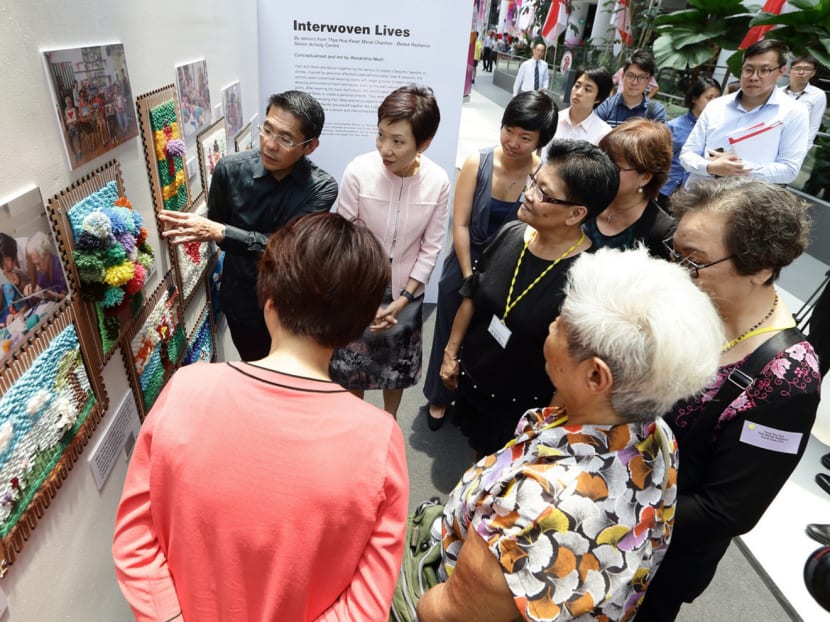 SINGAPORE — Ms Judith Teo used to suffer panic attacks when she rehearsed for a play about war and refugees.
With the help and support of her fellow participants, the 22-year-old —who has Down syndrome — overcame her anxieties and performed at the Esplanade theatre over two days.
She is among the beneficiaries of the WeCare Arts Fund Programme, which aims to make arts more inclusive and promote self-confidence among the less advantaged and underserved communities, such as the disabled and senior citizens.
Yesterday, the National Arts Council (NAC) and the Community Development Councils (CDCs) renewed their partnership and agreed to set aside S$1 million for the WeCare Arts Fund over the next two years.
The memorandum of understanding (MOU) was signed by the Mayors' Committee chairman Low Yen Ling, and NAC's chief executive officer Rosa Daniel. The MOU was witnessed by Minister for Culture, Community and Youth, Ms Grace Fu, at the launch of the WeCare Arts Exhibition held at Our Tampines Hub.
The exhibition, which was officially launched yesterday and runs until Sept 14, features artwork by senior citizens from five social service organisations, who were guided by other artists as they injected their own personal stories into their work.
Funded by the NAC's ArtReach initiative and administered by the CDCs, the fund supports Social Service Organisations (SSOs) with up to S$5,000 per arts project to cover artists' fees, materials and other project costs.
It was launched in 2014 with S$1.5 million over three years. According to Mrs Daniel, the fund has reached more than 8,000 beneficiaries through more than 300 programmes over the past three years, and has "enabled seniors in activity centres and nursing homes, persons with disabilities and youths at risk, to experience and enjoy the arts".
"These artists play a critical role in sharing their passion for the arts, inspiring the beneficiaries to develop new interests, learn new skills, and to enjoy creative self-expression in the arts," said Mrs Daniel.
Ms Low, who is also Mayor of the South West District, added: "(The fund) has enabled many social service organisations to integrate the arts into their programmes to promote self-confidence among the vulnerable in society, particularly our youths and elderly."
Alexandria Neoh is among the 91 artists who have been involved in the arts programme. She taught seniors from Thye Hua Kwan Moral Charities Bedok Radiance Senior Activity Centre how to weave using hand looms.
She said: "I have realised the arts can be a powerful tool to empower seniors, to encourage them, showing them that although they may be advanced in years, they can still learn new things and create good works."