Blooming with the times: Older florists evolving to keep afloat
SINGAPORE — The flowers they trade with may seem soft and magical, but the business is anything but.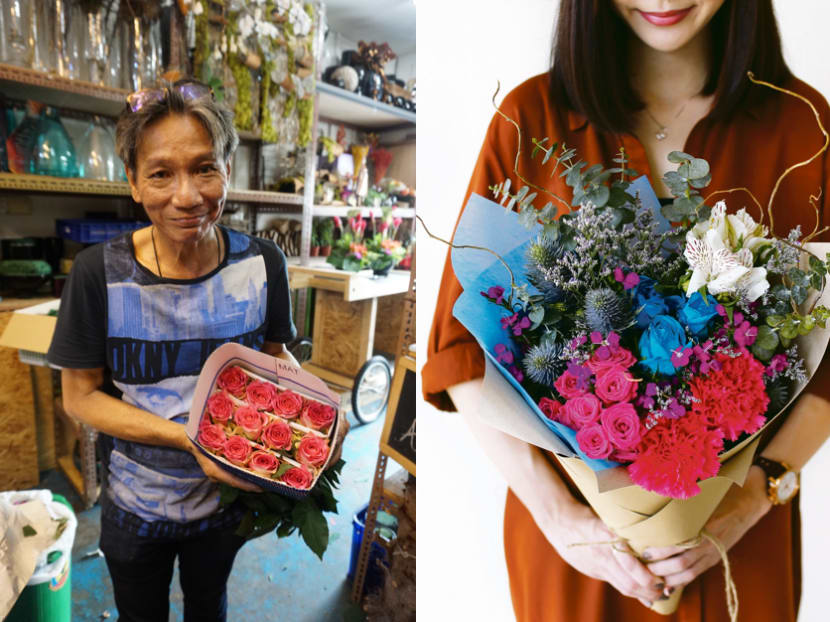 SINGAPORE — The flowers they trade with may seem soft and magical, but the business is anything but.
Older florists who have been in the industry for decades are now finding it tough to survive, with an influx of new independent florists entering the market in recent years. The newbies offer fresh perspectives, new arrangements and cheaper pricing in an increasingly cut-throat industry, they told TODAY. So many of them have no choice but to relook their business models and evolve to keep up with the times, or risk sending their firm under.
Like the younger "hipster" florists, many are now taking to more non-traditional wrapping materials such as burlap, brown paper and twine. They are also sourcing for more exotic flowers such as David Austin roses, and even twigs for their arrangements, as these days, many customers prefer "wilder" looks, said Arthur Chua, 58, owner of Ace's of Vase Pte Ltd, who has been in the business for 25 years.
Sensing the strong competition, one florist has even overhauled his father's business, which started in 1997. Stanley Tan, 24, who took over Windflower Florist and Gifts in Nov 2014 after completing National Service, said he pumped in all his savings, renovated the whole shop and changed its business model to a "more Westernised style". That means the use of brown paper and more unconventional, less uniform arrangements.
"Everyone was just worn out and they wanted to give up on the business ... The shop was there just for the sake of being there, until I decided that it has more potential than how it was doing," said Tan, adding that they now have an online shop and offer delivery services. Business has improved since they made the change, he said. For example, before the revamp, the shop would earn only S$8,000 during the Valentine's Day period. This shot up to S$30,000 after the revamp.
Managing director of Katong Flower Shop Royston Low, 68, said although most of his customers still prefer traditional arrangements, he finds it important to keep up with the trends that newer entrants are following, such as using netting and brown paper.
His father 91-year-old Low Teck Cheng, who is the founder and chairman of the shop with more than 60 years of experience, still goes on business trips to attend seminars, workshops and exhibitions to search for new materials or flowers, although he has passed the business to his three children. He also visits the shop daily, said the younger Low.
Low said they also try their best to provide different looks if customers ask for it. "Times have changed. If you don't catch up, you will lose out," he said.
Still, challenges remain even as these businesses try to keep afloat.
Chua cited the emergence of freelance florists as a problem. These florists take orders from friends or on social media, and craft their bouquets from home. "It's the freelancers who affect people like us the most. They don't have rental and overheads unlike us. I can do the same bouquet and sell it to you at the cost that they are selling it for but I already lose out on the rental ... How to compete?"
The way to survive in this business, he said, is to understand each individual client instead of blindly following trends. "It all boils down to providing what your customers want. Twenty years ago, I started using twigs in my arrangements but my customers were unhappy," he noted. "Five years later, due to an economy downturn, hotels reduced their budget and started using twigs in their arrangements instead of big full bouquets. People started seeing these around and came to accept it. Now they come back to me and say I'm very advanced."
With items such as burlap wrapping for example, not every recipient will view it positively as well, he added. "You try giving your conservative 90-year-old grandmother a bouquet with burlap, she'll be so angry," he said with a laugh, "because burlaps are used for funerals in their time."
Ultimately, "you must be constantly on your toes, be hardworking and keep finding new materials ... (you have to) recognise and follow trends to suit different customers' requests to stay relevant", he stressed.
Still, there is one thing Chua has reservations about: Setting up shop online. Sometimes, "what people see and buy online is different from what they receive in the end", he said, adding that he prefers a personal touch. "At a shop, it's better because you get to see the quality of the flowers and the colours. It is those customers who come to me and let me work something out for them who put a smile on my face."
Those TODAY spoke to said while attending, workshops, or even getting certified by floristry schools are a good starting point for aspiring florists, what they may lack is experience and personal style. Many merely copy what is trending without the technical know-how behind the product.
Low credits his "years of practical experience" for helping him master the skills of a florist. "It's easier for the youngsters to get certifications but I feel that they also need time to slowly become better through practice," he said.
"There are certain things you need to know to do a good design. Classes and workshops help you understand those guidelines like parallel lines, forms and proportion, but you still need experience and practice to slowly come out with designs of your own style," added Chua. "If you don't genuinely love it (the job of a florist), don't be in it (the florist industry). It is a lot of hardwork that no one sees until you present the bouquet."