Find out Victoria's Secret to body confidence
SINGAPORE — After seven stores stocking only beauty products and accessories, Victoria's Secret is finally opening its first full-assortment store in Singapore — and in South-east Asia — at Mandarin Gallery on Friday (Nov 18).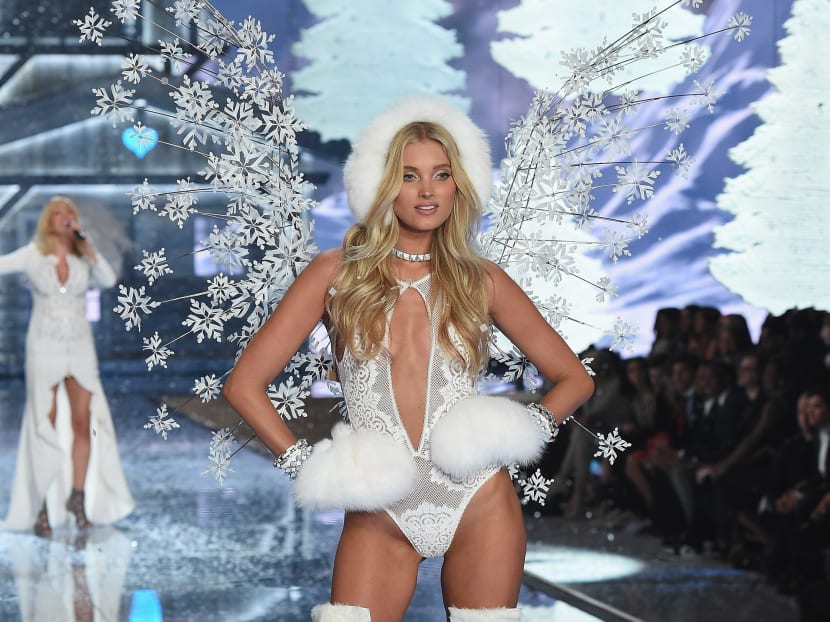 SINGAPORE — After seven stores stocking only beauty products and accessories, Victoria's Secret is finally opening its first full-assortment store in Singapore — and in South-east Asia — at Mandarin Gallery on Friday (Nov 18).
The two-storey boutique will carry the American brand's lingerie, from its younger line, Victoria's Secret Pink, to its athletic range, Victoria Sport.
Those who love shopping at Victoria's Secret overseas will not be disappointed as the store will feature some of the brand's most glamorous signature touches — sexy fitting rooms, oversized chandeliers and splashes of bright pink against discreet 
black furnishings.
"Finally! I've been wondering when it will open after seeing the accessory stores open one by one," said fan Jacqueline Ho, a financial analyst, adding she looks forward to shopping at the store instead of buying online.
But the opening of the store comes at a time of retail uncertainty amid an economic downturn. While it has injected buzz and excitement into the local scene, there are some, such as undergraduate Lauren Ngo, who does not feel it is much of a big deal. "I think the Victoria's Secret Angels, such as Lily Aldridge, are cool, otherwise it's just another underwear brand to me."
There are, after all, more choices than ever when it comes to lingerie — with hip, millennial-friendly brands such as Negative Underwear and homegrown label Perk by Kate coming to the fore.
FLYING WITH WINGS
But Victoria's Secret is not just a lingerie brand. It has become a force in pop culture with its iconic Victoria's Secret Angels and fashion shows, the most-watched fashion event in the world. Its Angels are some of fashion's biggest and most exciting models — from Helena Christensen back in 1997 to Taylor Hill, currently the youngest Angel, when she became one last year at 19 years of age.
To mark its opening here, Victoria's Secret is having an exhibition of the original wings worn by four of its Angels, including big names Adriana Lima and Lily Aldridge, at Mandarin Gallery till Dec 31.
According to Ed Razek, chief marketing officer of Victoria's Secret, the secret to being a Victoria's Secret Angel or model lies in how other women respond to her, that she should inspire other women. "Women have to say, I want to look like that, I want to have that spirit or that confidence and strength," he told Forbes in an interview last year. "We want women who are positive and happy and support each other."
Swedish bombshell Elsa Hosk, who was admitted into the exclusive Angels club two years ago, told TODAY that being an Angel means getting plenty of exposure. "Victoria's Secret is the biggest lingerie brand in the world," she said. "The Angels become well-known, and it's a great opportunity to grow as a model."
Despite the glamour, the 28-year-old shared that she would rather choose a night staying in with PlayStation karaoke and her boyfriend (co-founder of high-performance eyewear brand District Vision, Tom Daly) over going out and partying anytime.
She lets us in on other secrets of the trade — including how she balances on heels with those humongous wings.
Q: How did you become a Victoria's Secret (VS) Angel?
A: I had been working since I was 14, and moved to NYC when I was 20. I went to a Victoria's Secret Pink event, and the art director liked me and asked me to come shoot the following day. I gave it my all. Then, I became an Angel in 2014.
Q: What's the hardest part of the job for you? And what's the best part?
A: The hardest part is the constant travelling and not ever being able to have a normal schedule. The best part is building a name for yourself, and all the amazing people and places you get to see.
Q: What is your secret to body confidence? How do you get to be so comfortable wearing lingerie?
A: It comes from the inside. Working out and feeling strong is so important to me. It goes hand-in-hand, I think. You have to build confidence from 
the inside.
Q: You also had a professional basketball career going. Why did you pick modelling over that?
A: I played basketball for many years, but when modelling came along, there was something in me that wanted to see the world and leave the place I grew up in. I gave it a shot, and it worked.
Q: Who were your favorite VS models growing up? Why did you look up 
to them?
A: The VS Angels were so beautiful; they didn't seem real to me. When I started with (younger line) Pink, I looked up to Erin (Heatherton), Candice (Swanepoel), Adriana (Lima), Lily, Doutzen (Kroes) ... These girls, some of them mothers, are working harder and more than any other model in the industry, always with a great attitude and supporting each other as friends. I learnt a lot from them.
Q: Lastly, how do you balance the wings and heels in a VS show? How do you prevent yourself from falling over?
A: You need to stand up tall and walk straight. I do lots of core workouts and squats to prepare!