Launching in Singapore, Catchplay is taking on the big boys
SINGAPORE — A new on-demand movie streaming service has launched in Singapore, but the Taiwanese outfit bringing it here said it is not intending to directly compete with other Over-The-Top (OTT) content providers.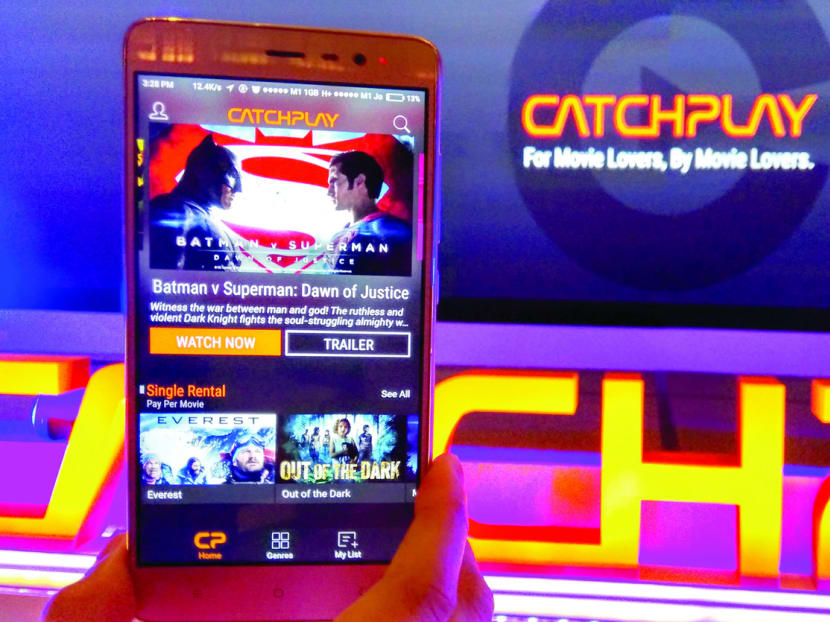 SINGAPORE — A new on-demand movie streaming service has launched in Singapore, but the Taiwanese outfit bringing it here said it is not intending to directly compete with other Over-The-Top (OTT) content providers.
Catchplay's On-Demand Service joins an increasingly crowded scene here, with US video-streaming giant Netflix and Viu (by Hong Kong multimedia and entertainment group PCCW Media) launching in January this year.
But Catchplay, a film distributor, is unfazed, pointing out that it differentiates itself with its film offerings.
While Netflix is "very strong" in terms of its originally produced content, "I think we have a stronger movie line up (and) newer titles which you are probably not able to find on Netflix", said Daphne Yang, Catchplay's chief executive officer.
"We are proud of our interface that is specifically created for movie lovers, (so there's) quite a lot to discover on our service, rather than what you are able to find on rival platforms. Hopefully that will delight movie lovers," she added.
The On-Demand service offers a wide selection of movies, and across multiple devices. Hollywood titles include The Hunger Games: Catching Fire, The Imitation Game, and 12 Years a Slave.
Yang added that the company's "knowledge and passion for movies are our biggest strengths". "Our team is simply a bunch of film buffs who know what movies to select, what information to display and what functions to provide so as to create the best online movie service for fellow movie lovers."
Prior to its roll-out of the service here, Catchplay had announced a partnership with Starhub in June, where viewers can sign up for a monthly subscription service, Catchplay Unlimited, on StarHub TV Channel 610, and as well as single rentals of movies in StarHub's Video On Demand catalogue.
In a press conference for the new service — which was first launched in Taiwan in March, followed by in Indonesia a month later — on Tuesday, Timothy Chen, Catchplay's chairman, said: "Singapore has the highest digital penetration in the region", and with this new service, "movie lovers here get to watch their favourite movies under Catchplay as and when they want, regardless of where they are and what devices they are using".
There are currently more than 500 titles available now, which are sorted into 320 categories. For instance, the Drama category leads to sub-categories such as 'Based on True Story'. The company says it will add 100 to 120 new titles every month. It also has plans to roll out this service in the rest of the region.
A key feature in Catchplay is its ability to allow users to pause their movie on one device and continue watching on another. What's more, when they continue the film, it starts 10 seconds earlier from when they had stopped. By introducing this feature, "it helps you to remember where online you paused and gives you a sense of assurance that you didn't miss anything", pointed out Yang.
For viewers who have no film preferences, the service also provides movie recommendations, based on a particular occasion, which are curated by a group of editors. During the Halloween season for example, viewers will receive the editors' horror movie picks.
The service also displays information, such as behind-the-scenes footage, ratings from online movie database IMDB, trailers and previews.
For those who wish to watch a movie only occasionally, they can opt for a free membership (called Movie Fans), which does not require a credit card to register. For this membership tier, viewers gets one free movie from the category of On The House each month. The library is updated weekly. If one film is not enough, they can rent films from the categories of Single Rental or Hot Picks, with prices going at S$3.50 or S$6 for newest releases.
Those who want to watch multiple movies can pay a subscription fee of S$14.90 (promotional offer is S$12.90) per month. Under this Movie Lovers membership, they can enjoy unlimited views of films from the Movie Lovers Unlimited library. Members also get to watch one free movie of their choice every month from the On The House category.
The Catchplay On-Demand Service is available through its online portal www.catchplay.com/sg, as well as its application, which can be downloaded on all Android and iOS platforms.