They've got the look: 10 regular folks who went viral
SINGAPORE — People in Taiwan are currently joking about setting their houses on fire to summon the New Taipei Fire Department's hunky firefighters, who went viral after photos from their department calendar started circulating through Facebook.
SINGAPORE — People in Taiwan are currently joking about setting their houses on fire to summon the New Taipei Fire Department's hunky firefighters, who went viral after photos from their department calendar started circulating through Facebook.
However, these handsome guys from Taiwan aren't the only non-celebrities who have gone viral. Other regular folks from around the globe have been heating up the Internet for their good looks.
Take Singapore's Lee Minwei.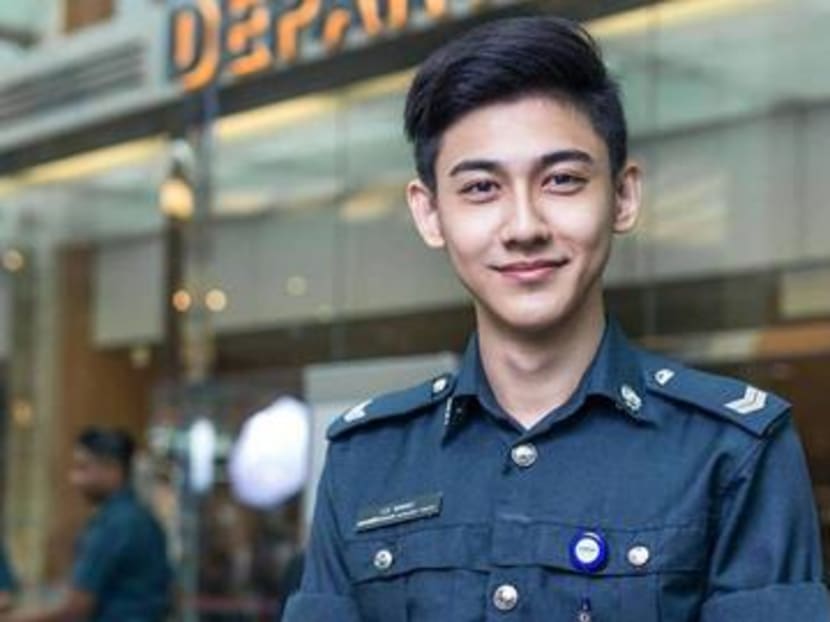 Here are few of the other hot picks.
PHILIPPINES' CARROT MAN
In the remote highlands of the Philippines, a woman named Edwina Bandong and her friends spotted a handsome young man loading carrots on the side of the road. Naturally, they uploaded a few photos of him on Facebook, where he quickly became known as "Carrot Man". After a bit of sleuthing, the Internet identified him as 21-year-old Jeyrick Sigmaton, who went on to sign with local brand Boardwalk as a model.
PAKISTAN'S TEA SELLER
Eighteen-year-old Arshad Khan, a tea seller at the Itwar Bazaar in Pakistan, became an overnight sensation after photographer Jiah Ali posted his picture on Instagram. Days later, the teenager received a makeover on TV and signed on with Fitin.pk as a model, where he was quickly marketed as the chai-wala-turned-fashion-wala. Twitter users joked that his good looks had finally given India and Pakistan something to agree on, while Arshad reportedly said that he would be interested in pursuing a film career.
CHINA'S BUS CONDUCTOR
Move aside Terracotta Warriors, Xi'an has just found its latest attraction. Chinese tour bus conductor Zhao Haonan, 21, became a celebrity overnight after tourists posted photos of him on Weibo in October. Dubbed "the most handsome bus conductor ever", his looks have been likened to that of American-Chinese actor Daniel Wu. And the icing on the cake for the ladies? He is very single and ready to mingle.
TAIWAN'S MARKET SELLER #1
Twenty-five-year-old former college student Charlene Chang dropped out of school to take up her family's butchering business in Taiwan's Dongmen Market. Someone snapped a photo of her, posted it online, and well, the rest is history. Chang's new fame has been good for business, however: Scores of suitors have visited her stall in hope of catching a glimpse of the beautiful butcher (or getting her number). Even grandmothers swing by to see if they can set her up with their grandsons.
TAIWAN'S MARKET SELLER #2
The Internet was buzzing earlier this year about this Taiwanese night market seller (clearly, all that chopping has done his physique some good), who came to attention after a Hong Kong website uploaded photos of him on Facebook. While little is known about him, online sleuths have determined that he is a student who helps out at his family's snack stall during the school holidays. So not only is he hot, he's also filial.
THAILAND'S MODEL TAXI DRIVER
Thai celebrity TV host, Woody, gave good-looking moto-taxi driver Dechapat Thanadawong a boost of fame when she shared his photo online. "I've never seen such a hot one in my life!" Woody said in one of her captions online. According to Dechapat's reply on Instagram, he drives a moto-taxi to keep the finances coming while he works as a model. "It's better than staying home and pointlessly waiting for good luck," he wrote. "Don't be embarrassed to work. Don't be offended by small money!"
BRAZIL'S SUBWAY GUARD
Is anyone surprised that Brazil, the birthplace of supermodels, has produced the world's sexiest subway security guard? Guilherme Leao, then 22, became so popular online that his employer even began promoting him as an attraction. Guilherme has since amassed more than 80,000 followers.
SOUTH KOREA'S NEWSCASTER
Korean newscaster Jang Ye Won drove the Internet into a frenzy during the World Cup when she smiled for the camera. Someone created a gif of her goofy grin, posted it on Reddit, and now she's a legit celeb, having been linked to the likes of Korean swimmer Park Tae Hwan.
AMERICA'S TARGET TEEN
Never underestimate the power of teenagers on social media: Alex Lee, 16, became an overnight sensation last year after a 15-year-old girl tweeted a photo of him (captioned "YOOOOOOOOOOO") bagging groceries at retail chain Target. He has since appeared on CNN, met Ellen DeGeneres, and even became a target for conspiracy theorists who posited that his fame was all a big marketing stunt for the company.
ITALY'S MATHS TEACHER
Maths lecturer Pietro Boselli became famous earlier this year after his students at University College London posted his photos online – where it was discovered that he also moonlights as a male model. In interviews with the media, such as Grazia magazine, Boselli, who also has a PhD in Mechanical Engineering, said that he feels "objectified" by women and that he usually keeps his career in fashion a secret, as it could hurt how people perceive him as an academic.
A version of this story first appeared on Toggle.