Bangkok's fascinating indie bookstores you must visit
Two-hour massage? Check. Not being able to remember every item of clothing purchased in a three-hour shopping frenzy? Check. Gorging on the food at Greyhound Cafe? Check.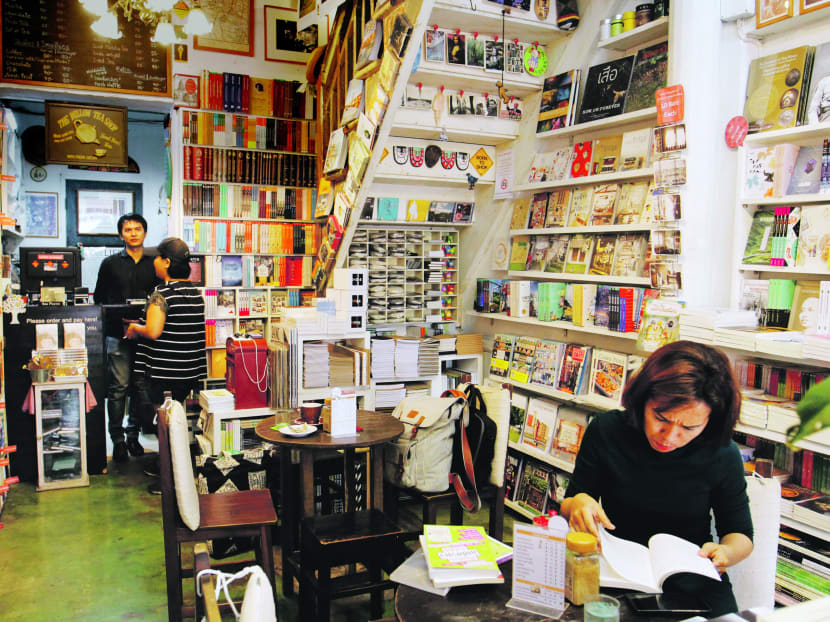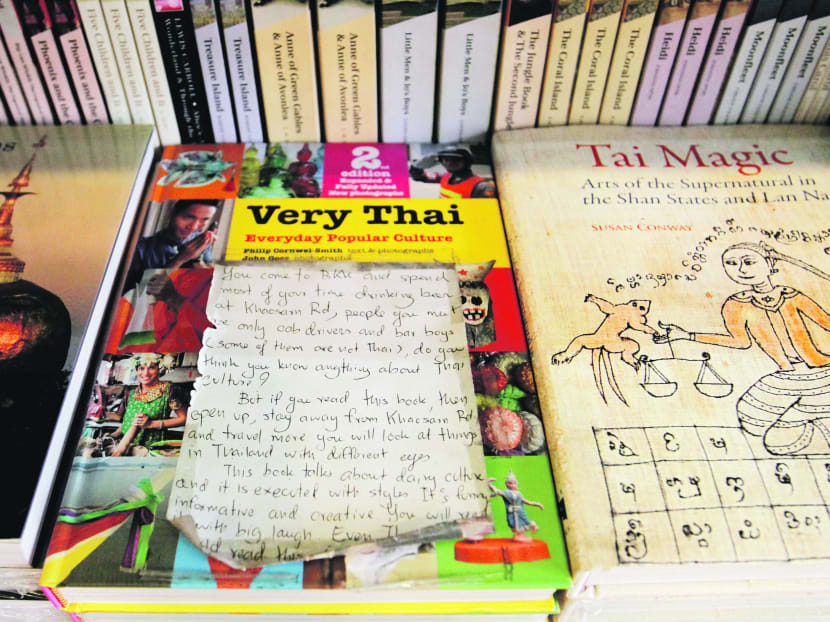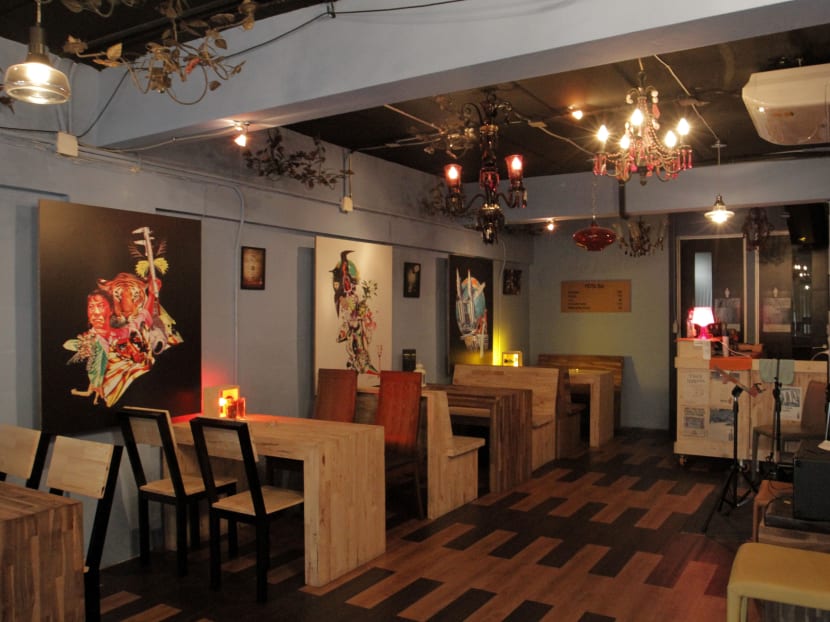 Two-hour massage? Check. Not being able to remember every item of clothing purchased in a three-hour shopping frenzy? Check. Gorging on the food at Greyhound Cafe? Check.
No trip to Bangkok is complete without these time-honoured must-dos. But Bangkok has a quietly thriving sector: Independent bookstores springing up in distinctive locations such as along the Chao Phraya river and in the historic district of Phra Nakhon, which are luring in the curious, hungry and adventurous. Gone are the days of stuffy bookshops in dark corners with dusty shelves and well-worn paperbacks. These boutique offerings are deservedly earning a reputation as destinations in themselves.
What sets these places apart are their emphasis on creating an inviting atmosphere and the fact that they're odes to reading that double up as lifestyle spaces. Bibliophiles, never fear. The romance with the printed word lives on in Bangkok.
1. Zombie Books
In the heart of party central Royal City Avenue, known better to its adoring fans as RCA, is an unassuming bookstore that seems out of place amid the hipster coffee shops and frenetic bars and clubs. But it's precisely because of the energy of the area that writer and publisher Trirat Thanarungroj decided to open Zombie Books in March this year, the latest entrant to the indie bookshop club.
Featuring a quirky collection of books ranging from the works of Japanese author Haruki Murakami and Shakespeare to publications by Trirat's friends, the eclectic choices reflect Thanarungroj's aim to shake up the traditional idea of a bookstore.
"We did not want to just be a boring bookstore. We wanted to make it something more than that," said Thanarungroj.
Zombie delivers on the promise by including a cafe, co-working area, exhibition space and bar. Adding a little rock and glamour to the proceedings is a live band that performs every Friday and Saturday.
Thanarungroj hopes the varied options at Zombie add to its appeal. Explaining the bookstore's name, he said: "If you're bitten, you'll become a zombie. In the same way, if someone visits our store, they will be impressed and need to come here again."
Zombie Books is located at RCA Block D, 21/118 Soi Soonvijai, Rama 9 Rd.
2. Candide Book & Café
To reach this oasis, one must first walk through a maze of stalls selling som tum (papaya salad), handbags and freshly squeezed orange juice in a bustling market. Persevere and be rewarded with entry into The Jam Factory, a funky collection of restored godowns that has turned into one of Bangkok's hottest lifestyle spots across the Chao Phraya river since the multi-venue compound started in 2014.
The complex consists of Candide bookstore, two restaurants and Bunnag's architectural firm. Candide is the brainchild of famed Thai architect Duangrit Bunnag. Like the other buildings in the collective, Candide is an impressive example of industrial chic, with just the right amount of exposed ceiling, cement floors and black steel.
A favourite among students, the bookshop-cum-cafe is stocked with titles from independent publishers and more popular writers such as Ernest Hemingway and Joseph Conrad. Candide draws its fair share of families on the weekends, when jazz and cello performances are held in the bookstore.
"A bookshop should not be quiet, it should have life," reasoned Candide co-owner Duangruethai Esanasatang, who's also a writer and publisher.
With regular book launches and talks by writers, the bookstore is a constant hive of activity with readers, diners and curious onlookers. Offering something for everyone, Esanasatang joked: "We have a one-stop service on the weekend, like a department store."
Candide Book & Café is located at The Jam Factory, 41/1 Charoen Nakhon Road Khlong San.
3. Passport Bookshop
For those with a sense of adventure, Passport Bookshop is a treasure trove of books related to — you guessed it — travel. A labour of love for the last 15 years for former office worker Amnat Rattanamanee, Passport has built a strong reputation as the place to go to for books that inspire journeys, both within oneself and onward.
"I asked myself what I loved. I love reading, I love travelling. I realised the advantage of books. I know that books can improve people's thinking. I know that books and reading can change people's lives," explained Rattanamanee.
Besides travel-related guidebooks and novels based around locations, Passport also stocks tomes on religion, social sciences and philosophy.
Located in Phra Nakhon, an area where weathered and tired shophouses have been converted into hip cafes and swanky bars, the cosy and intimate bookstore has created a tight-knit community that keeps returning for its personalised service, handwritten book recommendations and good coffee.
"It's the atmosphere of the bookshop that keeps me coming back," said customer Verapat S, a painter. "The bookstore's character is one of its kind in Thailand."
Passport Bookshop is located at 523 Prasumeru Rd, Phra Nakorn.
4. Dasa Books
With more than 18,000 books in its database, Dasa Books is undeniably Bangkok's biggest secondhand bookstore. A short walk from the upmarket EmQuartier shopping district, the modest store is a heady mix of best-selling novels, obscure titles and non-fiction gems starting from the bargain-basement price of 19 baht (S$0.70).
Spanning three storeys, Dasa carries books from a comprehensive list of genres ranging from theatre to sports and romance. For the comfort of readers, chairs are placed amid bookshelves along with stepladders for easy access to volumes slightly out of reach.
Explaining the ever-lasting appeal of the printed word, owner Don Gilliland said: "Indeed, there are certainly more options and distractions that are reasons for people not reading as much. Maybe there aren't as many people reading books, but the dedicated, hardcover readers have not stopped reading or buying books."
Dasa also stocks a selection of books in various European languages, including French, Swedish and even Russian, to cater to the expatriate crowd and travellers to Bangkok.
"Here it reminds me a little bit of Western libraries, especially since I'm from Paris and we love this kind of libraries. It's all second hand here but everything is a discovery," said Ema Bouden, a business development manager currently working in Bangkok.
Dasa Books is located at 714/4 Sukhumvit Rd (between Soi 26-28).
5. Bookmoby
With ambitions as big as the cetacean in Herman Melville's Moby Dick, Bookmoby is a bookstore that has set its sights on making it in the publishing world. From its location in the gorgeous Bangkok Art & Culture Centre, the store recently released its first series of books under its own label featuring the autobiographies of four authors — George Orwell, Franz Kafka, Agatha Christie and Vladimir Nabokov. Targeted at the younger crowd, the series aims to draw in a new generation of readers to the classics.
Thai novelist, magazine editor and graphic designer Prabda Yoon opened Bookmoby in 2012. Since then, the bookstore has gone on to organise the first Bangkok Book Festival last year. The book lover's dream weekend of talks, exhibitions and movie screenings is also returning next month from July 15 to 17.
The store itself has much to offer, with a strong cerebral focus on literary and cultural works. Quotes about books hang from the ceiling in draped cloths resembling waves, while handmade books share prime location alongside novels by Milan Kundera and James Joyce.
Attracting an arty crowd eager to be nourished both intellectually and physically is the bookstore's on-site cafe. Bookmoby is a true delight for serious bibliophiles who can easily spend an entire day here.
Bookmoby is located on the fourth floor of the Bangkok Art & Culture Centre, 939 Rama 1 Rd, Pathum Wan.