Casual climber
KRABI — Rock climbing, like sky diving or martial arts, has always seemed like a cool thing to do. But, like going into a wind tunnel or wrestling someone on Nintendo Wii, climbing on man made walls isn't quite the same thing.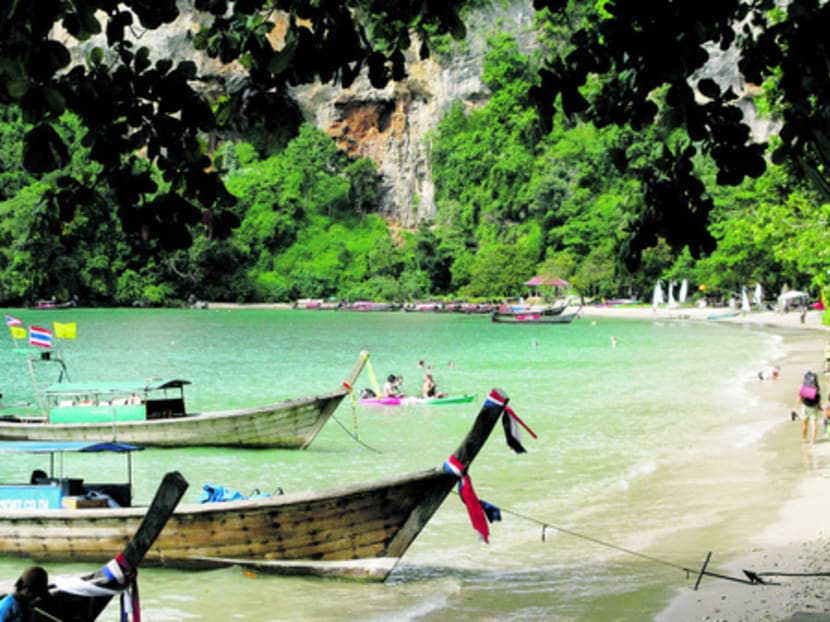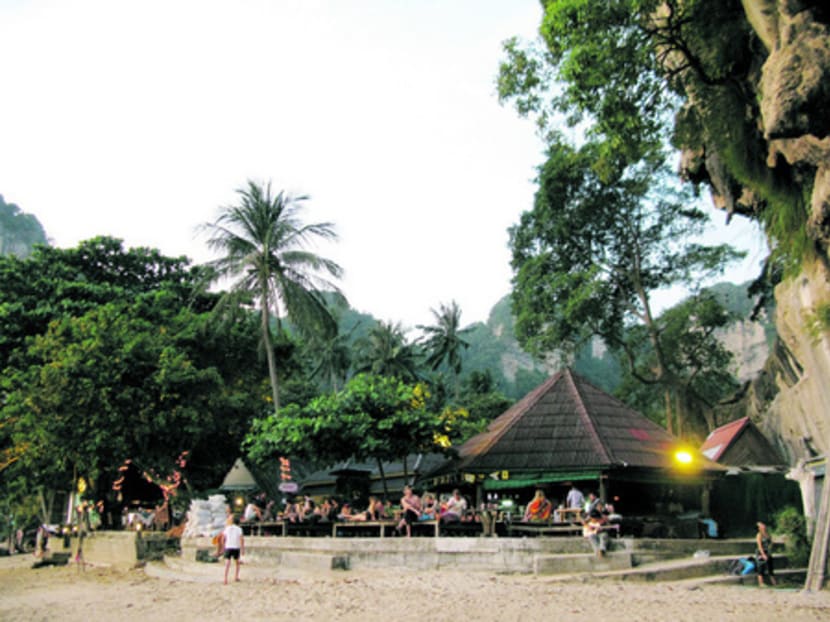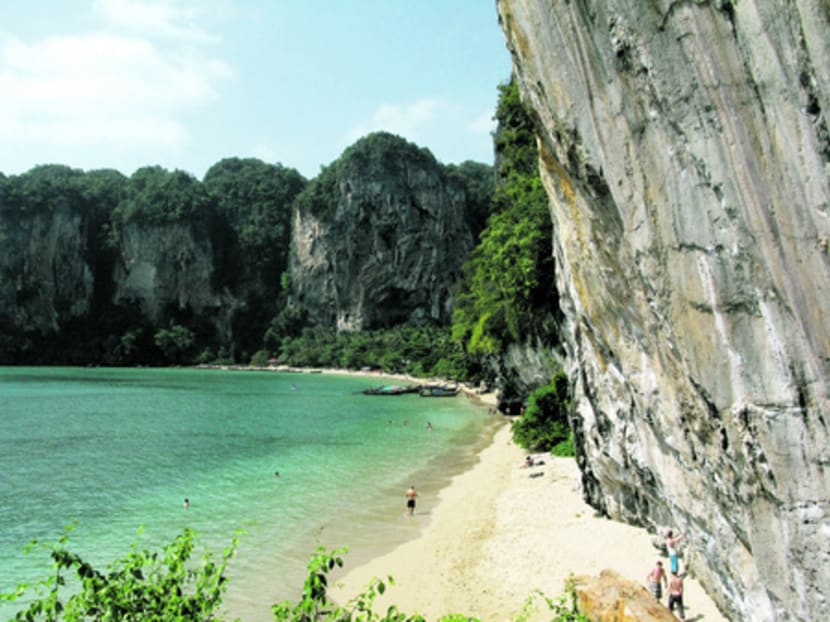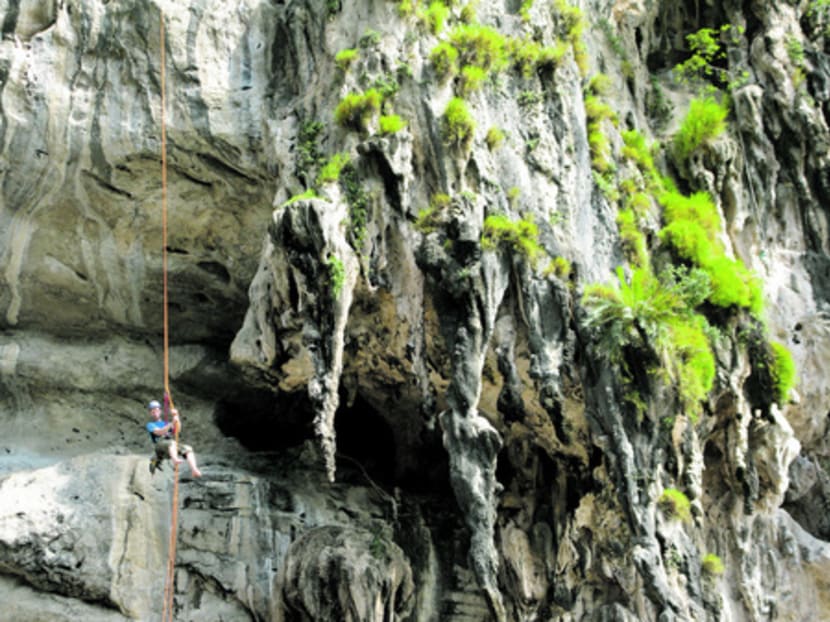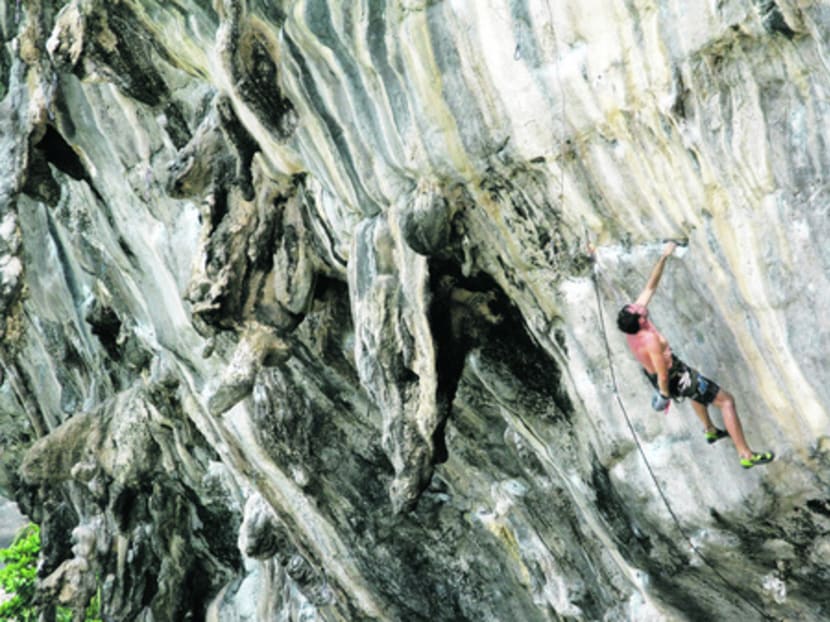 KRABI — Rock climbing, like sky diving or martial arts, has always seemed like a cool thing to do. But, like going into a wind tunnel or wrestling someone on Nintendo Wii, climbing on man made walls isn't quite the same thing.
Luckily, just a hop, skip and jump away is Krabi and her stretch of cliffs that will allow you to experience the real deal. Located on the Railay Peninsula along the western coast of southern Thailand, its crown jewels are the four beaches — Railay East, Tonsai Bay, Railay West and Pranang Beach — as well as over 700 bolted routes for your climbing pleasure. Even if you're more of a weekend wimp than warrior when it comes to climbing, you'll still have a good time. You don't have to be a rock climber to be awed by the majestic cliffs and azure waters. The scenery at every turn and corner looks like a gigantic plasma TV screen showing all those Planet Earth documentaries.
Climbing season is from November to February when the weather is cool and breezy. Unfortunately, it can get a little crowded as climbers from the other side of the world come here to escape winter. Prices tend to go up during this period too.
As easy as 1-2-3
The mangrove shore of Railay East is not pretty. But if you walk to the end of the beach where the cliffs are, you'll find action. Rock climbing instructors like to start newbies on the beginner-friendly walls there, such as those dubbed 1-2-3 and Muay Thai. You will feel strain in your arms. You will fluster at not knowing where to step and hold. It's all part of the fun — along with snapping pictures of your friends' hanging posteriors.
Depending on your skill level and guts, the climbs range from confidence-building ones to the iconic Massage Secrets 1-2-3 that ends in a cave 45m above ground. Every climb in Railay is named: Sometimes ominously (Dead Calm), sometimes quirkily (Chicken Head) and, at other times, cheekily (Tonsai Play Boy). If you're tired of the sea view, head inland for Diamond Cave Wall, which is named for the "waterfall" of shimmery quartz in nearby Tham Pranang Nai or Diamond Cave. Remember to spray on insect repellant before you go. One of the climbs there is not named Mosquito Coil for nothing.
Chill and thrills
Serious climbers base themselves at Tonsai Bay because it's home to some of the toughest routes in Railay, but that shouldn't deter the average climber. The most popular locale here is Freedom Bar, and it's not because of the ice-cold Chang beer it serves. The bar's sun-speckled deck faces a cliff that resembles melted wax. The bottom curves like a 10m tidal wave and extends into a 10m-long roof before soaring skywards. Trees and wild grass grow out from random spots on the rocky surface like a mad gardener's creation. On evenings, you may even witness an impromptu base jumper leaping off the cliffs while you're having dinner.
Further along the coast and you'll reach monoliths such as Dum's Kitchen and Tyrolean Wall. Turn around and walk the other way down the beach and there are more cliffs to scale, such as Fire Wall. Try Groove Tube, which is like a 25m pipe cut length-wise and poked with generous holes.
The soft, powdery sand that stretches out to a crystal-blue sea just about sums up the appeal of Railay West and Pranang Beach. Naturally, these are places where sunbathers congregate, so you can expect an audience when you're climbing on the limestone walls behind these beaches.
It's easy to join the crowd basking in the sun. How can you not be when there are vendors peddling sweet corn on sticks, juicy pineapples slices, cold beer and other treats? You can even opt to have a foot exfoliating session or a massage right there on the sand.
Wet and wild
But if you really want adrenalin-pumping action, then try deep-water soloing. That's climbing in its purest form — without a rope and no gear. There are no routes to follow. Your only safety net is the deep blue sea below.
Many rock climbing centres in Railay offer deep-water soloing to islands such as Ko Poda, Ko Rang Kai and Ko Ma Tang Ming.
You step up onto the cliff from a longtail boat or kayak, and climb as high as you want. The truly brave — or insane — jump from heights of 30m. Keep it to 10m if you're starting out, or just a couple of metres if you're warming up. And don't forget to keep your legs closed and arms against your sides when you jump. Also, bring an extra pair of climbing shoes or leave deep-water soloing till the end, when you won't be climbing after that. Wet shoes don't adhere well to the rock.
There is more to Krabi than rock climbing, of course. You can sign up for scuba diving, island hopping, kayaking, elephant riding and trekking, but there's nothing like sampling the flavours of Thailand, Krabi-style, to cap your visit. Seafood is a big draw and you'll find the day's catch piled in front of BBQ pits for your selection. Most of the Thai dishes are toned down to suit Western palates, so if you want the real deal, don't forget to let your server know.
Did you know?
The metal rings for the ropes you see embedded in the rocks are made of titanium. Not because the rope deserves better than you, but because the expensive metal can stand up to the corrosive sea air. Just don't be tempted to cut them off the cliffs; your instructor will leave you hanging.