Weekend guide (Sep 8 to 10)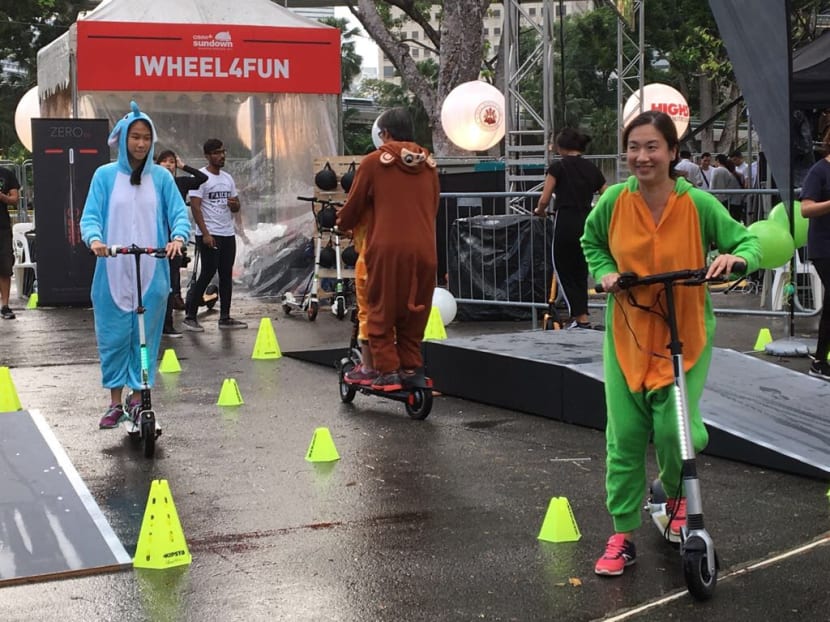 IWHEEL4FUN FESTIVAL
Venue: Tanah Merah Ferry Terminal
09/09/2017 10am - 6pm
FREE
The second edition of Singapore's mobility carnival will be held on Sep 9. Personal Mobility Device (PMD) users, owners and enthusiasts will congregate at the event and attempt to enter the Singapore Book of Records for the largest gathering of PMDs in one location. Veteran PMD riders can also pit their skills in the obstacle challenge while children can enjoy the fun circuit designed for children between two to five-years-old. There will also be safety workshops conducted at the event.
KIDZ & TECH FESTIVAL 2017
Venue: KidZania
Address: 31 Beach View
08/09/2017 - 10/09/2017
Admission fee applies
KidZania Singapore will be having their inaugural KidZ & Tech festival this weekend. Kids can learn about how science and technology affect our daily lives. Participants will get to try out NETS Flash Pay technology with the exclusive KidZania Singapore NETS vending machine and programme robotics and airblock drones in the Robotics and Drone Challenge.
THE ARTLING POP-UP
Venue: Artspace@Helutrans
Address: 39 Keppel Rd
08/09/2017 - 17/09/2017
Admission is free
The Artling Pop-Up, featuring emerging artists and contemporary art, will return for a third edition from Sep 8 to Sep 17. More than 80 artworks by young contemporary artists below 40 from seven different Asia countries will be featured. Among the artists are Malaysian artist Haffendi Anuar and Japanese artist Teppei Kaneuji, whose works depicting social issues will be shown. There will also be an Art Conservation & Restoration workshop conducted by Hera Chen of Yuan Heng Conservation on Sep 9.
UNIQLO ORCHARD CENTRAL CELEBRATES ITS 1ST ANNIVERSARY
Venue: Uniqlo Orchard Central
08/09/2017 3pm - 7pm - 24/09/2017
Admission is free
To celebrate Uniqlo Orchard Central's first anniversary, the flagship store has prepared a slew of workshops and activities over three weekends. On Sep 9, shoppers can try their hand at Katazome, a traditional Japanese dyeing technique conducted by lifestyle brand Polkaros (purchase of a cotton-based clothing item from Uniqlo required). Then on Sep 10, shoppers can learn the art of calligraphic writing with a brush pen in the Brush Calligraphic Play workshop by Craft Varies. Both workshops are held from 3pm to 7pm and are limited to 30 participants each.
PROJECT OLIVIA'S FAMILY DAY CARNIVAL AT THE ENABLING VILLAGE
Venue: Enabling Village, UOB Ability Hub
Address: 20 Lengkok Bahru
10/09/2017 3pm - 7pm
FREE
Community Centre Enabling Village will have a carnival on Sep 10. The event will include carnival games and discussion on topics related to autism, childhood development and behaviour. There will also be an art exhibition featuring works by the children from social enterprise center Olive Tree Development Centre, students from the School of the Arts (SOTA) as well as the National University of Singapore (NUS).
IBREW CHALLENGE 2017
Venue: iBrew
Address: Blk 354, Clementi Ave 2, #01-195
08/09/2017 2pm - 7pm
S$50
Sample from more than 70 kegs of craft beer and vote for your favourite brew at the upcoming iBrew Challenge. The winners and runners-up in the Homebrew Bottle Competition will be unveiled during the event. Pair the beers with crispy roast pork and fried chicken wings from Uncle G's Handmade and Shan's Kitchen, which will be on sale at the event. Tickets are priced at S$50 online and S$60 at door.
HEADS UP: HEINEKEN BRINGS FASHION FORWARD AT LAU PA SAT
Venue: Lau Pa Sat
13/09/2017
FREE
The iconic Lau Pa Sat food hawker centre will be transformed into a garden-themed fashion showcase on Sep 13 in the evening during the Singapore Grand Prix race season. Organised by Heineken, local designers Amos Ananda and Sabrina Goh will be presenting their latest collections for the first time, which will see runway regulars Angie Watkins and Jason Godfrey strutting the outfits on the catwalk. Heineken will also be unveiling their own sustainable fashion collection at the event. There will be a special appearance by former driver and global Heineken F1 ambassador David Coulthard.
HEADS UP: BOUDOIR BLANC 2017
Venue: The Clifford Pier
Address: 80 Collyer Quay
16/09/2017 - 17/09/2017
S$350 onwards
Party in style and luxe at The Clifford Pier, an iconic heritage conservation site as part of the two-day Boudoir Blanc event. Different themes will be featured each night. On Sep 16, the theme is 'Fantasy Land' and on Sep 17, it will be 'Twilight Zone'. After 10pm, partygoers can savour from western culinary delights and pair it with premium spirits such as Taittinger and tequila Codigo 1530, as well as craft cocktails at Maison Ikkoku and the signature Boudoir Blanc cocktails created with vodka Grey Goose. French DJ Klingande, known for using saxophone and violin, will take to the decks on Sep 17 to entertain guests.