Why Sanrio's lazy egg character Gudetama is the emblem of our times
SINGAPORE – The runaway popularity of Gudetama, a cartoon character from Japan's Sanrio corporation, begs the question: Why have millennials so fervently embraced the slacker egg who is too tired to do anything?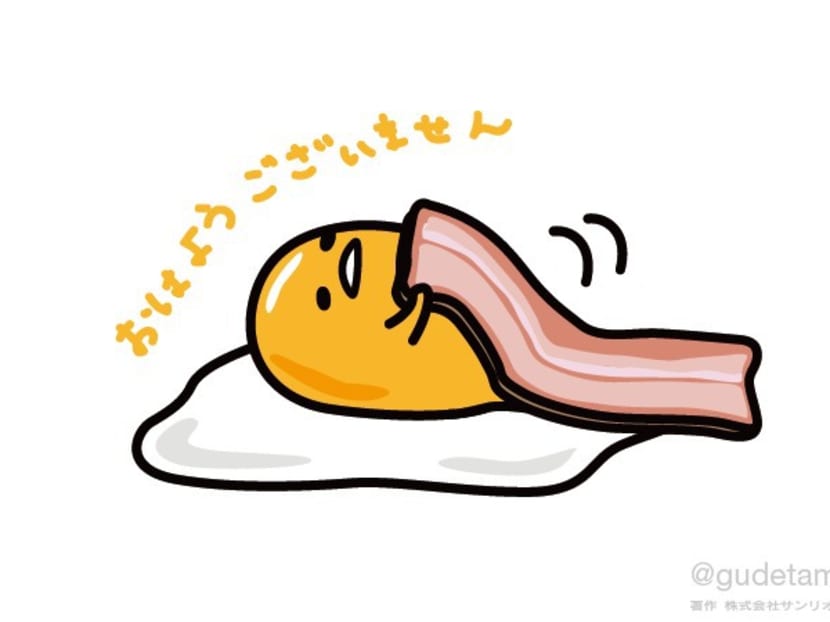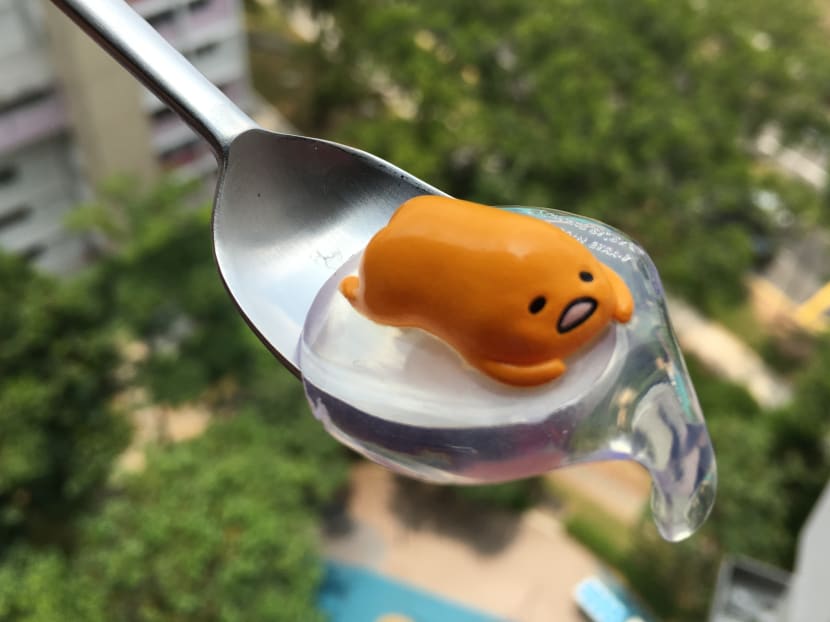 SINGAPORE – The runaway popularity of Gudetama, a cartoon character from Japan's Sanrio corporation, begs the question: Why have millennials so fervently embraced the slacker egg who is too tired to do anything?
If you don't yet know, Gudetama is a shiny, yellow egg yolk character with bleary eyes and a sighing mouth. He makes appearances cooked in several ways: Boiled, fried sunny-side-up, lightly poached, en cocotte, as a pudding, as an omelette and even as ikura sushi (salmon eggs). But in all of those incarnations, he espouses his philosophy of apathetic resignation in the face of his impending fate: Eggs, he knows, exist to be eaten.
His set of paid stickers on the popular messaging app LINE, for instance, has him expressing sentiments such as "Meh", "Never mind", "Leave me alone", "I can't" and "Seriously, I can't" – all while he is draped listlessly over rice or suspended foetally in egg albumen from a pair of chopsticks.
Arguably the most popular cartoon is that of him pulling a bacon blanket up to his chin and mumbling, "Five more minutes".
"Look closely and you will see the eggs that you eat lack spunk," said his character description on the Sanrio website. Basically, it's always Monday for Gudetama.
CRACKING THE MARKET
But really, the yolk's on him. This bottom-of-the-list-candidate for Employee Of The Month would probably be none too pleased to know that, with a growing global following, he's actually turning profit very efficiently for his bosses at Sanrio. His plethora of merchandise ranges from keychains and phone cases to tote bags, pajamas and, quite ironically, monthly planners (what does it matter when we're all going to die, anyway?).
At present, Gudetama has 621,000 followers on Twitter and 121,000 on Instagram. He is so bankable that he has spawned a themed dim sum cafe in Hong Kong and a pop-up restaurant takeover in Los Angeles. That's not too shabby, considering it was 40 years before Hello Kitty had her first food truck collaboration in California – and Gudetama is only three years old.
Here in Singapore, he is so popular that he chose Westgate Mall as the first place in South-east Asia to make a personal appearance. Held in December last year, his meet-and-greet event was organised by Megcorp, the authorised distributor for Sanrio gifts in Singapore, in conjunction with Isetan Jurong East's Sanrio Christmas Fantasy Fair.
Uncharacteristically, Gudetama actually bothered to show up; but of course, his atrophied little legs could not muster up the energy to carry him onstage and he was instead wheeled in on a pushcart. His fans had to line up to sit on the floor for selfies with him (because Gudetama doesn't do standing up) and they were also able to shop for a range of merchandise.
"Gudetama was getting extremely popular and when we had the opportunity to be one of the first Asian countries to host Gudetama outside of Japan, we took it," said Megcorp's brand manager for Sanrio, Estry Wu. Four meet-and-greet sessions were held over one weekend and each time, she said, "the crowd was quite unbelievable – we called it 'traffic-stopping', as mall security had to direct traffic around the event".
Many of the exclusive Gudetama items brought in for the pop-up store were sold out by the first session, she added.
At Megcorp's eight retail outlets, there are new arrivals of Gudetama merchandise each month. And there are "definitely" plans for more Gudetama events in Singapore, "We have had requests from many parties, which we have passed on to Sanrio Japan for evaluation," said Wu.
COGITO EGGO SUM (I EGG, THEREFORE I AM)
It is nothing short of ironic how one little yellow blob's indifferent indolence has managed to inspire fervent fanaticism. The fact of the matter is that Gudetama the cartoon is a very successful work of satire, and its success lies in how strongly the character's unabashed why-bother policy resonates with the current generation.
While technology may have helped us work smarter, it has also encouraged us to work even longer hours, resulting in burnout and fatigue. Its rise seems to have made us faster, slicker and more efficient; but the more we are traversing the globe online, communicating with a dozen people at the same time and curating our social media feeds, the more time we are spending inert and isolated, languishing over our devices.
On top of that, Gudetama mania is also a reaction to the robotic positivity of the self-help books and life coaches of the late '90s. We are told we can be, do and achieve anything we want, but perhaps, paralysed by an overwhelming excess of options, we choose instead to procrastinate perpetually by hitting the snooze button over and over.
An idle egg is an amalgamation of our twin loves: Eating and sleeping. So, from the moment you lay eyes on that globular, glistening, golden butt, you know you're not in Hello Kitty Land any more – especially when our anti-hero proceeds to scratch it.
If Sanrio's old guard Hello Kitty is "ego", then its new superstar Gudetama is "id" – if we weren't so afraid to let it all hang out, we would be spending our days lying comatose on a bed of fluffy carbohydrates, too. The prevailing sentiment of our times is ennui, and a lazy egg has become its perfect symbol.
It's egg-ceptionally poetic how the humble henfruit – the most basic and quotidian of foods – has now been elevated on a cartoon pedestal. What WB Yeats and TS Eliot said in lengthy poems, Sanrio has managed to say in one kawaii character.
In the wastelands of a post-industrial society, the egg no longer symbolises rebirth, spring, new life or cycles of life. Instead, it is the most unremarkable of weary, dime-a-dozen salarymen: Insipid, impotent and unimpressed.
It's a good thing it's so good at making money.