After election euphoria, uncertainty looms for Malaysia's economy, stocks and currency
SINGAPORE — While Malaysians celebrated a new political dawn following the results of their country's 14th General Election, experts said on Thursday (May 10) that Malaysia's near-term economic outlook could weaken as investors adopt a wait-and-see approach to an unprecedented change of governments.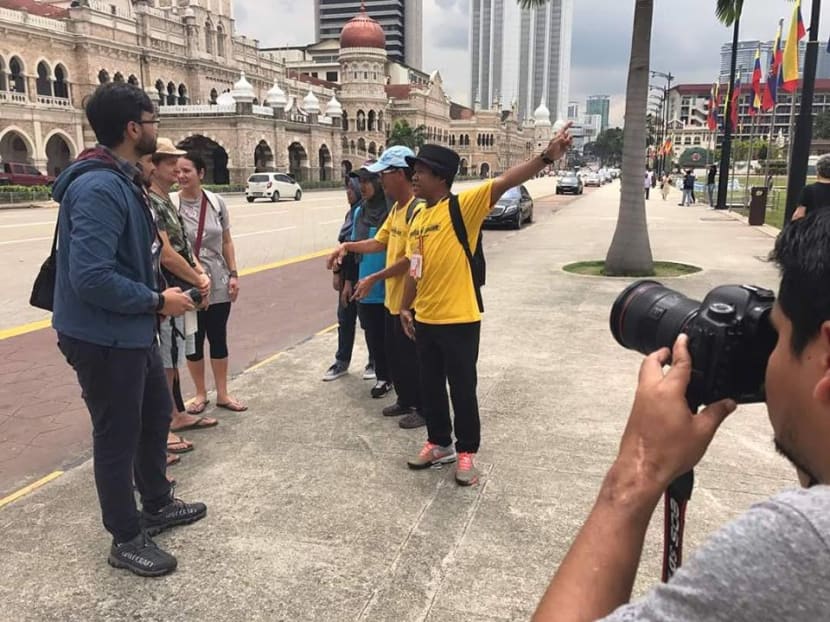 SINGAPORE — While Malaysians celebrated a new political dawn following the results of their country's 14th General Election, experts said on Thursday (May 10) that Malaysia's near-term economic outlook could weaken as investors adopt a wait-and-see approach to an unprecedented change of governments.
There will also be downward pressure on the Malaysian ringgit and the country's stock market. Nevertheless, the experts noted that a smooth handover of power from Barisan Nasional (BN) — which had enjoyed an uninterrupted 61-year rule — to Pakatan Harapan (PH) would go some way to boost investor confidence.
While the Malaysian bourse was closed, several Singapore-listed companies with footprints in Malaysia were among the top 20 losers on the Singapore Exchange (SGX) and their share prices closed lower.
Meanwhile, the iShares MSCI Malaysia ETF — the biggest exchange-traded fund holding Malaysian stocks — fell by 6 per cent, the sharpest decline in almost 2.5 years. In offshore forward markets, the Malaysian ringgit fell more than 2 per cent.
"The lingering political and economic risks… will weigh on investor confidence and performance of local markets, especially the Malaysian ringgit for some time, probably through the end of this year," said Mr Prakash Sakpal, ING's economist for Asia.
Mr Sakpal noted the 2.2 per cent loss in value of the ringgit against the United States dollar (USD) since early last month, partly due to the "increase in political noise".
Following the elections which were held on Wednesday, he has revised his forecast for the ringgit against the USD, from 3.84 to 4.05 for the year.
"We now see (it) breaching the 4.00 level within the next three months and ending the year above that level," he said.
Mr Lukman Otunuga, a research analyst at FXTM, said the strength of the currency will be threatened by "domestic political uncertainty", and the onshore market could find itself vulnerable to downside losses when the market reopens as expected at the beginning of next week.
Still, DBS Group research currency strategists Philip Wee and Duncan Tan said the ringgit would have depreciated, "with or without the election upset".
"Our forecast for the ringgit to depreciate to 4.20 by the end of this year was formulated before the election. This was based on our expectation for a resurgent US dollar from a more hawkish US growth/inflation/rates outlook and a moderation in the Eurozone's momentum," they said.
ECONOMIC OUTLOOK
Propped up by rising oil prices, the full-year economic growth forecast for Malaysia this year stands at 5.5 per cent.
Prior to the polls, the Malaysian economy has been doing well and local financial markets have been outperforming their emerging market counterparts since last year, said Mr Sakpal.
The sustainability of these trends "hinges on the continuity of current economic policies under the new administration", he added.
While "more political jitters" are expected among investors, Mr Sakpal noted that "an absence of any untoward incidents in (the) coming days and a smooth transition of power from BN to PH may be positive for markets in the near term".
The election upset will see Dr Mahathir Mohamad, 92, reprising his role as the Prime Minister. He had previously served in the office from 1981 to 2003, making him the country's longest-serving Prime Minister.
Mr Sakpal noted that Dr Mahathir's previous tenure was known for restrictive economic policies which prohibited the free flow of capital to and from Malaysia in the aftermath of the 1997 Asian crisis.
Dr Mahathir could reassess a multitude of foreign investment projects launched by the previous administration, Mr Sakpal said.
DBS chief economist Taimur Baig and senior economist Irvin Seah pointed to the uncertainties surrounding various policies — such as the goods and services tax (GST), fuel subsidies and some infrastructure projects — which could put a dent in the country's fiscal health and the economic outlook. Dr Mahathir has pledged to scrap the GST, which has been blamed by voters for rising cost of living, and revert to sales and services tax.
"There will also be some uncertainty in the investment environment, especially with regard to some of the large-ticket infrastructure projects, which the opposition vowed to review during its campaign," Mr Baig and Mr Seah said.
Maybank economist Chua Hak Bin said there will be greater clarity on the new government's policy direction in time to come. Nevertheless, some areas that could be reviewed include the 55 billion ringgit East Coast Rail Link — which has been described as a pet project of ousted leader Najib Razak — and investments from China, said Dr Chua.
Mr Eli Lee, head of investment strategy at Bank of Singapore, said that so far, there is "limited clarity" on PH's full range of policies, "since the main message of the Mahathir-led campaign was centred on ending corruption and 'cash is king' politics".
Apart from scrapping GST, PH has also pledged to reintroduce fuel subsidies which were cut by Mr Najib.
Mr Lee pointed out that without measures to offset the impact of such moves, the country's budget deficit and sovereign rating will be adversely affected.
Ratings agency Moody's struck a cautious note and said Malaysia is now in uncharted territory. "(PH's) electoral pledges have lacked details that would allow for a full assessment of their budgetary and macroeconomic impact," said Ms Anushka Shah, vice-president and senior analyst at Moody's.
SGX STOCKS HIT
Since Wednesday, the Kuala Lumpur Stock Exchange has been closed. It will reopen next Monday.
Still, several Singapore-listed companies with presence in Malaysia saw their share prices fall on the SGX, following the election results.
For example, Jardine Cycle & Carriage, Wilmar International and Best World closed the day's session down 2.9 per cent, 1.2 per cent and 3.8 per cent respectively.
Mr Lee said PH's surprise victory was "reminiscent of Brexit and the US presidential election", and this prompted a knee-jerk reaction among investors.
Prior to the elections, financial markets were calm and there was wide expectation that BN would hold on to power, said OCBC Bank economist Alan Lau.
Mr Lau expects some market volatility in the short term due to investor anxiety but the financial markets are likely to recover in a few months.
The temporary closure of the Malaysian bourse "allows market sentiment to settle as we receive more clarity on policy direction from the new government", Mr Lee noted. Aberdeen Standard Investments Malaysia chief executive Gerald Ambrose said that in the near term, specific sectors may see "diverging impacts" on their share prices.
He noted PH's intention to review all infrastructure mega-projects, which may lead to some initial selling in the construction and cement sectors. On the other hand, its agenda to "mitigate high living costs may enhance consumer sector stocks" such as food manufacturers, consumer staples and retail counters.
"Over the medium to longer term, we think the election outcome reflects a growing level of political maturity and respect for democracy that would be beneficial for the country's appeal to foreign investors and economic prospects," he said.