Battleground Johor: Signs of swing in BN's stronghold, but ruling pact's sway likely to hold
JOHOR — President of Parti Keadilan Rakyat (PKR) Wan Azizah Wan Ismail cut an upbeat figure when she arrived in Johor on Monday (May 7) to campaign for the Pakatan Harapan (PH) opposition pact. She told TODAY that there was an "almost palpable sense of excitement that there's going to be change", referring to PH's aim of taking over control of the state from the ruling Barisan Nasional (BN) coalition in Wednesday's polls.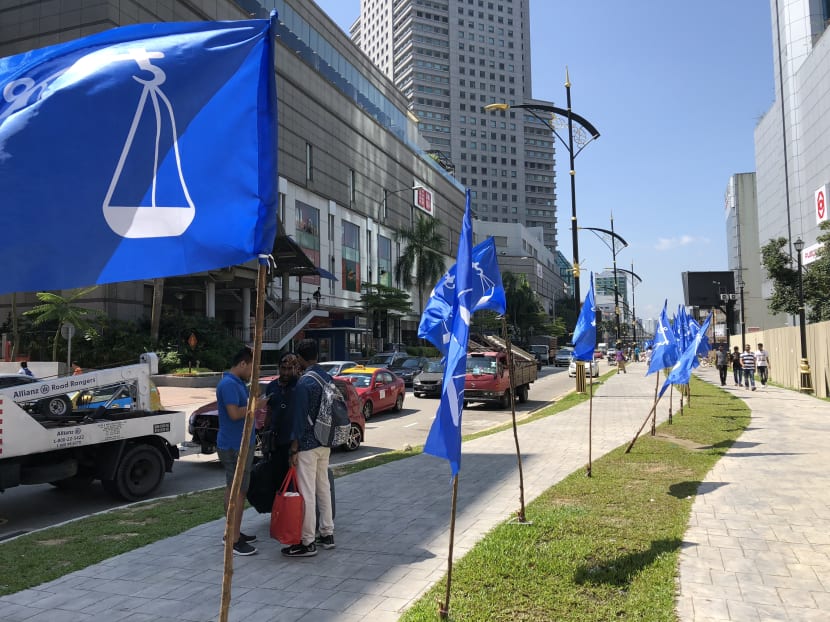 JOHOR — President of Parti Keadilan Rakyat (PKR) Wan Azizah Wan Ismail cut an upbeat figure when she arrived in Johor on Monday (May 7) to campaign for the Pakatan Harapan (PH) opposition pact.
She told TODAY that there was an "almost palpable sense of excitement that there's going to be change", referring to PH's aim of taking over control of the state from the ruling Barisan Nasional (BN) coalition in Wednesday's polls.
In the past few elections, voters would "close their doors and wouldn't even look at us, and they refused to take our fliers".
This time around, she felt a sense of welcome and that voters were yearning for change.
Saying she had a "very expectant feeling" that the opposition pact can prevail in Johor, Dr Wan Azizah added: "For us to have been able to penetrate (a stronghold of the United Malays National Organisation)… shows the significance of the mood for change of the whole nation."
The United Malays National Organisation (Umno) is BN's lynchpin party.
Her optimism is shared by Mr Salahuddin Ayub, 56, PH's vice-president who is in the running for the Pulai parliamentary constituency in Johor.
He felt voters' sentiment towards the opposition this time around was "very different" from previous elections.
"We can feel how people react through the body language when you mingle around with them," he told TODAY.
"I think … the Malays, they are going to change their votes in this coming election."
Observers and experts agree that the opposition is likely to make further inroads into the BN's stronghold of Johor, given voters' unhappiness over rising cost of living and governance issues.
But PH is unlikely to wrench the state from BN's control, they add, noting that it will require a huge swing in Malay votes for that to happen.
Johor is symbolically important to BN, as its lynchpin party — the United Malays National Organisation (Umno) — was founded in the southern state in 1946.
The pact has historically had a stranglehold over Johor, winning most if not all of its 26 parliamentary seats and an overwhelming majority of the 56 state seats.
Support, however, began to drift in the last elections.
In 2013, BN had its worst-ever showing, winning 21 of the 26 parliamentary seats and just 38 of the 56 state seats, despite garnering about 82 per cent of the Malay vote.
According to findings from pollster Merdeka Centre released last month, BN's support among Malays in Johor has now dropped to about 61 per cent.
In contrast, PH's Malay support in Johor stood just shy of one-fifth (19.4 per cent).
The Chinese were shown to be the most supportive of the opposition alliance (77.6 per cent), followed by the Indians (32.7 per cent).
Dr Francis Hutchinson, who coordinates the Malaysia Studies Programme at the Iseas-Yusof Ishak Institute, said PH's message of change, coupled with its focus on the 6 per cent Goods and Services Tax (GST) introduced in 2015 — which it has pledged to scrap if it takes power — "really does resonate".
"Thus, if it can get another 5 to 10 per cent of the Malay vote from BN, this would really enable them to gain new ground," he added.
That, however, may still not be enough for Johor to fall into opposition hands, due to new electoral boundaries and many multi-cornered fights that are expected to benefit BN.
Other factors, including holding the elections midweek — which has been slammed as a strategy to put off millions of overseas Malaysians casting their vote — also seem to work in the ruling coalition's favour.
"It seems very hard for BN to lose," said Dr Serina Abdul Rahman, a colleague of Dr Hutchinson's.
"But I do expect their margins to decrease," she added.
Instead of snagging more than 80 per cent of parliamentary seats, for example, it may get "50-plus to 60-plus per cent support."
Analysts say marginal BN-held seats in areas like Muar and Pasir Gudang could swing to the opposition, with the Malaysian Chinese Association (MCA), a component party of BN, also at risk of losing seats to PH's Democratic Action Party (DAP).
Research analyst Rashaad Ali of the Malaysia Programme at the S Rajaratnam School of International Studies noted that BN's narrative during campaigning has focused on the success of Johor's state government and the nation's stability.
While acknowledging the state government remains popular among Johoreans, Mr Rashaad said this approach could become "awkward as it fails to address issues of corruption or everyday economic woes."
"In Johor, at least, opposition candidates have been able to bring up federal issues in their (speeches). Rising cost of living and GST resonate particularly with voters," he said.
The inroads made by PH opposition parties PKR and Parti Pribumi Bersatu Malaysia (PPBM) were "sure to detract from Umno support", he added.
Indeed, most voters interviewed said they were fed up with the rising cost of living and dearth of opportunities in Johor, and wanted to give the opposition a shot at bettering their lives.
Mr Md Yusoh Abd Hamid, 67, a taxi driver from Muar, cited the rising cost of daily necessities, such as rice as among his main worries.
He used to be able to buy a week's supplies for his family for RM50 (S$16.90).
Right now, the same amount can tide his family over only two or three meals, he said.
"Compared with last time, people are slowly feeling the pain, so maybe change is what we need," he said.
The ruling coalition has made tackling the rising cost of living a key focus of its manifesto, with initiatives to facilitate loans for affordable and low-cost housing, and increased financial aid, for example.
However, self-employed professional Mohammad Faiz Abdullah, 58, said that these initiatives were impractical.
"Malaysians need to eat twice a day, not once every five years," he said, referring to the carrots BN dangles during elections.
He hopes the strong turnout at opposition rallies translates into votes.
"We've had enough of this government… We'll give the (opposition) five years to try."
Others disagree, like Mr Norman Ishak, 45, who is self-employed in the security industry.
He said that under BN's rule, there has been development in towns across Johor.
He welcomes the GST, as it is an important source of revenue which can be funnelled into programmes to help Malaysians. But there must be greater transparency on how the funds are used, he said.
He wants the BN to stay in power, saying: "Things will be much better. People must be mature about their choices."
WHAT FACTORS ARE FOR AND AGAINST PH?
Experts said several factors must be present for the opposition to beat expectations and win Johor.
Dr Hutchinson said there must be a high voter turnout and a significant swing among Malay voters to the opposition, particularly in the west and centre of the state.
This is because it was unlikely PH would make much headway in the predominantly rural east Johor, where BN is most popular.
"Consequently, these two trends need to be quite marked for a significant number of seats to fall," he explained.
Dr Serina said the opposition's weak grassroots machinery in rural areas was one of its biggest hurdles.
Rural voters tend to support candidates they are familiar with, and who have a record of helping them and being there during both celebrations and times of need.
"Parachuting politicians will struggle," she said, adding that topics like allegations of corruption do not bother these voters, as they "just want to know how they will make it to their next pay cheque".
In their campaigning, BN leaders have called out opposition politicians who have been parachuted into their constituencies.
At a rally in Ayer Hitam on Sunday (May 6), incumbent three-term MP and MCA deputy president Wee Ka Siong pilloried his DAP rival Liew Chin Tong as an unfamiliar face seeking to topple a veteran of 15 years.
Mr Liew, DAP's Johor chief, was moved from his Kluang parliamentary constituency to contest in Ayer Hitam, in an effort to unseat Dr Wee, the area's MP since 2004.
One complication for PH could be the spoiler role of its former ally Islamist opposition party Parti Islam Se-Malaysia (PAS), which is contesting 19 parliamentary and 40 state seats.
BN is contesting all 26 parliamentary seats and 56 state seats while PH is contesting all the seats bar one state seat.
PAS candidate Ahmad Nawfal Mahfodz is confident of the party's chances, saying it has a professional approach and has campaigned on issues close to voters' hearts.
For instance, as with PH, the party has proposed scrapping the GST, and offering first-time Malaysian car buyers interest-free loans.
Still, most observers believe that PAS is unlikely to gain much traction in Johor.
But it could split the Malay opposition vote to the benefit of BN.
The ruling coalition can also count on the support of rural Malays in Federal Land Development Authority (Felda) settlements.
Observers had said PH faces an uphill task disrupting Umno's long-standing sway on those who have benefited from the programme.
Set up in 1956, Felda seeks to raise the incomes of the rural poor by opening up land so that they can eke out a living through agriculture.
Johor has one of the largest number of Felda settlements, though there are signs the children of settlers may tilt towards the opposition amid discontent over its management.
An unexpected defeat in Johor will be a big setback for BN and Prime Minister Najib Razak.
"It would be a real blow to BN if it were to fall, as it would clearly show that the debate in Malaysia now is about the quality of governance and inclusive growth, and not just economic growth per se," said Dr Hutchinson.
He noted that besides its symbolic importance, Johor has the second-largest number of seats among all states, is urbanised and multi-ethnic, and has received much investment of late.
"Everything is at stake… (We need to) ensure that we win the elections so that we can continue the good work that we have done in the last 60 years," Tengku Putra Haron Aminurrashid Tengku Hamid Jumat, an immediate past Johor state assemblyman with Umno, told TODAY.
There was also a need for continuity, so that the rapid development already underway in the state capital of Johor Baru will not be disrupted, he added.
"We've seen the states that we lost in the peninsula. We haven't been able to regain (those states) in the last few elections," he said, referring to states like Penang, Selangor and Kelantan which BN failed to take back in 2013.
"So, it's essential that we retain the state and the government because once we lose hold of it, I don't think we'll ever get it back."