BN sees end April, early May as 'best time' to hold polls, say experts
KUALA LUMPUR — Malaysia's parliament will be dissolved on March 28, 29 or 30, an English newspaper reported on Thursday (March 15), and observers told TODAY the general election would likely be held by the end of April or early May.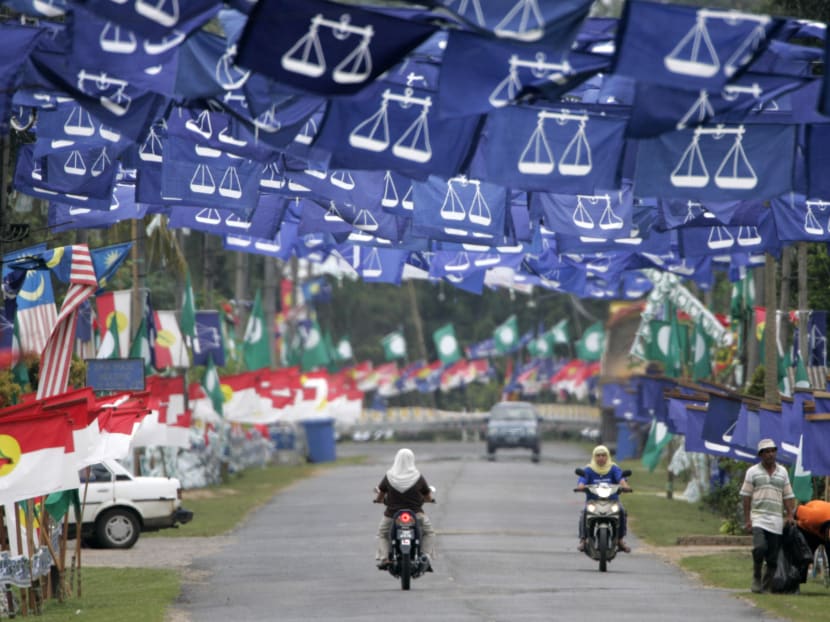 KUALA LUMPUR — Malaysia's parliament will be dissolved on March 28, 29 or 30, an English newspaper reported on Thursday (March 15), and observers told TODAY the general election would likely be held by the end of April or early May.
English daily The Star said a new government would be in place before mid-May — when the Muslim fasting months begins.
Malaysia's parliament is currently in session now, with Prime Minister Najib Razak scheduled to table plans to redraw the electoral boundaries of more than half of Malaysia's 222 parliamentary constituencies as early as next Monday (March 19).
As the motion need not go through the Senate, it could be passed within days with a simple majority of 111 votes.
The ruling Barisan Nasional (BN) coalition has 132 Members of Parliament (MPs).
"I expect Parliament to be dissolved once lawmakers pass the proposal on the redelineation of electoral borders," said Dr Oh Ei Sun, the principal adviser to public policy think tank Pacific Research Centre and a former political aide to Mr Najib.
Electoral boundaries were last shifted nationwide in 2003.
Critics, especially opposition MPs, say the redelineation exercise is unconstitutional and could skew voting in favour of Mr Najib's BN coalition.
But the Election Commission (EC) has denied such claims and said the new boundaries can be enforced within days once it receives assent from the Malaysian King.
Deputy Prime Minister Ahmad Zahid Hamidi dropped a hint on Tuesday, when he told senior editors that Parliament is likely be dissolved once the proposal is gazetted upon receiving the royal assent.
But the clearest hint came from Human Resources Minister Richard Riot Jaem a day later, where he indicated that the annual Labour Day celebration may be held after the national polls.
"I cannot say for sure that the Workers' Day celebration will be held on May 1… it may be held after 'a major celebration'," he told state news agency Bernama in an apparent reference to the upcoming general election.
Analysts told TODAY it is unlikely that Mr Najib will let parliament run its full term to June 24 before it dissolves automatically as this would mean he has less room to call the shots.
There has never been a precedence in Malaysia where a sitting premier has allowed parliament to dissolve automatically.
Moreover, Mr Najib has previously hinted that the polls will be held before the annual Haj pilgrimage season that begins in July.
"I don't think Najib has much of a choice than to hold the elections in end April-early May 2018, because neither can he hold the elections during Ramadan which is from mid-May to mid-June, nor would it be a good time to hold elections immediately after Hari Raya in July as the whole month will be filled with Hari Raya festivities, resulting in very little focus and time accorded to preparing for an electoral campaign," said Dr Mustafa Izzuddin, a research fellow from Iseas-Yusof Ishak Institute.
"So, as elections have to be held before August 2018, the best time to do so would be between April and early May 2018."
BN also would not want the risk of former Opposition leader Anwar Ibrahim teaming up with Mr Najib's supporter-turned-foe Mahathir Mohamad to campaign against the ruling coalition.
Anwar, who is currently serving a five-year sentence for sodomy, is due to be released from prison on June 8.
"Having the election in late April/early May ensures Anwar is not active; a team of Anwar and Dr Mahathir hitting the ground and working the campaign trail is an unknown variable, and the government are unlikely to want to risk its potential to mobilise opposition support," said Mr Rashaad Ali, an analyst with S. Rajaratnam School of International Studies (RSIS).
"Calling an election right before Hari Raya can also help in shortening the campaigning period between nomination day and polling day, as the window for an election is small. This undoubtedly will work in BN's favour."
The EC, which usually meets within a week once Parliament is dissolved, will decide on nomination and polling dates, with campaigning taking place between the two dates.
In recent years, campaigning period has been around two weeks — 13 days during the 2008 polls and this was increased to 15 days in the 2013 election.
An election must be held within 60 days after Parliament is dissolved. The last three general elections were held within a month after the dissolution of the federal legislature.
Although official campaigning only starts on nomination day, political parties usually shift to campaigning mode once parliament is dissolved.
For example, BN will unveil its manifesto on a grand scale on April 7.
While a manifesto can be launched anytime, it has been a practice by the ruling coalition to do so after the dissolution of parliament.
The event is another indication that the polls will be held within a month.
In the last general election in 2013, Mr Najib unveiled BN's manifesto on April 6, 2013 — 28 days before the polls.
In the 2008 general election, BN's manifesto was unveiled by then prime minister Abdullah Ahmad Badawi on Feb 28, 2008 — 11 days before the polls.
The upcoming national polls is widely expected to be the country's tightest political contest in decades.
Mr Najib faces an unprecedented challenge in this year's election from his former mentor Dr Mahathir, who turned on the premier over financial irregularities in state investment firm 1Malaysia Development Berhad (1MDB).
The veteran politician has been Mr Najib's chief critic for the past few years, accusing the premier of corruption following news of RM2.6 billion (S$870 million) being deposited into the prime minister's private accounts, as well as financial issues surrounding 1MDB.
Mr Najib has consistently denied any wrongdoing over 1MDB — a sovereign fund he set up in 2009 and served as chairman of its advisory board until 2016.
Dr Mahathir subsequently joined hands with the opposition Pakatan Harapan (PH) pact and is now leading the charge to oust the premier.
But Mr Najib is still widely expected to win, thanks to an upbeat economy, the electoral boundaries redelineation and PH's weak presence in Sabah and Sarawak, where about a quarter of parliamentary seats are located. WITH AGENCIES