Politicians remember Mr Lee Kuan Yew
SINGAPORE — As the nation mourns, Singaporean politicians paid heartfelt tribute to Mr Lee Kuan Yew, who passed away earlier this morning (March 23).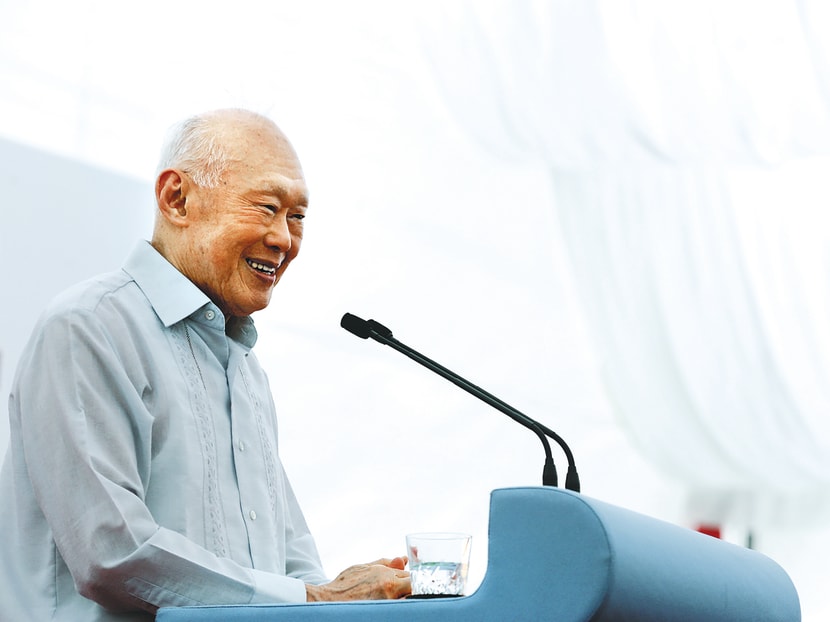 SINGAPORE — As the nation mourns, Singaporean politicians paid heartfelt tribute to Mr Lee Kuan Yew, who passed away earlier this morning (March 23).
In his emotional entry posted on Facebook (full post below) at about 9am, Law and Foreign Affairs Minister K Shanmugam said he was tearing as he wrote his tribute, adding that "Mr Lee is no more". He said he, like most Singaporeans, was a direct beneficiary of Mr Lee's policies as his family had no social capital and very little economic capital. "Mr Lee and his policies ensured that neither my background nor the colour of my skin, nor my religion, were hurdles in getting opportunities. I got a good education in a neighbourhood primary school, got into RI, got into law school and had no difficulty getting a job," he said.
Mr Shanmugam said he first met Mr Lee when he was 28, as Mr Lee was amongst those who interviewed him before deciding to field him as a candidate for elections. Mr Lee questioned him on a variety of topics for 45 minutes - "an unforgettable experience", he noted. Describing Mr Lee as a practical, no-nonsense man, Mr Shanmugam said his sharp intellect meant going straight to the heart of any issue. "There was no small talk or superficiality. Every breathing moment for him was spent thinking about Singapore and Singaporeans. There was an unwavering tenacity to ensure that Singapore succeeded," he said. "I had never imagined a Singapore without Mr Lee."
He also pointed out Mr Lee's qualities, saying his intellect, fervour and passion for Singapore and Singaporeans had won him the respect of global leaders like Richard Nixon, Deng Xiaoping, George H W Bush, Bill Clinton, Henry Kissinger, Tony Blair, Margaret Thatcher and others - he had put Singapore on the world map. "Each time I think about him now, I tear. Each time I read a tribute to him, I choke. It is difficult to describe in words, the grief I feel," he said.
"Very few have made so much difference to so many in so little time. No one else has built a country out of almost nothing, and in the face of so much adversity," he added.
Other Ministers too, have shared their feelings of grief as well as poignant memories of Mr Lee.
"One is at loss for words in moments like this," said Manpower Minister Tan Chuan-Jin at 7.40am today, adding that Mr Lee "was more than our first Prime Minister". "He is in many ways, Singapore personified."
"The best tribute I can think of is to keep calm and carry on, because in many ways, that is Lee Kuan Yew's legacy isn't it? To keep growing and to keep making things better for our people. To celebrate Singapore and to build a brighter future for all our children and beyond," he said. Later at about 10am, he posted another entry, saying "my heart breaks a thousand times over". He added: "We will have to celebrate SG50 without him. Not quite the same isn't it? But we must and we will build towards SG100."
Minister in the Prime Minister's Office Grace Fu said in an 11.30am entry that her early impressions of Mr Lee were of his fiery speeches on stage. He was held in awe and respected by the people of Singapore, she said.
Adding that Mr Lee had done good work for women in Singapore, she said he gave them opportunities to realise their dreams and the privilege of choosing their own destiny. He had treated the women Members of Parliament well, she said, and had included them in his delegation for official visits, counselled and guided them. They had learnt a lot from him and his wife, she recollected. "His relationship with his wife and the role she played in his life, in both private and official capacities, had inspired many women in Singapore," she said, adding that the couple's relationship were role models to our generation of women, and men, on what a perfect marriage should be.
Here's a look at the other tributes and offers of condolences that have been posted: