S'pore DNA can be traced to Mr Lee Kuan Yew's character, philosophy, values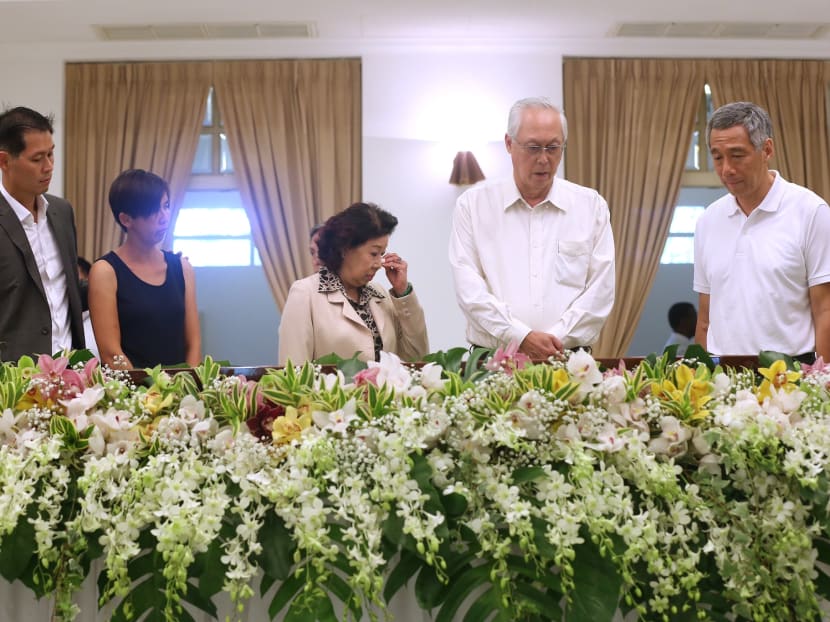 Dear Loong,
Choo Leng (Mr Goh Chok Tong's wife) and I are deeply distressed by your father's passing.
We watched with concern as his health deteriorated over the past year.
I last saw him on Feb 5 upon learning that he was warded in the intensive care unit at the Singapore General Hospital. It pained me to see him sedated and unaware of his surroundings.
Your family has lost its patriarch, and Singapore its key founding father. We share your grief and can only offer you and your family our profound condolences.
Mr Lee Kuan Yew dedicated his life to Singapore. He lived and worked to build a nation and to advance the well-being of Singaporeans. For many Singaporeans — members of the pioneer generation, in particular — he will forever be in our grateful hearts. He gave us a country we can be proud of, a home to bring up our family and a better life we can aspire to.
After stepping down as Prime Minister 24 years ago, he continued striving to safeguard Singapore's future. He wrote books like The Singapore Story: From Third World To First and Hard Truths To Keep Singapore Going to remind Singaporeans of our past, our perpetual constraints and vulnerabilities, and our need to remain cohesive and united in facing future challenges.
I caught a glimpse of Mr Lee as a father when he was on an official visit to South Africa in 1992. He was devastated upon learning that you had been diagnosed with lymphoma. He telephoned me to discuss the immediate steps for your treatment. Outwardly, however, Mr Lee braved on, with little hint of his personal emotions to his hosts. His stoicism and message were clear — we must not be deterred, however daunting life's interventions.
I regard Mr Lee as my mentor. Outside your family, I probably have benefited more than anyone from his guidance and advice. He helped me succeed as Prime Minister. We enjoyed a warm relationship. Until his health got in the way, we saw each other regularly and had lunch fortnightly.
Your father's personal virtues, morals and habits — integrity, resilience, hard work, discipline, frugality, daily exercise, to name a few — are legendary, as are his demands of high standards of performance. Much of today's "Singa­pore DNA" can be traced to his personal character, philosophy and values.
As Prime Minister, you lead a nation in mourning the demise of its greatest son, even as you grieve the passing of your father. Condolences cannot erase the pain of your bereavement. May Singaporeans' deep respect for your father and their gratitude for his lifelong service to our nation give you the strength to continue his life's work of making Singapore strong, secure and prosperous for Singaporeans.
Once again, Choo Leng and I offer you and your family our sincere condolences.