SEA Games: Singapore's Soh Rui Yong wins second straight marathon gold
KUALA LUMPUR - Singapore's Soh Rui Yong successfully defended his SEA Games men's marathon gold on a wet and rainy morning in Putrajaya, Malaysia on Saturday morning (Aug 19), when he held Indonesia's Agus Prayogo at bay to cross the finish line first.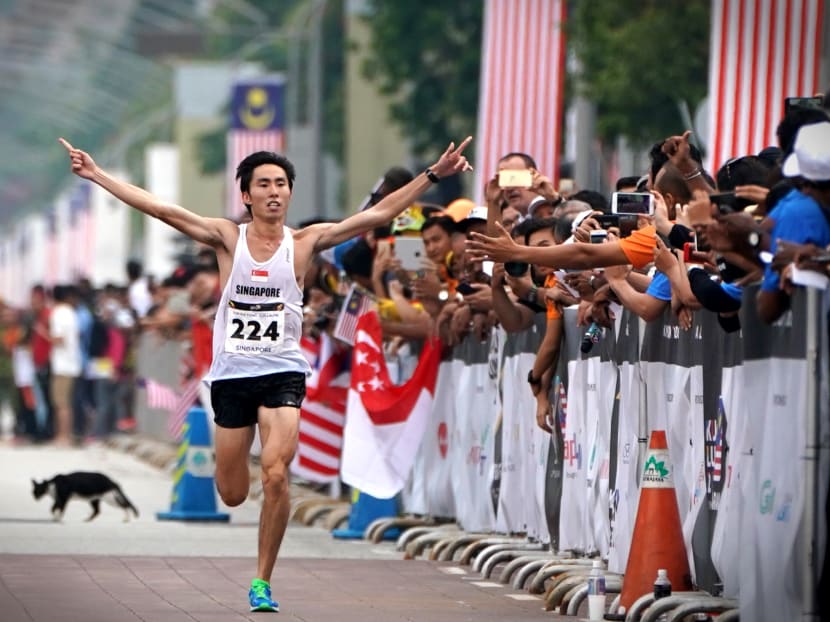 KUALA LUMPUR  – National marathon runner Soh Rui Yong claimed his second consecutive gold medal in the SEA Games men's marathon at Putrajaya on Saturday morning (Aug 19), as the 26-year-old finished ahead of the 15-strong field with his time of 2hr 29min 27sec.
The 26-year-old had started strong in the 42.195km race, staying with the lead pack throughout the race. With Thailand's defending silver medallist dropping out after about 30km – he arrived at the finish line in an ambulance after suffering cramps and had to be transported by wheelchair to the medical tent – the race to gold was left to defending champion Soh and his closest challenger and friend, Agus Prayogo of Indonesia. 
With 2km left to go, Soh finally made his move as he turned on the heat, and his pace. Struggling to cope with the heat and humidity, 31-year-old Agus could not keep up to his younger rival, as the Singaporean sprinted to the finish line to claim gold in 2:29:27.
Agus, a multiple SEA Games medallist in the 5,000m and 10,000m, took the silver in 2:31:20, while Malaysian Muhaizar Mohamad clinched the bronze in 2:31.52.
"It feels good to win gold, but the first time felt better, maybe because it was on home ground," said the champion after his race.
"I felt a lot better than I thought I would given the heat and humidity. The last 2km I just gambled and went for it. I had already started to cramp up so I was thinking 'Agus don't go anymore because I can't keep up with you."
Soh turned emotional when asked about his friendship with Agus. Both runners had first competed against each other at the 2012 Asean University Games, and Soh added: "It kind of hurt my heart as he's just such an inspiration. I don't know why I'm crying. I'm happy I got to race with my idol, he'll always be a hero to me."
Soh, however, is undecided if he will return to the 2019 SEA Games for an unprecedented attempt at winning a third consecutive men's marathon gold. Referring to his recent clash with the Singapore National Olympic Council, which had issued him a warning for repeatedly flouting its rules regarding the promotion of personal sponsors on social media, he said: "We'll see, if the sponsorship rule changes maybe I'll come back. If not we'll reassess and I'll see what my incentives are for running other races.
"I love representing my country and bringing glory to Singapore, and there's nothing like seeing your national flag coming up on the podium. Right now I'm going to focus on Tokyo 2020. I've won the SEA Games twice, it'll be nice to win a third time in a row but 2019 is when the Olympic window opens."
While Soh celebrated his second gold on Saturday, there was disappointment – and tears – for teammate Mok Ying Ren, the 2015 gold medallist in the event, as he finished seventh in 2:44:31. Mok, 29, had to balance his busy work schedule as an resident in orthopaedics surgery at the National University Health System with training for the Games. The medical doctor had time take time to compose himself before speaking to media yesterday, as he said: "Marathon is a sport that doesn't lie, how much you put in in training is how much you get. It has been challenging with work and my (upcoming) wedding and I did the best I could.
"I played it conservatively and in the first round I was last and I worked myself into the middle of the pack. But the lack of training showed in the last two laps and the cramps started coming in the last two laps."
While he will now focus on his career, Mok said he would not rule out a return to compete at the 2019 SEA Games. He added: "The next phase is to focus on my residency and that sets the stage for the next phase of life. But I won't rule (2019 SEA Games out)."
In the women's marathon, Singapore's Jasmine Goh narrowly missed out on a podium finish as she finished fourth in 3:14.36.
Nevertheless, it is an impressive debut for the 37-year-old financial advisor who only took up distance running six years ago in a bid to lose weight.
Read previous story: Not the fastest but Soh and Mok are fancying their chances