848 more HDB blocks to be installed with solar panels
SINGAPORE – Around 850 additional Housing Development Board (HDB) blocks and 27 government sites will be equipped with solar panels by mid-2020.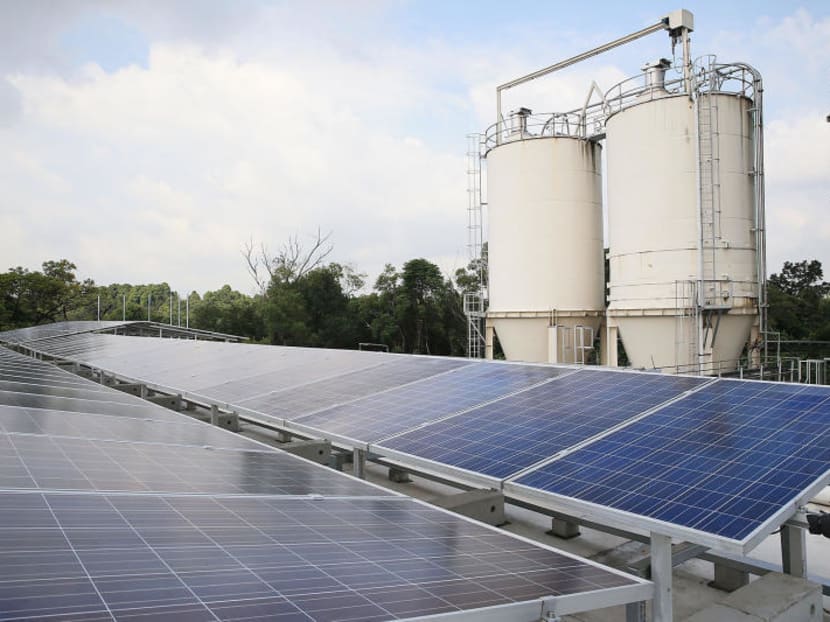 SINGAPORE – Around 850 additional Housing Development Board (HDB) blocks and 27 government sites will be equipped with solar panels by mid-2020.
The HDB and the Singapore Economic Board (EDB) launched its third bulk tender for solar panels on Wednesday (Nov 1). It is the largest tender under the SolarNova programme, which aims to spur growth of Singapore's solar industry by encouraging government agencies to use solar power.
As of Oct 2017, 966 HDB blocks have been installed with solar photovoltaic (PV) panels, contributing almost 45 per cent of Singapore's total solar installations, and cover an area of about 35,000 square metres or the size of about four football fields.
Solar energy is used to power common services such as powering the flat's lift and water pumps within the HDB estates during the day. On average, all 966 HDB flats are able to achieve net-zero energy consumption with excess solar energy channelled back to Singapore's electrical grid.
Commenting on the tender, HDB's chief executive officer Dr Cheong Koon Hean "HDB's efforts in building solar capabilities have made steady progress". He added: "Today, HDB is the largest stakeholder in solar PV installation, having committed to fulfil over 60 percent of the 350 MWp of solar capacity that Singapore has planned to achieve by 2020".
The first of such tender was put up in June 2015 which included 900 HDB blocks as well as installations at eight MHA and Public Utilities Board (PUB) sites. While the second tender was called in October last year which included 636 HDB blocks and 31 government sites.
Several government agencies such as the Ministry of Home Affairs (MHA), Ministry of Education and National Environment Agency, which participated in earlier tenders, have already been using solar power.
Under this latest tender, another four government agencies will be joining the SolarNova programme. They are: the Building & Construction Authority, Institute of Technical Education, National Heritage Board and Sport Singapore.
The tender also requires PV systems of 50 megawatt-peak (MWp) to be installed. This is a 25 per cent increase from the last two SolarNova tenders, which involved the installation of 40 MWp of solar PV systems each. The tenderers are also required to optimise the roof space for solar panel installation.
The tender closes on Jan 31 2018, and is expected to be awarded in the second quarter of 2018. The installation of solar PV systems is expected to be completed by the second quarter of 2020, which is also when solar power is expected to contribute 350MWp to the Republic's energy supply.
Including this third SolarNova tender, HDB has committed a solar capacity of 190 MWp out of the 220 MWp target for 3,350 HDB blocks, and is on track to deploy solar panels on 5,500 HDB blocks by 2020. According to HDB and EDB, with solar PV capacity of 220MWp, 265GWh of clean energy can be generated annually – this is equivalent to powering about 55,000 4-room flats, with carbon emissions reduced by 132,500 tonnes each year.