Singapore to ramp up solar energy production, with 1 in 2 HDB rooftops having solar panels by 2020
SINGAPORE — By next year, Housing and Development Board (HDB) residents can expect to see one in two flats sporting solar panels on their rooftops.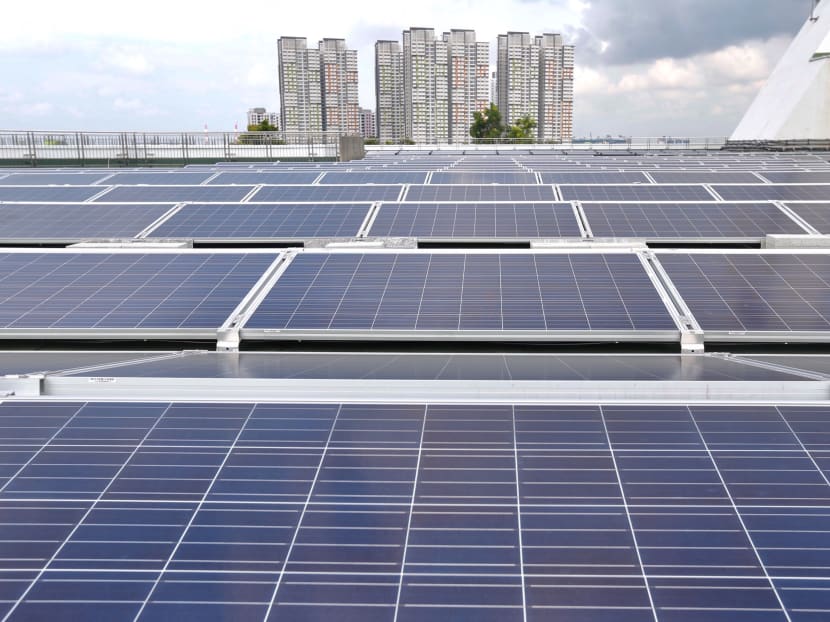 SINGAPORE — By next year, Housing and Development Board (HDB) residents can expect to see one in two flats sporting solar panels on their rooftops.
And by 2030, Singapore aims to produce at least 2 gigawatt-peak (GWp) of solar energy, said Minister for Trade and Industry Chan Chun Sing on Tuesday (Oct 29).
That would be enough to power around 350,000 Singaporean households a year — more than 10 per cent of the peak daily electricity demand today, said Mr Chan, who was speaking at the opening of the Singapore International Energy Week conference.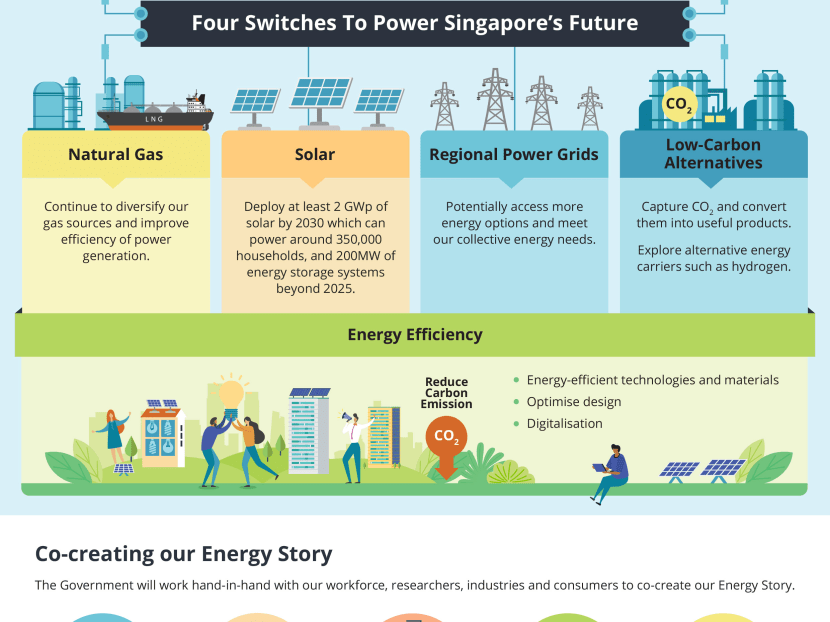 The 2030 target is more than five times the current target of 350 megawatt-peak (MWp) of solar energy by 2020. As of the second quarter of this year, some 260 MWp of solar capacity has already been installed.
Singapore is on track to meet its 2020 target, said Mr Chan, who added that "one in two HDB rooftops" will be fitted with solar panels by then.
OVERCOMING SPACE CONSTRAINTS
Given Singapore's space constraints, the Republic needs to come up with ways to maximise the number of solar panels installed here, said Mr Chan.
He said that solar panels can be deployed on reservoirs, on top of rooftops or even on the vertical surfaces of buildings.
"If we can do that, we will be able to significantly double the amount of space (available)," said Mr Chan.
The Government is currently studying setting up floating solar panels in Bedok Reservoir and Lower Seletar Reservoir. 
For its part, national water agency PUB also announced in June that it intends to deploy Singapore's first single large-scale 50 MWp floating photovoltaic (PV) system on Tengeh Reservoir by 2021. 
It was also reported last year that Sunseap will be building a sea-based floating photovoltaic system, a five-hectare development located north of Woodlands Waterfront Park, along the Straits of Johor.  
Other initiatives to support solar adoption include the use of vacant state land that is not required for development in the near future.
This was started by JTC Corporation in May.  
The project, called the SolarLand initiative, uses mobile substations and solar PV systems that can be relocated to alternate sites, should the land be needed for other uses. 
In a factsheet released on Tuesday, the Energy Market Authority (EMA) said that Jurong Island made an "ideal location" for the first SolarLand project due to the availability of vacant land that was large enough to accommodate it. 
The current system deployed at Jurong Island can produce about 6.6 GWh of solar energy per year, said the EMA.
In his speech, Mr Chan added that Singapore will also support research and development into solar energy, and also streamline regulations to make it cost-competitive to deploy solar panels.  
For example, research is ongoing for building-integrated photovoltaics, said the EMA. This could mean that solar panels could soon be integrated directly into a building's facade, rather than as separate rooftop installations.
STORING ALL THAT SOLAR ENERGY
In order to "do solar energy well", Singapore will also need technology to store it, added Mr Chan. 
However, the adoption of such energy storage systems (ESS) here is still "nascent", and there is less than 1 MW of such systems installed currently, said the EMA. 
Hence, Singapore aims to deploy 200MW of storage systems beyond 2025, said Mr Chan. 
The EMA noted that the production of solar energy fluctuates due to weather conditions such as cloud cover, and this could lead to imbalances between electricity demand and supply.
Having adequate storage support will help overcome this, it added.