100 days as Manpower Minister: Tan See Leng's 'steep learning curve' of puzzling acronyms, issues such as migrant worker dorms
SINGAPORE — When Manpower Minister Tan See Leng took up the post in May this year, he was met with a host of unfamiliar acronyms.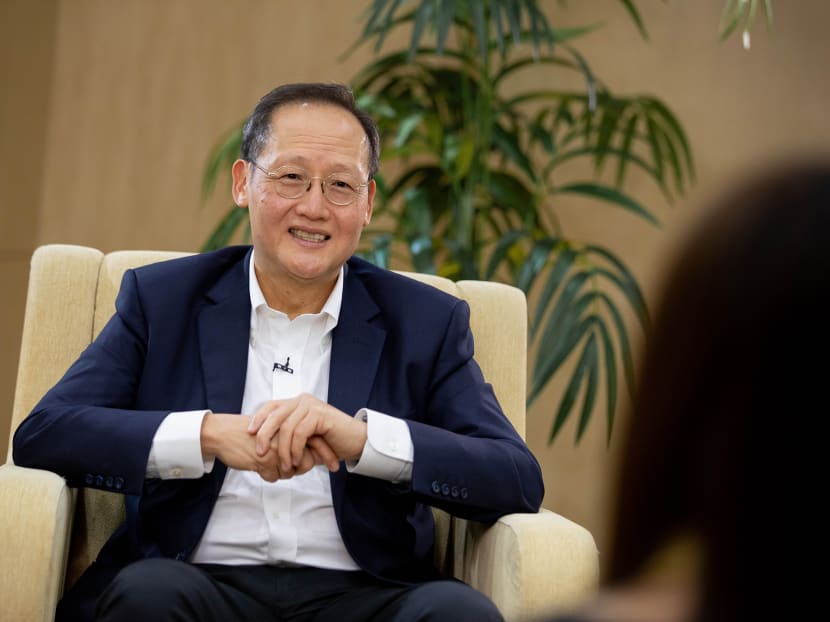 Dr Tan See Leng said that he did not have plans to be a political office holder when he first entered politics, but wanted only to serve
He said the ministry is looking into a 'safe window' to progressively let migrant workers back into the community
He also aims for nine in 10 low wage workers to be under some from of progressive wage or "local qualifying salary"
Dr Tan has also set up a Jobs Taskforce aimed at helping locals switch to new careers and upskill
SINGAPORE — When Manpower Minister Tan See Leng took up the post in May this year, he was met with a host of unfamiliar acronyms.
He recalled that during a work meeting, the term "COE" was brought up.
"They told me about COE and said it was a very difficult (issue)," Dr Tan said. "I said, 'What's the problem, we just bid for it, right? It's a price and market supply kind of thing'."
He had thought that COE referred to the Certificate of Entitlement for purchasing vehicles.
"They said no, you got it wrong, it is a 'change of employer'," Dr Tan recalled. "I'm still struggling with the acronyms, by the way."
These were among the challenges in his first 100 days as minister that Dr Tan disclosed to the media during an interview on Wednesday (Sept 1).
He spoke about several issues that the Ministry of Manpower (MOM) is dealing with, including the welfare of migrant workers in dormitories, noting that the ministry is looking for a "safe window" to allow them back into the community progressively while containing the risk of Covid-19 spread.
He also touched on the issue of lower-wage workers, which was a key focus of Prime Minister Lee Hsien Loong's recent National Day Rally address. Dr Tan also mentioned the setting up of a new Jobs Taskforce that he will be helming.
DID NOT PLAN TO RISE UP THE RANKS SO QUICKLY
Of his role in MOM, Dr Tan said that the pandemic has made for a volatile situation on the ground.
"In the past, I can say every day is a new experience, but the experience (now) changes from morning, afternoon and evening — and sometimes, even in the wee hours of the morning as well," he said, noting that he has had less sleep since his appointment.
Dr Tan had taken on his role just 10 months after he was elected to Parliament at the General Election in July last year.
Asked if this was his plan all along, he said: "I did not harbour any intention to come to support the ministry as a political office holder… I thought I'd come in and serve and help wherever I can."
He added that the learning curve was "very steep", having not just been appointed Manpower Minister but also Second Minister for Trade and Industry.
Last year, MOM had received some criticism for its handling of the migrant worker situation, with most of the coronavirus infections then stemming from workers in dormitories.
Asked how he felt joining a ministry under pressure over this issue, Dr Tan said that MOM had held its own in managing the situation.
"I thought that (former Manpower) Minister Josephine Teo has done very well in supporting and carrying the whole thing," he said. Dr Tan had then worked with Mrs Teo as Second Minister for Manpower.
Mrs Teo, who is now Minister for Communications and Information, was a "very good mentor", who had provided him valuable guidance and support with the Covid-19 situation in migrant worker dormitories, he added.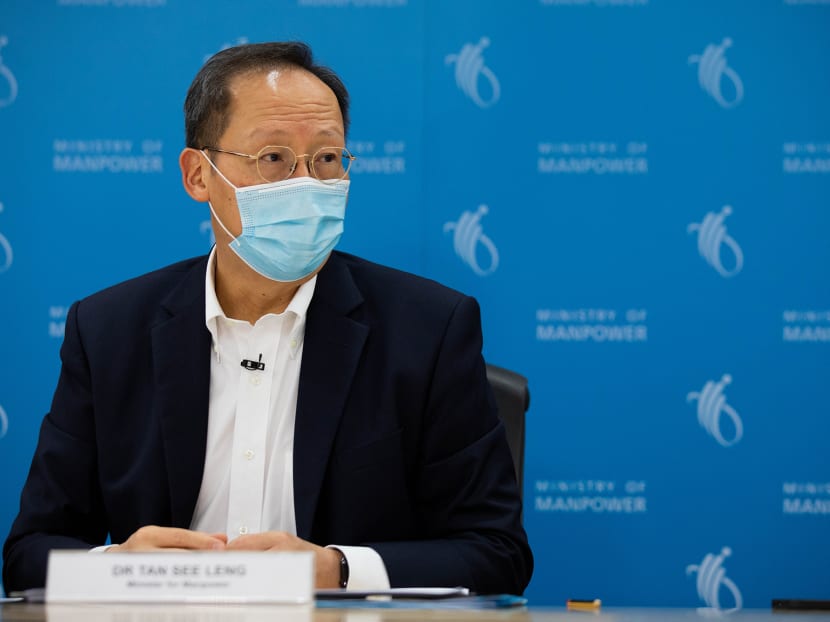 Dr Tan, who was formerly the managing director and chief executive officer of listed group IHH Healthcare, said that there is "a lot of trepidation" in jumping from the private sector into public service.
"I still have that same trepidation. I think it's healthy," he said. "You need to have a healthy sense of fear of mediocrity… that keeps you going, that motivates you and pushes you."
CURVEBALLS
Asked about whether there is a reason why migrant workers, despite their high vaccination rates, are still largely unable to go into the community, Dr Tan said that the ministry is looking for a "safe window" to progressively allow the workers to do so.
For the past year and a half, the 275,000-odd migrant workers living in dormitories have been largely confined to their rooms and allowed to leave only for work or to go to designated recreation centres on some days.
Dr Tan said that the ministry had "fairly clear plans as to what are the triggers, and when we could then execute easing of restrictions for them to go back and visit the community".
"But each time we come close to it, a new curveball happens," he said, citing the emergence of the Delta variant earlier this year as one example.
"I can't overnight build, change living standards, transition the dorms… We are still actively working at it."
He added that the ministry has actively worked on looking into the social well-being of migrant workers. For instance, a task force to address and support the mental health of migrant workers was announced last November.
He said that the ministry had invested vast resources in keeping the dormitories safe.
"The last thing we want is, once they go to the community, they bring the infections back," he said.
"Because already, there's a huge shortage in the construction, marine, process industry in terms of the work, and each time they get quarantined, projects get delayed."
He said that it is a "fine balancing act" to manage the needs of the economy and the migrant workers.
"I ask the migrant workers for their support and patience… every day, we work out all the different scenarios (and) it's a matter of just finding a safe window."
Asked what future dormitories will look like, Dr Tan said that the ministry has done "extensive consultations" with research institutes to work out the spacing and ventilation of the rooms, among other needs.
"The dorms of the future will not be infection-proof, but they will offer a higher level of resilience and resistance to a future infectious pandemic outbreak." 
For instance, the dorms will have "self-contained zones" so that workers do not intermingle in the event of a similar health crisis.
He added that more details on the dormitories will be released soon.
SPECIAL ATTENTION ON LOWER-WAGE WORKERS 
On another front, Dr Tan said that the ministry is paying special attention to lower-wage workers. The goal by 2030 is to narrow the gap between the bottom 20 per cent of wage earners and that of the median worker.
"This means that over the next 10 years, wage increases for the bottom 20 per cent must outpace the wage-increased gradient of those at the median level." 
PM Lee had laid out plans to ​​lift the livelihoods of lower-wage workers over the long term during his National Day Rally address.
Echoing the concerns PM Lee laid out, Dr Tan said that from the present one in 10 lower-wage workers covered under either the Progressive Wage Model system or local qualifying salary, that number can grow to eight in 10, and then eventually cover nine in 10 lower-wage workers.
The wage model sets out minimum pay requirements for workers and mandates wage increases in tandem with workers' training and skills. The local qualifying salary is a wage threshold that MOM imposes on firms that hire foreign workers to ensure Singapore workers get fair pay.
Dr Tan added that about 6 per cent of lower-wage workers will not be covered under either of these schemes, and these are workers who belong to "heartland shops" such as those working as hawkers and in food centres.
"We believe that by market forces, they would also tag along." 
STARTING A TASK FORCE
Dr Tan said that the Jobs Taskforce that was set up is to help place more Singapore workers into jobs with good wages and prospects, with the coordination of government agencies.
The task force will look to support resident workers to switch to new careers, and also reskill existing workers for new or expanded job scopes as their sectors transform, among other areas.
This is to "grow our local pipeline for key sectors" such as in financial services, manufacturing and healthcare, he said.
Dr Tan will be conducting dialogue sessions with parties such as workers and trade associations to "understand where the bottlenecks are in terms of trying to match the jobs with the necessary skill sets, expectations and so on", he added.
In particular, he will be engaging lower-wage workers, middle-aged workers and self-employed personnel to find out about their specific issues when looking for jobs.
The new task force will be a "complementary subset" of the main National Jobs Council, which is chaired by Senior Minister Tharman Shanmugaratnam.
The National Jobs Council first convened in June last year, to create jobs and training opportunities on a large scale.
Dr Tan said that the council looks at jobs from a macro-level "in terms of broad trends", while the Jobs Taskforce will "go into granularity" and look into opportunities across different sectors.