1,000 BTO flats with shorter waiting time to be offered next year
SINGAPORE — The first batch of 1,000 Built-To-Order (BTO) flats that come with a shorter waiting time of two-and-a-half years will be launched in in Sembawang, Sengkang and Yishun in the second half of next year.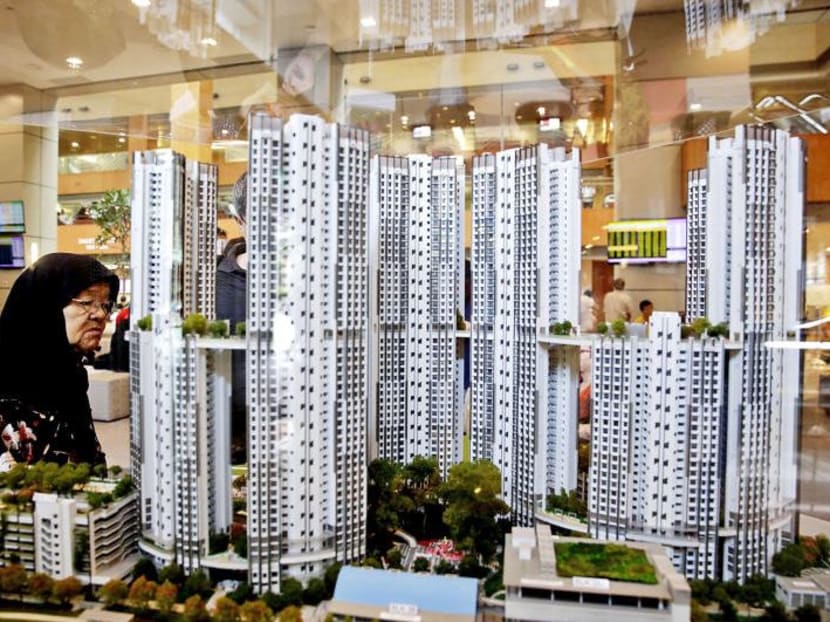 SINGAPORE — The first batch of 1,000 Built-To-Order (BTO) flats that come with a shorter waiting time of two-and-a-half years will be launched in in Sembawang, Sengkang and Yishun in the second half of next year.
Buyers can expect to get their keys between the fourth quarter of 2020 and the first quarter of 2021, which is shorter than the usual waiting time for BTO flats of about three to four years.
These flats will come with floor finishes, internal doors, and sanitary fittings - reducing the renovation works required and enabling buyers to move in sooner. Where the layout permits, the units will also come with an open kitchen concept.
National Development Minister Lawrence Wong first said in October last year that the Government was looking to shorten the wait for public housing. Releasing the details of measures to help young couples get their new flats faster, the Housing and Development Board (HDB) said yesterday that it will also roll out a new way for home hunters to apply for balance flats from next month.
Under a new Re-Offer of Balance Flats (ROF) exercise, all flats that remain unsold at the end of the previous Sale of Balance Flats (SBF) exercise will be pooled together and put up for sale.
"This will help those with more urgent housing needs and/or are less particular about location and attributes to have quicker access to a flat," said the HDB.
Applicants will be shortlisted using a computer ballot, and will get the chance to select any available ROF unit, regardless of flat type and location, based on their queue number.
The first ROF exercise will offer 1,394 of 5,008 unsold flats from last November's SBF exercise, with at least 95 per cent of the flat supply reserved for first-timer families and up to five per cent for second-timer families. ROF exercises will be held twice a year, in February and August, alongside BTO launches, HDB said. After the first few rounds of ROF exercises, the Government will review whether there is a need to adjust the frequency of such exercises.
Mr Wong noted on his blog that the SBF exercises are a "popular option among households, as the flats are nearer to completion or even completed, and spread across various towns". Nevertheless, after every SBF exercise, "there are usually some flats left unsold", he said.
In terms of pricing, Mr Colin Tan, director of research and consultancy at Suntec Real Estate Consultants, felt that flats offered in the ROF exercise should be cheaper than their original prices, given that these units have been unsold after previous rounds.
Nevertheless, Mr Chris Koh, director of property firm Chris International, noted that balance flats may not necessarily be left on the shelf because they were unpopular. (It's) not because they cannot sell but they were already taken by, say, a couple who are planning to get married and then later they change their mind (and) they forgo the flat," said Mr Koh, noting that sometimes there are units in good locations and on high floors which are available in SBF exercises.
On the inaugural batch of BTO flats that come with a shorter waiting time, property analysts felt that the flats in Sengkang and Yishun will see keen demand.
International Property Advisor chief executive Ku Swee Yong pointed to the younger demographics in the northeastern part of the island. Referring to Sengkang, he said: "As a non-mature estate, (it) is probably the best equipped (with facilities) to take care of children."
Mr Koh felt that the Yishun new flats could attract the strongest interest, as the estate has adequate infrastructure is there and is "not so far north compared to Sembawang". However, civil engineer Mr Jacon Ong, who is looking to apply for a BTO flat, said the locations on offer were not appealing to him, as both he and his fiance work in the Central Business District (CBD). "The estates are far from the CBD," said the 26-year-old.  
HDB said first-timers will enjoy higher priority for the flats with a shorter waiting time, with at least 95 per cent of the four-room and larger units set aside for them. This is 10 percentage points higher than the existing quota for non-mature estates. The construction work for these flats are expected to begin in the fourth quarter of this year.
A total of 300 units at Sembawang and 400 units at Yishun are expected to be completed in the fourth quarter of 2020. The new flats at these two estates range from three- to five-room types. At Sengkang, 300 four-room and five-room flats are slated for completion in the first quarter of 2021.