2 giraffes make public debut at Singapore Zoo after nine-day journey from India
SINGAPORE — Two new members of the Singapore Zoo's giraffe herd made their public debut on Thursday (Sept 30), following a nine-day land and sea journey from India and three months in quarantine.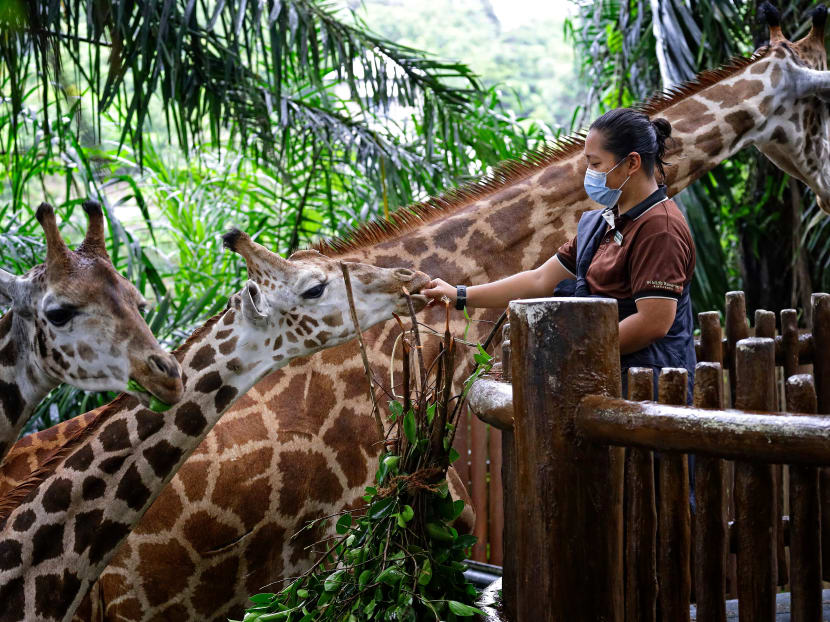 SINGAPORE — Two new members of the Singapore Zoo's giraffe herd made their public debut on Thursday (Sept 30), following a nine-day land and sea journey from India and three months in quarantine.
The two male Rothschild's giraffes, named Adhil and Balaji, arrived in Singapore on May 26 after a 22-hour interstate road journey that began at India's Mysuru Zoo, one day of holding and seven days at sea.
"Serving a three-month quarantine under the watchful eyes of the animal care and veterinary teams since their arrival, both giraffes have since settled well into their new habitat, feasting on a daily diet of hay, herbivore pellets and leaves of starfruit, jackfruit and acacia trees," Wildlife Reserves Singapore (WRS) said in a media release.
Native to Kenya and Uganda, Rothschild's giraffes are classified by the International Union for Conservation of Nature as "near threatened". There are fewer than 2,000 of the subspecies left in the wild.
The partnership between WRS and Mysuru Zoo was established in 2010, and previously involved the exchange of sloth bears and lion-tailed macaques. Discussions on the transfer of the animals began in 2018, before the calves were born in 2020.
The transfer of the giraffes was complicated by a lack of freight flights amid the Covid-19 pandemic.
"As there was a limited window period to ship the fast-growing youngsters before they outgrew all forms of transport, the team explored the option of surface transport," WRS said.
The WRS team sought advice and guidance from other zoos that had experience in transferring giraffes by sea.
The team custom-designed crates with adjustable tops to carry the animals. These crates allowed the animals to stretch to their full heights for most of their journey and could be adjusted to "duck" when clearing road infrastructure, WRS said.
A simulation was held with mock-up crates to map out the best possible route for the final leg of the giraffes' journey from Jurong port to Mandai.
Two WRS animal caretakers accompanied the giraffes throughout their journey, arriving in India a month ahead of their departure to familiarise the giraffes with their new carers. The animals also took part in "crate training" to get them used to their temporary homes.
"Throughout the journey, WRS keepers, equipped with a full supply of feed, supplements and emergency medications, provided meticulous care of the giraffes, and ensured they were comfortable and calm throughout the journey," WRS said.
WRS' curator of herbivores Parmasivam Ramasamy was one of the caretakers who accompanied the giraffes.
"We are very excited to welcome these gentle giants to Singapore Zoo, and have since introduced them to our resident father-and-son duo, Marco and Jubilee," he said.
"The current giraffe exhibit has ample space for the four, and we have added additional water troughs and salt lick blocks in preparation of their debut."
Adhil and Balaji will be part of the European Association of Zoos and Aquaria programme for the species "which aims to maintain healthy and sustainable populations of animals under human care for both conservation and educational purposes", WRS said.
WRS' zoology curator Wendy Chua said: "While the Covid-19 situation has impacted the ways in which international zoos collaborate, it has also reiterated the importance of such collaborations to help conserve nature and biodiversity.
"As more people have embraced the wonders of the natural world and the fragility of the planet amid the pandemic, we hope that guests will also take the chance to learn about the plight of endangered subspecies like the Rothschild's giraffe, and the importance of conservation efforts."
The giraffes have been adopted by Kuok Singapore, whose shipping line PACC Line was engaged in their journey at sea.
Adhil and Balaji will "slowly be conditioned" for feeding sessions with visitors, said WRS. CNA
For more stories like this, visit cna.asia.