Luxury goods scam: 2 men jailed 1 year each for helping fugitive couple flee S'pore to Johor Bahru
SINGAPORE — Two Malaysian men pleaded guilty on Thursday (Sept 29) to helping a married couple flee Singapore after allegedly swindling millions of dollars from luxury-goods buyers in a high-profile case.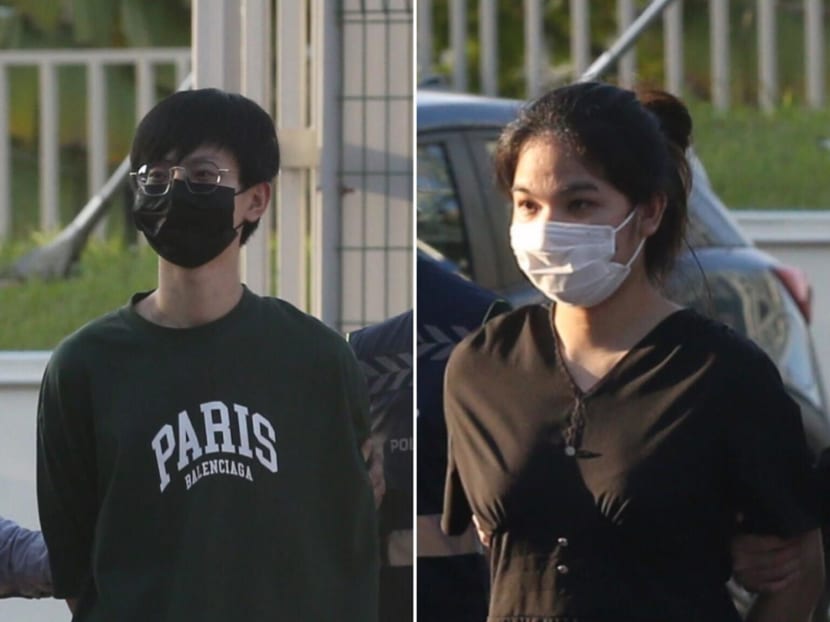 Mohamad Fazli Abdul Rahman and Mohamed Alias, both Malaysians, pleaded guilty to immigration offences
Fazli arranged for Alias to help two alleged luxury-goods scammers escape from Singapore
Alias got Pi Jiapeng and Pansuk Siriwipa to hide in the rear container compartment of his lorry, before driving through Tuas Checkpoint
Pi and Pansuk were located and arrested in Johor Bahru more than a month later
SINGAPORE — Two Malaysian men pleaded guilty on Thursday (Sept 29) to helping a married couple flee Singapore after allegedly swindling millions of dollars from luxury-goods buyers in a high-profile case.
Mohamad Fazli Abdul Rahman, 38, and lorry driver Mohamed Alias, 40, were each sentenced to one year of imprisonment.
Both men admitted in a district court to two charges under the Immigration Act.
They had helped Pi Jiapeng and his Thai wife Pansuk Siriwipa to abscond from Singapore by hiding in the container compartment of a Malaysian-registered lorry, which went through Tuas Checkpoint on July 4.
Pi, 26, and Pansuk, 27, were under investigation at the time for the alleged scam and had surrendered their passports to the Singapore authorities.
Five weeks passed before the Royal Thai Police informed the Singapore Police Force that Pi and Pansuk may have been putting up in a hotel across the Causeway in Johor Bahru, Malaysia.
The Singapore police then sought the Royal Malaysia Police's help to locate them. The couple was arrested by the Malaysian police on Aug 11 and handed over to the authorities here.
Pi, a Singaporean, and Pansuk are accused of cheating victims who made advance payments for luxury watches and bags amounting to more than S$20 million.
More than 180 police reports have been filed against their two companies, Tradenation and Tradeluxury.
Prosecutors previously said that more time was needed to find out where the money received by the two companies is.
WHAT HAPPENED
The court heard on Thursday that a day before Pi and Pansuk absconded, an acquaintance of Fazli contacted him, asking if he could find a driver to smuggle two people from Singapore to Johor Bahru via Tuas Checkpoint.
Fazli agreed to do this in exchange for RM16,000 (S$5,000).
His acquaintance, identified in court documents only as Anson, did not tell Fazli who exactly these two people were.
Later that day, Fazli called Alias to ask if he could smuggle the two people in his lorry. The two men knew each other from working in the same logistics company in Malaysia.
Alias, who was a lorry driver, agreed to the plan in exchange for a fee.
On July 4, Alias went to Ang Mo Kio Industrial Park to carry out delivery orders. He shared his location with Fazli who told him to wait for Pi and Pansuk to arrive.
When the couple got there, they sat in the passenger seat of Alias' lorry. Alias then drove towards Tuas Checkpoint and was told to update Anson when they cleared the land border.
He then told Pi and Pansuk to hide in the rear container compartment of the lorry to evade detection.
An immigration officer at Tuas Checkpoint performed the usual clearance procedure and no spot check was conducted on the container compartment.
When they successfully entered Johor Bahru, Alias called Fazli to give the news to him. He then told Alias to drop Pi and Pansuk off at a flyover near the checkpoint.
The couple was subsequently picked up by an unidentified driver.
Fazli received RM16,000 and handed over RM11,000 in cash to Alias.
Both men were identified by the police through efforts to find Pi and Pansuk.
Fazli was arrested on July 29 in Malaysia and handed over to the Singapore authorities, while Alias was detained at Tuas Checkpoint after screenings revealed that he was involved in immigration offences.
FUELLED BY PECUNIARY GAIN
Deputy Public Prosecutor Sarah Thaker sought the sentence imposed, arguing that the safety and integrity of Singapore's borders "demand that rules are adhered to strictly".
In mitigation, Fazli said he is the sole breadwinner of his family and asked for leniency. Alias also said he has three young children and he is supporting his parents who are in Malaysia.
Senior District Judge Bala Reddy told the court that both men's behaviour was "fuelled by pecuniary gain" and they "played an instrumental role" in Pi and Pansuk illegally leaving Singapore.
The harm caused was substantial and locating them required significant effort by the Singapore Police Force and their foreign police counterparts, the judge added.
Under the Immigration Act, a person who abets anyone to leave Singapore illegally faces at least six months' and up to two years' jail and may also be fined up to S$6,000.
Any abetment of offences in Singapore, even if committed outside the country, is punishable under the law here.