37 S'poreans, foreigners investigated for radicalisation, stoking communal unrest after France terror attacks; 1 foreigner arrested, 16 others deported
SINGAPORE — Following a resurgence of terrorist activity in France and other parts of the world in recent months, 37 people have been investigated by Singapore's Internal Security Department (ISD) for suspected radical inclinations, inciting violence online or stoking communal unrest. Among the group are 14 Singaporeans.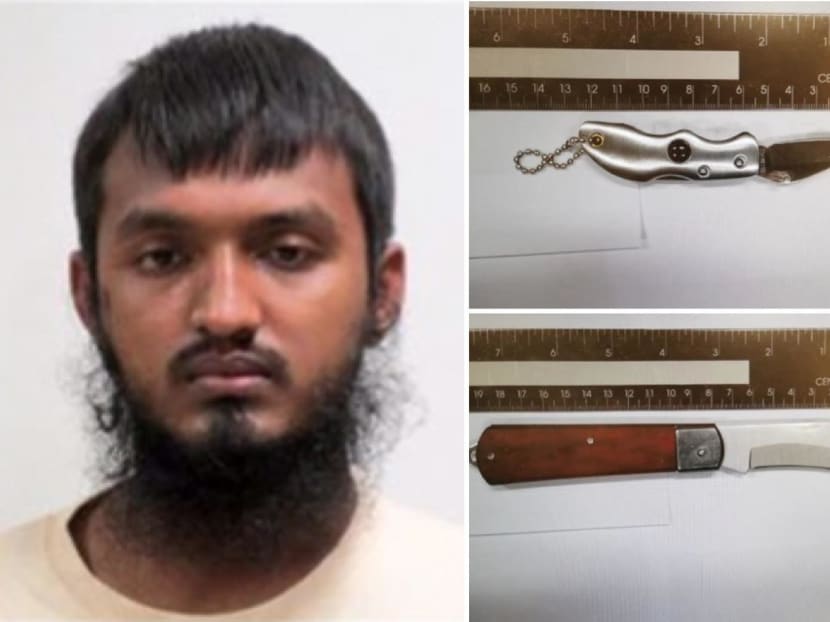 The Singapore authorities had been on heightened security alert since early September
They began investigations into 37 people for suspected radical inclinations and other activities
These 37 comprise 14 Singaporeans and 23 foreigners, of whom 16 have since been repatriated 
A man who was arrested had bought foldable knives, allegedly for use in attacks against Hindus in Bangladesh
SINGAPORE — Following a resurgence of terrorist activity in France and other parts of the world in recent months, 37 people have been investigated by Singapore's Internal Security Department (ISD) for suspected radical inclinations, inciting violence online or stoking communal unrest. Among the group are 14 Singaporeans.
One of the 37, a Bangladeshi construction worker, was arrested under the Internal Security Act on Nov 2 following investigations into his alleged terrorism-related activities.
In a press release on Tuesday (Nov 24), the Ministry of Home Affairs (MHA) said that it had heightened security alert after a spate of terrorist attacks in France, so as "to pre-empt copycat attacks in Singapore". 
The unrest in France happened after French satirical magazine Charlie Hebdo republished a series of caricatures depicting the Prophet Muhammad on Sept 1.
MHA said that a majority of the people being investigated here attracted security attention because they had supported the beheading of French schoolteacher Samuel Paty.
They had also supported subsequent attacks in France and elsewhere, or incited violence against France or French president Emmanuel Macron for the French government's defence of the Charlie Hebdo cartoons.
A few of the people had made derogatory remarks against Muslims, MHA added.
While a handful of the individuals had commented on the same discussion threads on social media, the majority of the cases are not connected to each other. 
MHA also said that there is, to date, no indication that any of these individuals had been planning any attacks or protests in Singapore.
Preliminary investigations showed that the arrested man — 26-year-old Ahmed Faysal — had prepared himself for armed violence in support of his religion by watching firearms-related videos online, although he is not linked to the incidents in France.
Faysal, who started working here for a building products company in early 2017, also bought foldable knives and blades in Singapore, which he claimed he would use to carry out attacks against Hindu police officers in Bangladesh.
Apart from Faysal, the other 22 foreigners include 16 individuals — 15 Bangladeshis and one Malaysian — who had been repatriated after ISD completed its investigations into them.
Most of the 15 Bangladeshis were working in the construction industry. In response to the recent terror attacks in France, they had made social media postings that incited violence or stoked communal unrest, MHA said.
As for the Malaysian, he was found to be radicalised and had harboured the intention to travel to Syria and Palestine to partake in armed violence.
Investigations are ongoing for the rest of the cases, MHA said, adding that the Singapore Police Force was involved in some of the probes.
The Singaporeans comprise 10 males and four females aged between 19 and 62. Most of them had, in response to the recent terror attacks in France, made social media postings that incited violence or stoked communal unrest as well.
In response to TODAY's queries on the professions of these Singaporeans, MHA said that they include homemakers and a student. None of them are religious teachers.
On whether the Singaporeans were detained, Law and Home Affairs Minister K Shanmugam confirmed that Faysal is the only one who was arrested and that the authorities "generally try and avoid detention". 
For cases that MHA pick up early, it takes an advisory approach to advise the individuals, guide them, and try and put them on a path that does not get them into trouble," he said.
The authorities decided not to detain the 15 Bangladeshis and one Malaysian who were repatriated, because they had not crossed "a certain threshold", Mr Shanmugam said. 
Still, they "could have become dangerous" since they were propagating jihadist viewpoints, he added.
Asked if the Government should be concerned about foreigners using Singapore as a base for agitating violence abroad, Mr Shanmugam said that ISD has so far been able to be on top of the situation.
"We ought not to be looking at every migrant worker as a potential terrorist… The number who cross the line are the minutest fraction. Most of them are here for an honorable purpose. They are trying to feed their families back home, who are in very poor circumstances. Their main focus is to do an honest day's work, get an honest day's wage," he said.
TERRORISM STILL ALIVE
Earlier on Tuesday, Mr Shanmugam delivered a speech at a Religious Rehabilitation Group (RRG) seminar, where he said that the incident involving the French schoolteacher had drawn strong responses from Muslims around the world, with some describing France's actions as Islamophobic.
The teacher was beheaded by an 18-year-old Chechen teenager in a Paris suburb on Oct 16 after he showed his students caricatures of Prophet Muhammad from Charlie Hebdo during a lesson on freedom of expression.
In response to the killing, Mr Macron had issued a statement paying tribute to the teacher.
He had defended the right to publish the cartoons in France, leading to jihadists calling on its followers to attack French interests and to attack anyone who insult Islam, Mr Shanmugam noted.
Pointing out that there were then follow-up attacks in Nice, Lyon and in Vienna, Australia, he said: "It shows that when jihadists make such calls, there are people who will follow and kill others, (resulting in) more terror."
MHA also noted in its statement that there had been attacks in places such as Jeddah, Saudi Arabia as well.
These came in the midst of a palpable anti-France climate in several countries, as seen in large protests, calls for boycotts, as well as an uptick in terrorist rhetoric online, it said.
It added that the threat of terrorism is still alive, notwithstanding the military defeat of the Islamic State of Iraq and Syria (Isis) and the dismantling of its self-declared caliphate in Syria and Iraq.
Mr Shanmugam said that the work of the Religious Rehabilitation Group (RRG) remains important during the Covid-19 pandemic. This is because terrorist groups and their supporters are always quick to capitalise on current events and issues to further their violent agendas. 
He pointed out that groups such as Isis and Al-Qaeda had, for instance, framed the Covid-19 pandemic as divine retribution against the West.
MHA said that the population has inadvertently increased its exposure to radical ideas, with many people spending more time online during the pandemic.
To mitigate these concerns, community partners, including RRG and the Inter-Agency Aftercare Group, have stepped up their counter-radicalisation efforts. These include publishing a series of short videos and motivational quotes in various languages to raise awareness of the threat of online radicalisation and disinformation.
In Faysal's case, MHA said that he shifted his allegiance from Isis to another militant group fighting to establish an Islamic caliphate in Syria, called Hayat Tahrir Al-Sham (HTS). This happened in the middle of last year, about a year after he became radicalised by imbibing online propaganda on Isis.
Faysal donated money to a Syria-based organisation on the understanding that his donations would benefit HTS' cause in Syria.
He also actively shared propaganda promoting armed violence on social media, using accounts created under fictitious names.
Apart from Isis and HTS, Faysal expressed support for other terrorist groups including the Al-Qaeda and Somalia-based Al-Shabaab.
He was willing to travel to Kashmir, as well as Syria, to fight against the perceived enemies of Islam.
MHA revealed that Faysal lived in a dormitory and is not known to have interacted much with his dormitory mates, but is proficient in English and adept at using social media.
He would translate some of the content that he found online from English to Bengali and repost the material on his accounts to encourage other Bangladeshi Muslims to partake in armed jihad.
Beyond these social media activities, MHA said there is no information that Faysal had tried to influence his colleagues, dormitory mates or anyone else in Singapore with his radical views.
"It appears that none of them were aware of Faysal's radicalisation," it added.
On the number of orders under the Internal Security Act that are in force, MHA said that there are 17 Orders of Detention and 28 Restriction Orders in place against various individuals for terrorism-related conduct.