4 months' jail for man who struck elderly mother with dementia, pushed her off her wheelchair
SINGAPORE — Angered after an argument, Ling Heng Soon pushed his wheelchair-bound mother towards a staircase railing so forcefully that she fell.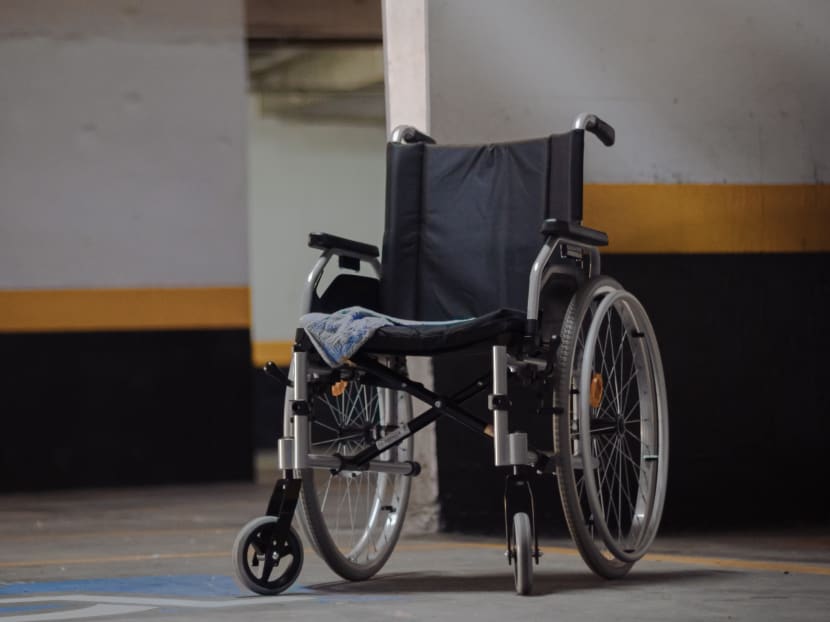 After an argument, Ling Heng Soon pushed the wheelchair his mother was sitting in, causing the 84-year-old to fall
The 64-year-old also pulled her hair and struck her with a slipper
His mother's domestic worker tried to get him to stop but he refused to listen 
SINGAPORE — Angered after an argument, Ling Heng Soon pushed his wheelchair-bound mother towards a staircase railing so forcefully that she fell.
He then pulled the 84-year-old woman's hair and struck her with a slipper repeatedly.
Ling, 64, was sentenced to four months' jail on Wednesday (July 14) after pleading guilty to one charge of voluntarily causing hurt to a vulnerable person.
This was not the first time Ling, who owned a stall at Mei Ling Market and Food Centre, had a brush with the law. In November last year, Ling was jailed for four months for assaulting a fellow stallholder in 2018. The attack left the woman with permanent facial scars.
He was undergoing a Newton hearing for that case, which is held to resolve matters that can affect sentencing, when he struck his mother.
The court earlier heard that on Aug 7 last year, the domestic worker — Ms Eka Fransiska — took Madam Ng Gung Huat over to Ling's flat, which is on the same floor as Mdm Ng's flat.
Mdm Ng, who suffers from dementia, needs help with activities such as showering, eating and changing clothes.
When mother and son began arguing at about 7pm, Mdm Ng said that she wanted to go to the void deck of the housing block.
Ms Fransiska hesitated taking her downstairs because it had turned dark but Ling told her to do it when Mdm Ng started to complain.
He opened the flat's gate and pushed his mother's wheelchair out, with Ms Fransiska following behind.
He then deliberately pushed the wheelchair with such force that Mdm Ng toppled to the ground. Ms Fransiska rushed to assist her and Ling also helped his mother back onto the wheelchair.
When Ms Fransiska tried to take Mdm Ng back to her own flat, Ling turned the wheelchair around and pushed it forcefully again, causing Mdm Ng to fall off once more.
Ling then used Ms Fransiska's slippers to hit his mother's left hand and pulled her hair repeatedly, despite the worker's pleas for him to stop.
He then helped Mdm Ng back onto the wheelchair and Ms Fransiska took her back to Ling's flat.
The next day, Mdm Ng told Ling's wife that she was in pain.
The younger woman made a police report that night at Chai Chee Neighbourhood Police Centre after Ms Fransiska told her what had happened. There were also visible injuries on the old woman's hands and chin.
Mdm Ng was examined at Changi General Hospital, where a doctor found bruises and swelling on her knee and forearm. She also had an abrasion on her chin and she could not fully extend her right knee.
She was given medication and two days of medical leave.
The offence of voluntarily causing hurt attracts up to three years' jail or a maximum fine of S$5,000, or both.
However, Ling was liable for twice that punishment as the law regards Mdm Ng as a vulnerable person. The provision for enhanced penalties for crimes against vulnerable persons took effect last year.