400 more cases of people fined for breaking safe distancing rules, 19 in hawker centres and markets
SINGAPORE — The authorities are imposing more than 400 fines on people who failed to comply with safe distancing rules, for offences that took place on Tuesday and Wednesday (April 15).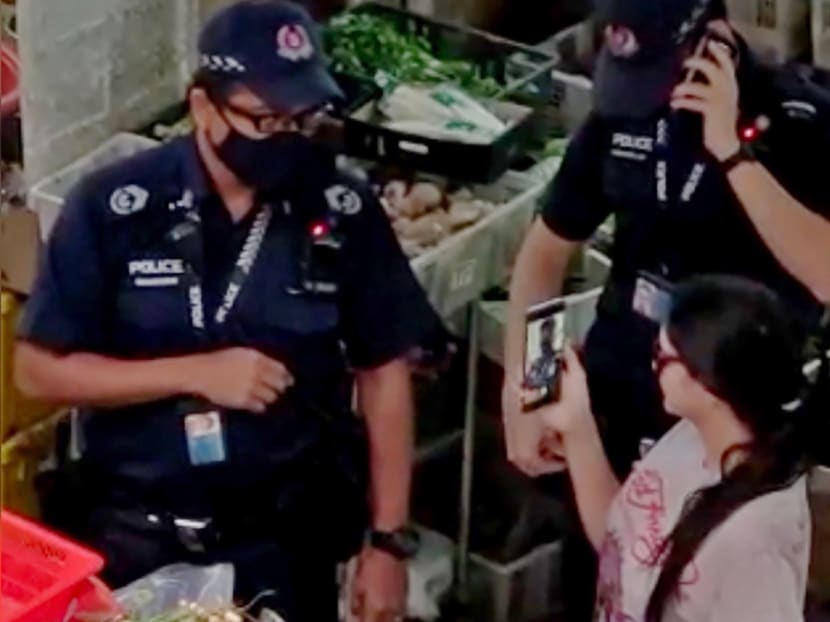 SINGAPORE — The authorities are imposing more than 400 fines on people who failed to comply with safe distancing rules, for offences that took place on Tuesday and Wednesday (April 15).
The Ministry of the Environment and Water Resources (MEWR) said in its latest media statement that since the circuit breaker measures kicked in last week, 3,000 enforcement officers as well as SG Clean and safe distancing ambassadors have been deployed daily to public spaces and in public housing estates across Singapore.
They are to ensure, for instance, that people are keeping a safe distance of at least 1m away from each other; not eating at food outlets; not loitering or gathering in public; and not exercising at sports facilities that are closed.
In a separate statement, the National Environment Agency (NEA) said that since Monday, it has issued 19 fines to people who breached regulations at markets and hawker centres. They were caught eating at the food outlets instead of taking away food, for example, or not practising safe distancing.  
The police had to intervene in two incidents when individuals did not cooperate with enforcement personnel.
On Wednesday, a man was eating takeaway food at a hawker centre located at Block 89 Circuit Road and he refused to give his particulars to NEA enforcement officers when asked. He later hit one of the officers in the face as he tried to leave the premises before the police arrived.
The day before, a woman turned aggressive when NEA's SG Clean ambassadors approached her and asked her to leave the hawker centre located at Block 320 Shunfu Road. She was not observing safe distancing when buying food at a stall and went on to eat the food she bought on-site. She refused to cooperate when told to leave and took photographs and videos of the ambassadors, doing the same with the police when they arrived to handle the case.
"NEA takes a serious view of those who verbally or physically abuse our officers and SG Clean ambassadors," the agency said. "We will not hesitate to take strong actions against such egregious offenders, including criminal prosecution if necessary." 
In an unrelated incident, a food stall owner was found selling face masks illegally at a coffee shop on Jurong East Street 24. Officers from the Singapore Food Agency discovered his operations on Monday, MEWR said.
The agency then instructed the owner to stop doing so immediately and he will be fined S$1,000 under the Covid-19 (Temporary Measures) Act 2020, the ministry said.
REGULATING 'HOT SPOTS' AT MARKETS
In an effort to reduce crowds at markets, NEA has identified four such places where there are long queues of people and where peak hours go on for long durations.
They are the markets at:
Geylang Serai

Blocks 20 and 21 on Marsiling Lane

Chong Pang Market at Blocks 104 and 105 on Yishun Ring Road

Block 505 Jurong West Street 52
For example, the peak period at the Geylang Serai Market occurs between 7am and 10am on weekdays, where there are about 80 people in queues.
Similarly, the Chong Pang Market sees around 80 people in queues at around 8.30am to 9.30am on weekdays.
NEA urged patrons to adjust their plans and visit the markets at off-peak periods, such as after 10am, where fresh produce is still available.
"Members of the public are also encouraged to space out their market visits, such as visiting markets once a week, and not visit the market every day or even every few days."
Alternatively, they may consider visiting nearby markets to ease the crowds at the popular ones, it said.
NEA had earlier worked with the town councils to put in place access control measures for better crowd management at 39 popular markets in Singapore.
To further ease the crowds at these locations, NEA has produced a flyer showing the estimated peak hours and number of patrons in the queues at these markets. This is to better guide regular patrons of these markets on when they should plan to make their visits.
NEW PASSES FOR ENFORCEMENT OFFICERS
From Thursday, all safe distancing ambassadors and enforcement officers will carry red passes for easy identification, MEWR said.
Some enforcement officers will also be sporting a red arm band (pictured below).
These personnel are already identified by their agencies' corporate attire, employment pass or lanyard or both. For SG Clean Ambassador, they have their green identification pass.
These officers and ambassadors come from almost 50 public agencies and include non-public servants recruited from the hospitality and aviation sectors, as well as volunteers recruited by the People's Association and other government agencies, MEWR said.
The ministry emphasised again that aside from the police, only authorised enforcement officers and safe distancing ambassadors can take enforcement action against the public for breaking safe distancing rules. 
First-time offenders will be fined S$300 while repeat offenders will be fined S$1,000 or prosecuted in court for serious cases.
However, enforcement officers and ambassadors are not allowed to receive payments for fines on the spot, so members of the public should not provide their bank account details or give cash to persons claiming to be enforcement officers.
The public should note that from Thursday, enforcement action will also be taken against people who do not wear masks when they leave home.