4,000 jobs to be created in financial services and fintech under MAS blueprint
SINGAPORE — A total of 4,000 net jobs will be created annually till 2020 in the financial services and fintech sectors as part of the industry transformation map (ITM) for financial services which was launched on Monday (Oct 30).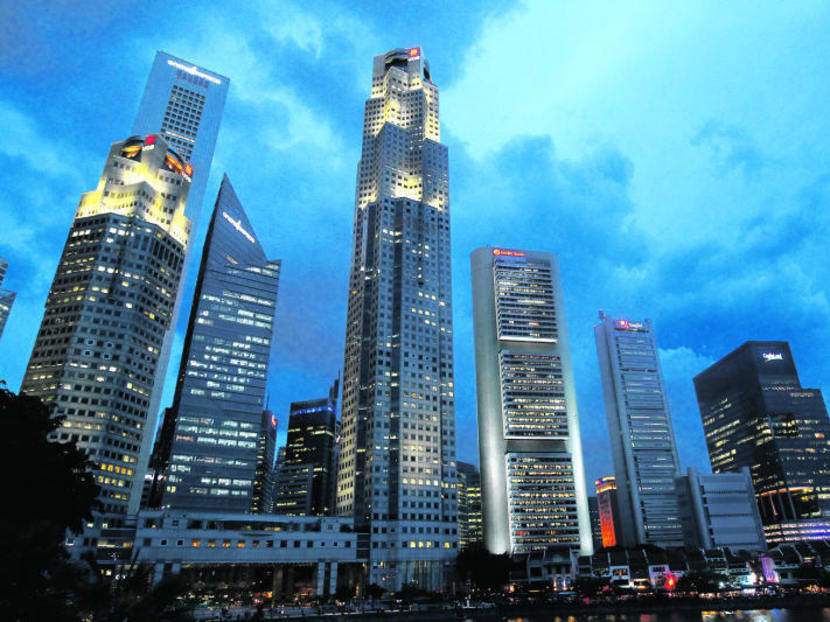 SINGAPORE — A total of 4,000 net jobs will be created annually till 2020 in the financial services and fintech sectors as part of the industry transformation map (ITM) for financial services which was launched on Monday (Oct 30).
Three quarters of the new jobs will be added in the financial services sectors, and these cut across the areas of wealth management, insurance and IT, the Monetary Authority of Singapore (MAS) said. The roles include those in investment advisory, risk modelling and artificial intelligence.
The industry has been buffeted by disruption, posting job losses which are expected to continue especially for the more traditional roles.
Nevertheless, under the restructuring blueprint, the MAS aims to grow the industry over the medium term by 4.3 per cent per annum - nearly twice as fast as the country's overall gross domestic product - as part of its vision for Singapore to be a leading global financial centre in Asia, "connecting global markets, supporting Asia's development, and continuing to serve the needs of the Singapore economy", said Minister for Education (Higher Education and Skills) Ong Ye Kung.
Mr Ong, who is also an MAS board member, launched the ITM at the MAS Building. Over half of the growth, will be driven by productivity, he added.
On the number of jobs that will be created, Mr Ong acknowledged that it was an "ambitious" target, "given the significant changes happening in the industry".
He said: "But we are determined to be net gainers in this era of change."
To achieve this, the ITM laid out strategies including strengthening the industry's capabilities to provide comprehensive wealth management advice beyond just selling products, and to become an Asian centre for capital raising and enterprise financing. Singapore should also aim to be a global capital for the Asian insurance sector, and meet the needs of regional companies for offshore debt financing.
Mr Ong identified macroeconomics and technology as two big drivers of the financial sector in the coming years. He noted that Asia's growth will "define the economic narrative of our times", fuelling the rise of the middle class and the growth of Asian companies, as well as the demand for infrastructure development. "In financial services, technology is changing the way work is done, and how services are delivered and consumed," Mr Ong said. "The competitive landscape gets shaken up, workers find themselves needing new skills in order to stay relevant, and regulators need to respond to new risks as well as opportunities."
For instance, in consumer banking, bank staff will have to be equipped with new skills such as sales quality assurance and analytics. For data scientists, their roles have to go beyond preparing data sets, to make decisions based on the data, Mr Ong said.
The digital transformation, as well as reorganisation in the finance sector has eroded the need for some jobs. For instance, the trend of robotic advisers has threatened the jobs of financial advisers.
In the last two years, Australia and New Zealand Banking Group (ANZ), Barclays and Standard Chartered Bank were among financial institutions that have let go of a number of their employees in Singapore. For instance, ANZ last year pruned its Singapore staff strength by around 20 per cent, axing more than 400 jobs.
Posting on Facebook, National Trades Union Congress assistant secretary-general Patrick Tay said on Monday that efforts will be intensified to assist and support those affected by job losses due to the churn in the industry.
On MAS' vision, analysts and industry players noted that Singapore is already a global financial centre in Asia, alongside Hong Kong, Tokyo and Shanghai. Still, it will need to strengthen that position ahead of the digital disruption such as the rise of artificial intelligence and big data. Mr Sim S Lim, DBS Singapore Country Head, said: "We already are a leading financial centre, but have to continue to innovate to stay ahead. If we don't adapt, we could be marginalised."
UOB economist Francis Tan added: "Amid competition from China, and other Asean countries, Singapore would not want to lag behind."
Mr Lim noted that the disruption by artificial intelligence and big data will re-define some jobs, and help people do their jobs better. DBS will be investing money to upskill their older workers to help them keep up, he added.
The ITM strategies included building private market funding platforms here to enable startups to gain access to a wider network of investors, apart from the traditional route of initial public offerings (IPOs).
Associate Professor Johan Sulaeman, academic director at NUS Business School, said this could be done through channels similar to crowdfunding platforms while EY Asean Financial Services Leader Liew Nam Soon suggested platforms to match institutional investors and fund managers with companies. "There's usually no problem with seed funding, but many startups struggle to get funding in the middle stage funding cycle... And not every company will go for IPO, so there is this funding gap in the middle stage," Mr Liew said.