5 months' jail for SAF captain convicted of rash act after NSF was crushed by Bionix armoured vehicle
SINGAPORE — A captain from the Singapore Armed Forces (SAF) was jailed for five months on Thursday (Feb 24) for carrying out a rash act that caused the death of a full-time national serviceman (NSF) during a military training exercise in 2018.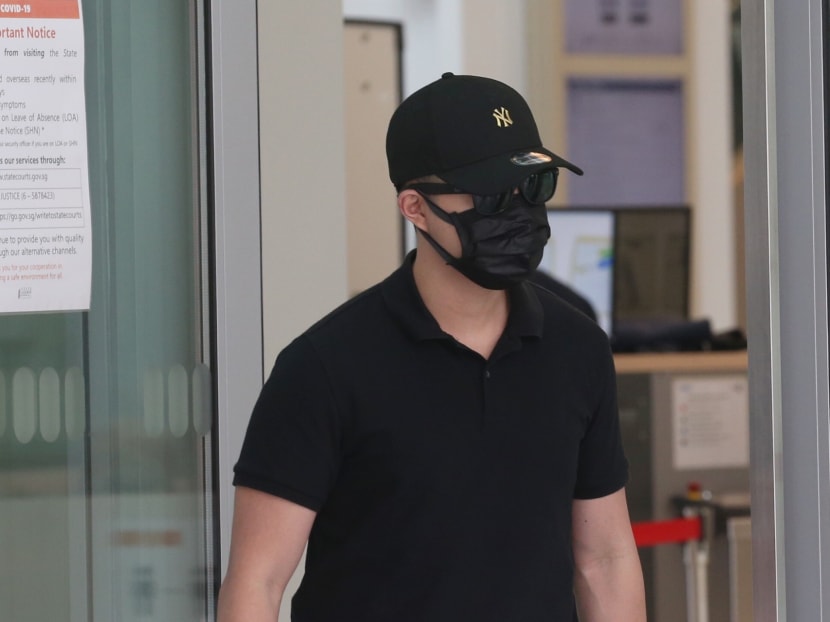 SAF captain Ong Lin Jie plans to appeal against his conviction and jail sentence
He was found guilty after claiming trial to causing the death of NSF Liu Kai
Liu was killed after a Bionix armoured vehicle mounted the Land Rover he was driving during a military exercise
Ong had ordered Liu to overtake the Bionix without first communicating with the armoured vehicle
The judge noted that Ong made the decision "in the midst of a dynamic exercise" but this did not justify his rashness
SINGAPORE — A captain from the Singapore Armed Forces (SAF) was jailed for five months on Thursday (Feb 24) for carrying out a rash act that caused the death of a full-time national serviceman (NSF) during a military training exercise in 2018.
Ong Lin Jie, 30, told the court through his lawyer that he will be filing an appeal against the conviction and sentence.
The fatal incident involving serviceman Liu Kai happened along Jalan Murai near Lim Chu Kang in November 2018.
At the time of the incident, Ong was the vehicle commander of a Land Rover driven by Corporal First Class Liu, who was aged 22. Ong was a regular officer and platoon trainer with the Armour Unit Training Centre.
District Judge Jasvender Kaur found that Ong had failed to establish if it was safe to overtake a Bionix armoured vehicle by first communicating with the crew in the Bionix.
The armoured vehicle then reversed and mounted the driver's side of the Land Rover, killing Liu.
Ong was convicted in November last year after claiming trial to a single charge of causing the NSF's death by a rash act.
'SELECTIVE AMNESIA'
The prosecution sought nine months' jail, referring to precedents that included the case of Corporal Kok Yuen Chin, an NSF from the Singapore Civil Defence Force who died in May 2018 due to a ragging incident.
Five of Kok's superiors were sentenced to jail time, with the officer who told his colleague to push Kok into the well getting 13 months' jail after similarly being convicted after a trial.
Deputy Public Prosecutor (DPP) Hay Hung Chun noted District Judge Kaur's earlier conviction remarks that Ong had shown "selective amnesia" even after being confronted with "incontrovertible evidence".
In the more than five months that Ong was investigated after the incident, he had suppressed the fact that he ordered Liu to overtake the Bionix.
DPP Hay stressed that Ong had seen a particular danger and "totally ignored it for no good reason".
"He admitted he could not even see what was ahead of him. This is a basic and very fundamental tenet inculcated in SAF soldiers — safety is always an utmost priority in training," the prosecutor added.
DPP Hay also told the court that a helmet system the soldiers were wearing, which comes with a headset for communication, had not broken down and that intermittent interference happened "not infrequently". He argued that this fact was not relevant for sentencing purposes.
Witnesses had testified that the helmet was working during the exercise but static had occurred.
Ong's lawyer, Mr Thrumurgan from Trident Law Corporation, countered that this point was relevant for sentencing, since the helmet system was supposed to function but did not.
The commander of the Bionix earlier testified that he was not aware of any other vehicles on the dirt road before reversing the Bionix and that Ong had not communicated his intention to overtake.
Mr Thrumurgan argued that his client's case could be distinguished from the SCDF ragging one because Ong had made a "judgement call in the context of a dynamic environment".
"In the cold light of day, we can put all considerations together but then, he was motivated by what he considered relevant — to move forward and see what was going on," the lawyer added in seeking three months' jail.
In sentencing Ong, District Judge Kaur said that the failure of the helmet to function was indeed relevant for sentencing.
The judge noted that unlike the SCDF case where ragging was a prohibited act, Ong's decision to overtake the Bionix "was not in and of itself a prohibited act, and did not in and of itself carry a risk of death".
She added: "Unlike (the other) cases where activities were prolonged, his decision was in the midst of a dynamic exercise and his motivation was to reposition his vehicle to keep observation. This does not justify the rash decision but it does put things into proper perspective."
However, she said there was an "obvious risk" that the Bionix had sighted an enemy vehicle and therefore, there was a significant risk of overtaking it without establishing communications.
WHAT HAPPENED
The court previously heard that Ong needed to be driven around in the Land Rover so that he could oversee aspects of the field exercise.  
They were travelling behind a Bionix armoured vehicle when Ong ordered Liu to overtake it. During his trial, Ong told the court that he had observed the situation and thought it was safe to do so. 
In the midst of overtaking the Bionix, Liu heard shots being fired and stopped the Land Rover 16m to 18m behind the Bionix.
Based on SAF's training safety regulations, the Land Rover should have kept a safe distance of 30m from the Bionix to prevent any danger or collision, and allow enough time to react.
As part of a combat drill, the Bionix then began to reverse and mounted the driver's side of the Land Rover.
Liu was pronounced dead at the scene, with an autopsy showing that he died from traumatic asphyxia, an injury that interrupts breathing.
Ong had been suspended from service since the incident. 
The Ministry of Defence previously said in a statement that those who are negligent or breach training safety regulations may face prosecution under the law or the SAF's disciplinary framework.