5 weeks' jail for student who left hotel twice for dinner, movie while on stay-home notice
SINGAPORE — A student who returned from the United States last year and had to serve a 14-day stay-home notice sneaked out of his hotel twice to have dinner and watch a movie with his friend.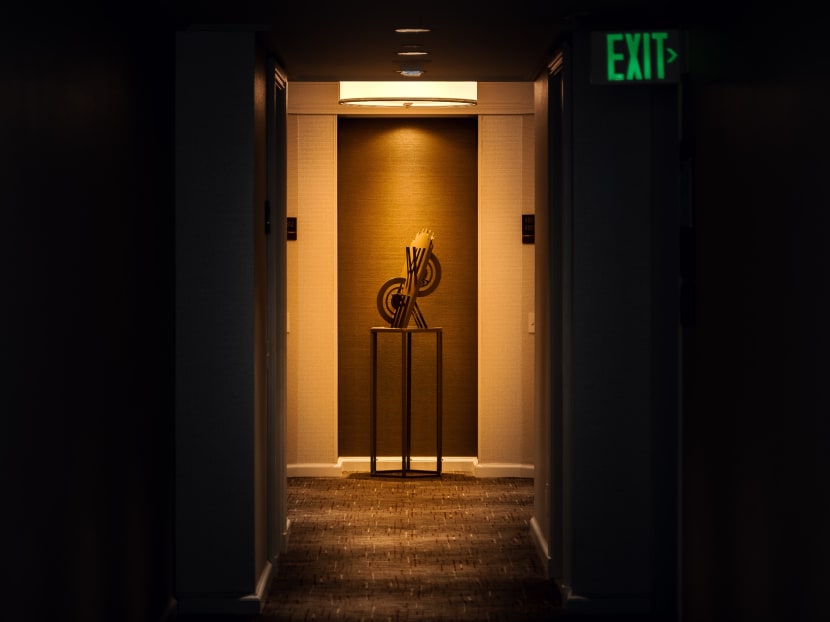 Ang Chenrui was ordered to isolate himself for 14 days in a hotel room
He used an emergency stairwell to sneak out of his room to go for dinner and to watch a movie
He then asked to be taken to the Institute of Mental Health, where he escaped to his mother's home
SINGAPORE — A student who returned from the United States last year and had to serve a 14-day stay-home notice sneaked out of his hotel twice to have dinner and watch a movie with his friend.
He also asked to be taken to a hospital for psychiatric treatment but used that as a stepping stone to spend more time shopping and eating elsewhere.
Ang Chenrui, a 27-year-old Singaporean, was jailed for five weeks on Thursday (Jan 6) after he pleaded guilty to two counts under the Infectious Diseases Act for breaching his isolation. Two similar charges were taken into consideration during sentencing.
The court heard that Ang, who had been studying in the US since 2016, returned to Singapore in March last year to spend time with his mother. He had to serve a stay-home notice in line with infection control regulations for Covid-19.
The next month, he left Singapore to return to the US. 
While in transit at Narita Airport in Japan, he had abdominal pain and sought medical treatment. He then took a flight back to Singapore. 
Ang arrived at Changi Airport on April 17 and was issued another order to stay home for 14 days.
He was to serve the order at JW Marriot hotel, where he was issued a one-time keycard that allowed him to enter his room just once. 
At the hotel, the lifts allowed guests to only visit the floors where their allocated rooms were located.
On April 20, Ang left his room in the morning and opened an unlocked door to an emergency staircase. 
He went up to the 16th storey, which housed hotel guests who were not serving isolation orders.
From there, he took the lift to the ground floor, left the hotel and took a train to Serangoon MRT Station where he bought a cake before walking to his mother's flat.
He stayed at the flat until the evening and did not tell his mother that he was on a stay-home notice. Instead, he lied that he never flew out of the country and told her that he was living in a rented room.
That evening, he left the flat with his mother's tenant to have dinner at a coffee shop nearby. 
Ang and the tenant were friends. The tenant, too, did not know that Ang was supposed to be serving the stay-home notice.
The pair caught a movie at Nex mall in Serangoon Central and Ang took a train back to the hotel.
Ang followed another guest into the lift to the 16th floor and went down the emergency stairwell. When he reached the sixth floor, he found that the door leading out to the corridor where his room was located was locked.
He exited on the fifth floor and called for help from a hotel staff member, saying he was locked out of his room while trying to dispose of the trash.
Ang lied that he had gone down to the fifth floor because the service phone on his level was spoilt. 
After escorting Ang back to his room, the staff member's suspicions were raised when he tried the service phone and found that it was working. He then alerted his colleagues and surveillance footage revealed Ang's offence.
Court documents did not state what the hotel did after that. 
On April 24, Ang called the hotel's front desk in the morning asking to visit the Institute of Mental Health (IMH). He was taken to the hospital, where he wandered about for a few minutes before taking a private-hire car to his mother's flat.
That afternoon, he went shopping with the tenant on Orchard Road and they had dinner at a restaurant near Farrer Park before returning to the flat. 
Later, a hotel staff member checked with IMH on Ang's status and was told that the hospital had no record of him registering for consultation. 
A manager at the hotel alerted the Immigration and Checkpoints Authority (ICA).
The next day, ICA officers found Ang at the flat and detained him. He was admitted to IMH where he served the remaining days of his stay-home notice.
Investigators later tracked his movement using the records of his EZ-link transport fare card.
'HOTEL ROOM REMINDED HIM OF FATHER'
Ang's lawyer Michael Han said that his client had been diagnosed with an adjustment reaction and had a history of poor adjustment to stressors in his life. 
Ang had not performed well in his A-Level exams when he was a student at Hwa Chong Institution. His parents also divorced in 2019, Mr Han added.
The lawyer also said that the art decor in Fairmont Singapore, the hotel where he isolated himself in March on his first return from the US, reminded him of his father, who was an artist. 
It reminded Ang of his troubled relationship with his father leading up to his parents' divorce and aggravated his mental condition, Mr Han said.
For each offence under the Infectious Diseases Act, Ang could have been jailed up to six months or fined up to S$10,000, or both.