60,000 people get a sneak peek of Jewel Changi Airport
SINGAPORE — An estimated 60,000 people had a sneak peek of Jewel Changi Airport on Thursday (April 11), six days ahead of its official opening on April 17.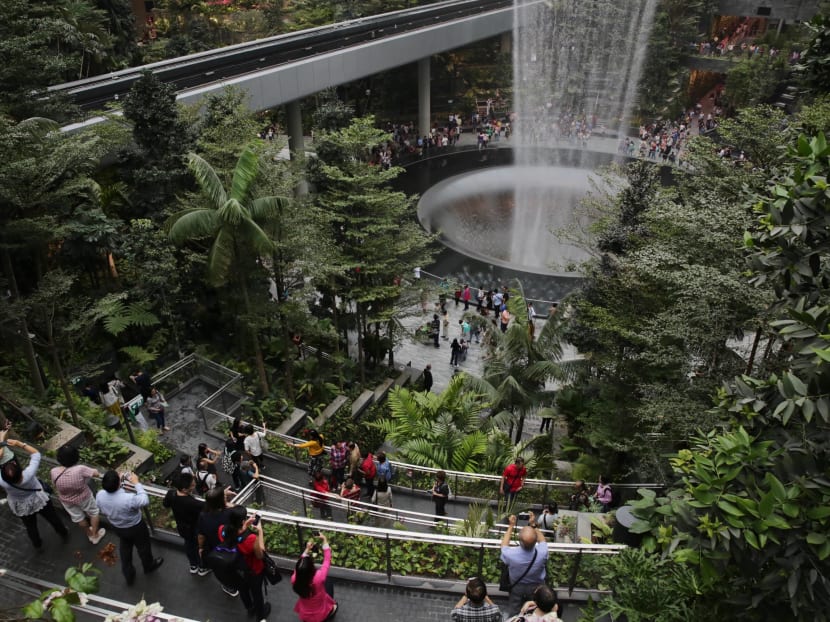 SINGAPORE — An estimated 60,000 people had a sneak peek of Jewel Changi Airport on Thursday (April 11), six days ahead of its official opening on April 17.
"I wanted to be the first to see this place. I have always liked the airport," said Faith Lim, 19, who took a day off from her internship for this preview.
Guests such as Ms Lim had to sign up on Jewel's website to select their preview date between April 11 and 16. The tickets were allocated on a first-come-first-served basis.
Some members of the public interviewed by TODAY said that they came to check out the brands that are new to Singapore, such as Pokemon Center, a specialist store for Pokemon goods, as well as New York burger restaurant chain Shake Shack. These overseas players make up a quarter of the retail stores and food-and-beverage outlets in Jewel.
"I wanted to try Shake Shack, but sadly it was not open for the public," Faith said.
There were snaking queues outside the Pokemon Center, which featured a Singapore-exclusive Pikachu plushie in a pilot uniform. Each customer can only buy up to five of these limited edition plushies.
Long queues outside the Pokemon Center at Changi Airport's newest complex. Photo: Najeer Yusof
Standing in the middle of the dome-like complex, the 40-metre HSBC Rain Vortex — the world's largest indoor waterfall — was a popular photo spot.
Many were seen taking selfies against the backdrop of water cascading down seven storeys while skytrains were crossing the dome.
On the top floor where the Canopy Park is located, Burger & Lobster restaurant attracted a long line of people queuing up for a taste of its lobster rolls, which were available only on Thursday. The outlet will be officially opened only next month.
The 135,700-sqm Jewel Changi Airport features more than 280 retailers across seven floors, with F&B operators making up more than 30 per cent of these.
The attractions in the 14,000-sqm Canopy Park, such as Sky Nets, mazes and slides, will open in June. There is an entry fee, but it has not been determined.
Many food-and-beverage operators will be opened till late. These include the eight food outlets outside the Canopy Park such as Tanuki Raw and Tiger Street Lab, which opens till 3am.
OTHER FACILITIES
Twenty-six airlines, including Singapore Airlines, Scoot and Japan Airlines, offer early check-in services at the complex, allowing travellers to drop their bags up to 24 hours before their flight.
Short-term accommodation is available for guests as well, with YotelAir opening a 130-cabin hotel that optimises space.
GETTING TO JEWEL
Travellers and members of the public can get to Jewel directly from Terminal 1's arrival hall.
Link bridges to Jewel are available from Terminals 2 and 3, while a feeder bus service is available to and from Terminal 4 as well.
Transiting travellers who wish to visit Jewel will have to leave the transit area. As such, a visit to the complex is recommended only for travellers with more than five hours on transit.
THE OPENING
When Jewel Changi Airport opens on April 17, shuttle buses will be provided to residents in Bedok, Tampines and Sengkang.
The airport said that it will be working closely with the Land Transport Authority to see what is the "most efficient way" for visitors to travel to and from the new complex, in anticipation of the crowds on the opening day.