8 months' jail for men who admitted to bribing former LTA director over MRT project
SINGAPORE — Two construction firm employees were jailed eight months on Tuesday (May 18) for their roles in a corruption case involving a senior officer from the Land Transport Authority (LTA).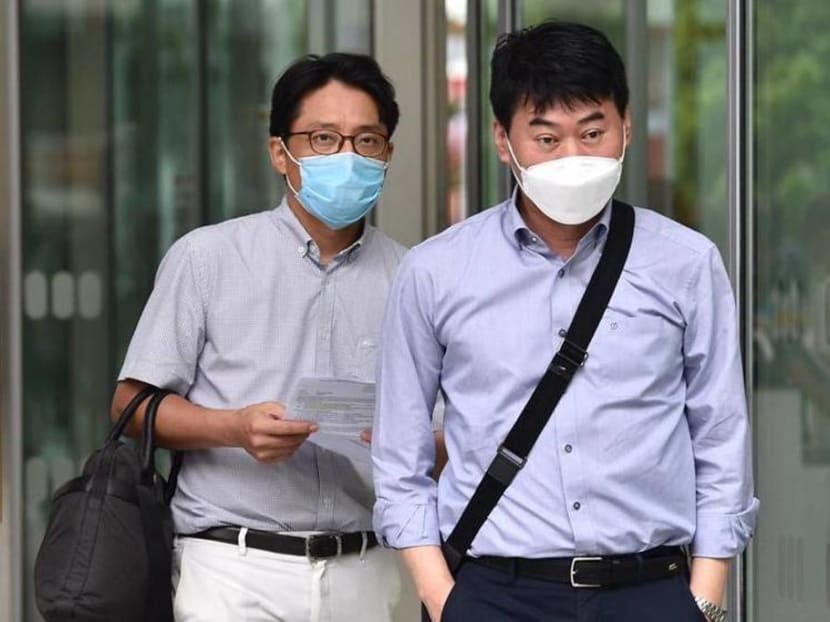 Kim Young-Gyu, 52, and Ro Sungyoung, 49, bribed Henry Foo Yung Thye with S$50,000 in 2018
Foo is a former deputy group director at the Land Transport Authority
He asked Kim and Ro for a loan saying that he had financial problems
District Judge Jill Tan was not convinced that the bribe was for a loan extended for "medical and humanitarian reasons"
SINGAPORE — Two construction firm employees were jailed eight months on Tuesday (May 18) for their roles in a corruption case involving a senior officer from the Land Transport Authority (LTA). 
Kim Young-Gyu, 52, and Ro Sungyoung, 49, who were project director and project manager at Daewoo Engineering and Construction, gave S$50,000 in bribes in 2018 to Henry Foo Yung Thye, who was a deputy group director at LTA,.
Earlier this month, Kim and Ro, who are both South Korean, pleaded guilty to one corruption charge each, with another to be taken into consideration during sentencing.
Foo's case is still pending before the courts. 
At the time of their offences, Foo was overseeing the new Thomson-East Coast Line and Cross-Island Line of Singapore's MRT network. 
In April 2014, LTA awarded a S$441 million contract for Stevens MRT Station, which is on the Thomson-East Coast Line, to Daewoo. It was the first time that Daewoo had secured a project in Singapore. 
Saying that he had financial problems, Foo sought a loan from Kim and Ro in the middle of 2018.
The two men agreed to give Foo the payments as they hoped that it would put them on friendly terms with Foo, whom Ro considered "difficult to talk to" and demanding towards Daewoo. 
Deputy Public Prosecutors (DPPs) Navin Naidu, Victoria Ting and Kelvin Chong had sought eight months' jail each for Ro and Kim so as to "send a clear signal to deter persons in similar positions from acting in the same manner, to the detriment of the Government or a public body".
In sentencing the duo on Tuesday, District Judge Jill Tan said she accepted that Kim and Ro did not actively seek to cultivate Foo but she pointed out that it was "not completely for selfless reasons" when they eventually gave in to Foo's request.
"You did so also to benefit yourself and Daewoo. Indeed, when the time came later, you did ask for his assistance to cover up those cleanliness infringements and also obtained confidential information concerning a failed tender, that you would not otherwise have received," she said.
"He also promised to help you more with (a tender for the Cross Island Line). Having an insider in LTA who could intervene on your behalf and advance your interest was a very real benefit."
The court had heard that Ro asked for Foo's help on May 3 in 2019 to cover up certain safety cleanliness infringements at the Stevens MRT Station worksite after an LTA officer had given Daewoo a negative score.
Ro was concerned that this would affect Daewoo's tender bid for a project on the Jurong Region Line.
Foo replied to say that he would speak to LTA's group director of safety and contracts, as he felt indebted to Kim and Ro for the sums of money. 
However, Foo's intervention did not help and Daewoo was not awarded the contract.
In August 2019, Kim asked Ro to find out from Foo why Daewoo failed in the first stage of the tender process for the construction of tunnels at Changi Airport.
Foo sent Ro a screenshot of the LTA tender evaluation committee's assessment, telling him that it was confidential and not to forward it to anyone.
The judge on Tuesday said that she was not persuaded by two men's lawyer's argument that the gratification was for a loan extended for medical or humanitarian reasons.
"The fact remains that Kim was aware that the loan was wrong, as his initial angry reaction to the request attests to that," she said.
When Ro first relayed Foo's request to Kim, the court heard that Kim was angry and rejected the request because he knew that Daewoo had strong compliance policies prohibiting the payment of money to clients. 
He also knew that such payment would be against Singapore law.
The judge also said that the harm caused to third parties and competitors in this case "wasn't any actual financial loss" but that they were "potentially put in the position of having to compete against you on an unequal footing".
"Public contracts and public procurement processes remained transparent processes, and your actions compromised this," she added.
The two men could be jailed for up to seven years or fined up to S$100,000, or punished with both.
Separately, on Tuesday, another man, Singaporean Chen Xuguang, was sentenced to 10 weeks in jail for his part in a scheme that apparently saw the Singapore branch of construction firm China Railway Tunnel Group (CRTG) give Foo S$220,000 in bribes.
Xi Zhenging, 47, project director with CRTG, his deputy, Zhou Zhonghe, 37, who are both China nationals, as well as the construction company, are co-accused parties in the case.
DPP Victoria Ting said that Xi and Zhou are believed to have absconded from Singapore between Nov 8 and 13 in 2019, even though their passports were impounded by the Corruption Practices Investigation Bureau. They had both been dismissed by CRTG.