8 PAP town councils to raise S&CC
SINGAPORE — About half a million households here will have to pay more for their town councils' service and conservancy charges (S&CC), starting from April.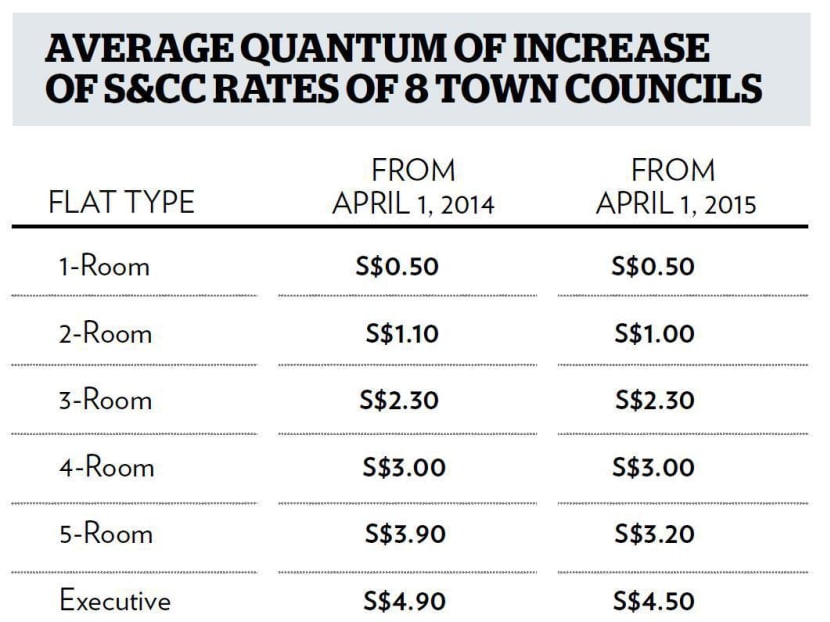 SINGAPORE — About half a million households here will have to pay more for their town councils' service and conservancy charges (S&CC), starting from April.
The total S&CC increase, which will set in over two years, is between S$1 and S$15 a month, depending on the flat type.
To reduce the impact on residents, the S&CC hike by the eight town councils — those looking after Ang Mo Kio, Jurong, Marine Parade, Moulmein-Kallang, Nee Soon, Pasir Ris-Punggol, Potong Pasir and Sembawang — will be carried out over two phases, with the second round kicking in from April next year.
On average, at the end of the exercise, households living in one-room Housing and Development Board (HDB) flats will pay S$1 more each month, while those in two-room and three-room units will pay S$2.10 and S$4.60 more each month, respectively.
The average hikes for households in four-room and five-room flats will be S$6 and S$7.10 each month, respectively. Households in executive flats will need to fork out the highest average increase of S$9.40 each month.
Except for Jurong Town Council and Potong Pasir Town Council, which last raised charges in 2010 and 2008, respectively, the other six town councils are raising S&CC for the first time in a decade.
In a joint press release yesterday, the eight town councils cited a spike in electricity tariffs and higher spending on lift maintenance after upgrading as reasons for the hike. They said that electricity tariffs had gone up by 66 per cent last month, compared with the same period a decade ago.
Utilities account for about 35 per cent of the town councils' overall operating cost.
The town councils said the number of lifts under maintenance has increased by 1,800, while another 3,800 lifts were upgraded to stop on every floor. They explained that every new lift in a 12-storey block will cost the town council about S$3,300 a year to maintain and operate.
With the increase in the number of new and upgraded lifts, the total lift maintenance cost will go up by S$7.2 million a year for the eight town councils. Other maintenance and operation costs, such as for covered walkways, children's playgrounds and fitness equipment, have also risen in the past decade due to an increase in the tender rates for various maintenance work.
The joint statement reiterated that the town councils have been making a conscious effort to control costs to avoid increasing the S&CC rates, despite rising inflation every year. The amount collected would not be sufficient to meet routine expenditure without the help of government grants, it said, and the town councils had managed to post surpluses only because of the grants.
"However, such surpluses have been in decline over the years. With continuously rising maintenance and operation costs, the town councils would not be able to sustain their operations without incurring operating deficits," the statement said.
It added that the town councils will continue to work closely with Members of Parliament, grassroots organisations and the Community Development Councils to help residents who may face difficulties with their S&CC payments.
Last Friday, Deputy Prime Minister and Finance Minister Tharman Shanmugaratnam announced, as part of the budget measures, that the Government will be providing one-off S&CC rebates of one to three months, based on HDB flat type.
The eight town councils are among a total of 15 People's Action Party-run town councils. The seven other town councils announced an increase — which was also carried out in two phases — in their S&CC in 2012.
The Aljunied-Hougang-Punggol East Town Council, run by the Workers' Party, has not announced any increase in rates. It did not reply to queries on whether it has plans to raise S&CC rates.
Sembawang Town Council General Manager Soon Min Sin said the average monthly operating cost for the town council has increased from about S$2.5 million to S$3.2 million in the past decade.
"The majority of the town councils have run into operating deficits without government grants in the financial year of April 2012 to March 2013," he said. "With rising costs, some town councils will run into deficits even with the help of government grants in FY 13/14 and FY14/15 if there is no revision in S&CC."
He added: "If S&CC is not revised, town councils will need to cut back on non-essential maintenance work and other improvement work."
A check on the Marine Parade Town Council's annual report showed that its operating surplus for the financial year that ended in March last year was about S$1.3 million, down from about S$3 million in 2012.
Ang Mo Kio Town Council's annual report showed that its operating surplus stood at about S$1.8 million, compared to about S$2.2 million in 2012.
When contacted, the town councils' chairmen referred media queries to Mr Hawazi Daipi, who is Chairman of Sembawang Town Council.
Mr Hawazi, who is also Senior Parliamentary Secretary for Education and Manpower, had coordinated a three-month review of the S&CC of the eight town councils.
He said the town councils will continue to take a prudent approach in managing expenditure carefully and explore new cost-saving measures such as using energy-efficient lighting and bulk procurements to enjoy greater economies of scale.
Mr Hawazi added that there are no further plans to increase S&CC at the seven town councils which last raised their rates in 2012.