Accident, financial woes only make two PSLE students stronger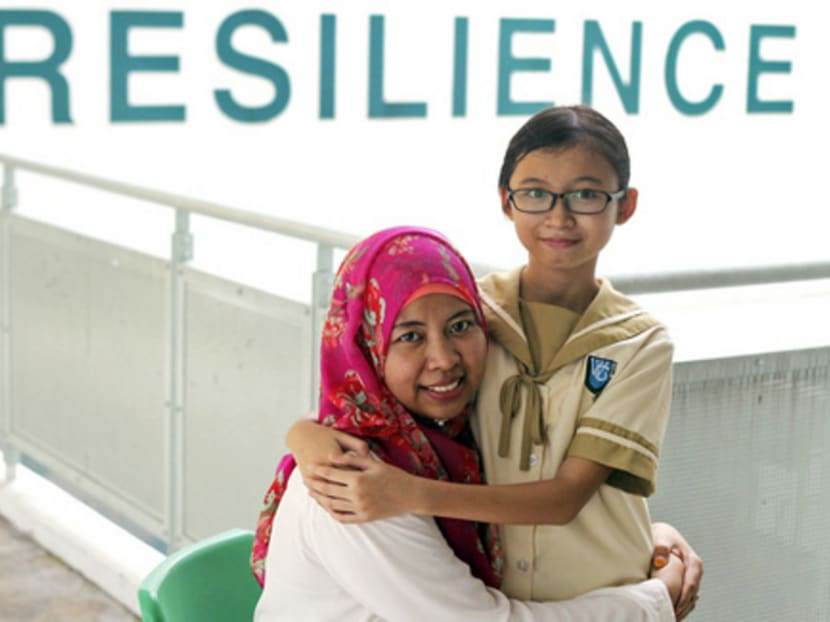 SINGAPORE — What doesn't kill you makes you stronger. For Safi Arinah Sa'ad, who survived a hit-and-run accident and brain surgery, that age-old saying is certainly true. And she has the stitches — all 29 of them — to prove it.
During the June holidays, Safi Arinah and her family were on their way back from visiting her grandparents in Malaysia when the car they were travelling in was hit by a lorry.
The impact of the accident flung Safi Arinah and her siblings out of the car, leaving her with a blood clot in her brain.
One brain surgery, 29 stitches, a partially shaved head and several weeks later, Safi Arinah returned to school a week after the July term began, more determined than ever to give the Primary School Leaving Examination (PSLE) her all.
However, playing catch-up was an uphill struggle for the West Grove Primary School student, who suffered from lingering side effects brought on by the accident.
"Sometimes I (get) headaches (when) I'm in school, so usually my teachers understand and … (let me) take a rest for a while.
"If I'm at home, sometimes I cannot take it, so I will take painkillers," said Safi Arinah, who has two CCAs in Art and Brownies.
Still, Safi Arinah pushed through with resilience and determination, sacrificing recess to revise with her teachers and staying back after school to study with friends.
Her efforts paid off and Safi Arinah scored 204 for her PSLE. Even though the score was lower than the 220 Safi Arinah was hoping for to enter the Express Stream in Hua Yi Secondary School, the Girl Guides enthusiast and her family are happy.
"She's healthy; that's the main focus of my family ... That she's healthy and she went through PSLE so she doesn't have to repeat one whole year just because of the accident," said Safi Arinah's mother, Madam Siti Habsah, who works as a management support officer at West Grove Primary School.
Another student who has overcome the odds is Muhd Khairul Irzhan Rosli. Despite being forced to miss out on kindergarten due to financial difficulties, the Huamin Primary School hockey captain — who watched his father suffer a series of heart attacks, lose his job and the family home — managed to score 255 in his PSLE and enter Raffles Institution (RI) through the Direct School Admission.
"I came in to Pri 1 a little bit later than all the others and I also skipped kindergarten, so I (was) a little bit bumpy in my studies," said the Huamin Primary School student.
"Throughout Pri 6, there were a lot of times when I wanted to give up. Sometimes when I obtained low scores, some of my friends … would make fun of me," Khairul said.
"It would take a few days or few weeks to toughen myself up because it really hurts (when) someone makes fun of you in front of a whole group of people," he added.
After his father suffered his first heart attack in 2010 and subsequently became unemployed, mortgage loan arrears forced the family to sell their Yishun flat near Huamin Primary School and move into a relative's flat in Clementi earlier this year.
Tired from the long commute between school and his relative's home, Khairul said it also left him with little time to study.
However, the determined young man has risen above the adversity, making his father proud.
Khairul's father, Mr Rosli Rashid, said he is happy with his son's performance.
"I'm very happy for him. As a father, I will try to do anything I can in order for me to support whatever (my children) want to (do). I really hope my health (allows) me to work more in order to support them in their education," said Mr Rosli, who now works as a security executive.
Excited about starting at RI in a few months' time, Khairul said it has been his dream since he started playing hockey in Pri 2 to enrol in that school.
"They have a rich ... hockey background, so I believe over there, the teachers and students will help motivate me to continue," Khairul said.