'Really addictive': Arcade coin-pusher machines hook some patrons into splurging hundreds of dollars
SINGAPORE — When most people think of arcade games, they tend to think of racing simulators, basketball machines and whack-a-mole.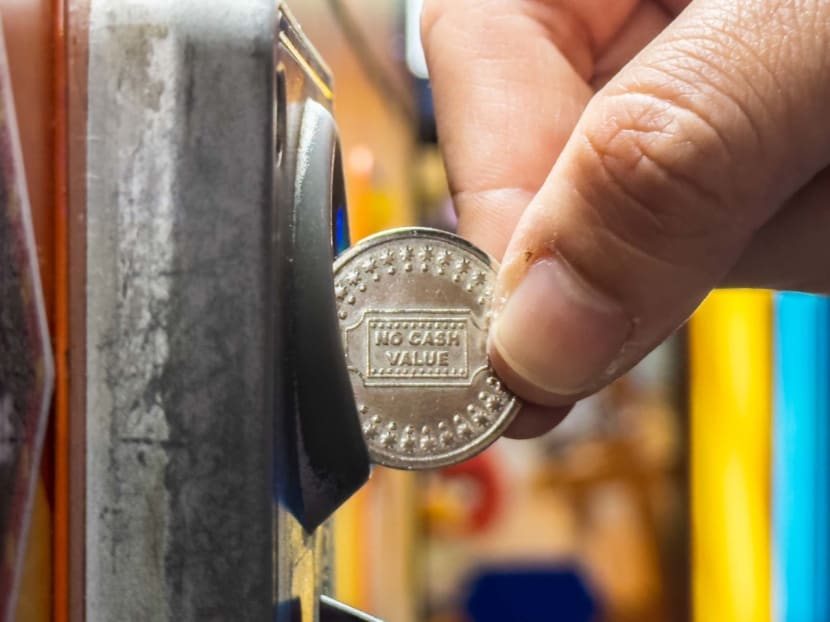 Coin-pusher machines in arcades are becoming addictive for some, enticing patrons to spend hundreds of dollars to win ticket jackpots and cards for a ticket bonus
Some arcade patrons said they spent hundreds of dollars on playing these games for the thrill of winning, often spending hours a week on the pursuit
Visits by TODAY to four arcades run by three companies found keen interest in these machines
Experts said that coin-pusher machines can be addictive, but regulating the machines is not the solution
Rather, people should be aware that addiction can happen in socially acceptable behaviours and seek help if necessary
SINGAPORE — When most people think of arcade games, they tend to think of racing simulators, basketball machines and whack-a-mole. 
However, of late, "coin-pusher machines" have gained in popularity at these arcades and are fast hooking people like 26-year-old Yvonne (not her real name) to spend hundreds of dollars a month in pursuit of winning non-cash jackpots.  
While neither the coins nor the prizes are real money, Ms Yvonne said the machines are akin to "legal gambling" in some ways.
"Arcades are like mini-casinos, it's just stupid fun getting tickets, hitting jackpots or collecting cards from these (coin-pusher) machines," said Ms Yvonne, who works in the public relations industry.
"It's not like the arcades in the past where you just play these racing games or play with friends. Coin-pusher machines are really addictive."
These machines, in essence, allow users to shoot a coin in an attempt to push other coins, chips or cards off a ledge. Some require users to get a certain number of chips to reap a jackpot, while others require users to collect a full set of cards to claim bonus tickets. 
These tickets can then be exchanged for prizes, such as soft-toys, stationery and electronics.
TODAY visited four arcades featuring these machine at Downtown East in Pasir Ris, Suntec City, Bugis+ and Plaza Singapura owned by three different arcade companies. Coin-pusher machines made up less than half of the arcades' machines.
When visiting the Downtown East and Suntec City arcades on Tuesday (March 7) between noon and 5pm, about a third of the coin-pusher machines in each arcade were in use. One man spent at least three hours using one such machine. Weekends tend to be the busiest period.
For Ms Yvonne, it started in 2021 when she and a friend visited an arcade in Bedok with the aim of reliving the games of their childhood — only to try out coin-pusher machines instead. Since then, she visits such arcades every fortnight with her boyfriend, spending between S$50 and S$80 each time.
"There's this sense of achievement when you see the tickets racking up. After a super stressful week, you just want to turn off your brain and relax," she said.
There's this sense of achievement when you see the tickets racking up. After a super stressful week, you just want to turn off your brain and relax.

Coin-pusher machine patron "Yvonne"
"It's the same excitement when you gamble during Chinese New Year, just that you do not need to bring together so many people to have fun."
Psychologists and counsellors warn that even though many might find these machines fun and harmless, they might be a gateway for gambling for some. 
However, they say that regulation is not the answer to preventing people from becoming addicts. Rather, being able to identify cues for addictive behaviour and seeking proper help are key.
'S$500 SO FAR THIS YEAR'
The bright LED lights, speakers repeating invitations to play and the sound of coins being shot — coin-pusher machines are a familiar friend visited by 26-year-old university student Shawn (not his real name) at least twice a week.
"If you touch the tickets as the (arcade game) prints them, it'll get tangled and hard to count later," he said. "And there's a trick to these machines. Like choosing one where the card is at the edge."
Like other patrons that spoke to TODAY, he declined to share his name for fear of what his friends and family might think.
While he has not kept track of how much he has spent since he started frequenting these arcade machines in 2019, he estimates that he has bought about S$500 worth of arcade credits this year alone, though he has not spent the full sum yet.
He has won big ticket prizes — a Nintendo Switch and keyboard — but hasn't had any notable prizes recently. He cannot remember how much he spent to gain his main prizes.
"There's always so many people playing (coin-pusher machines) on the weekends so it's hard to walk around the arcade since they take up space," said Mr Shawn, adding there are sometimes parents with their children in tow playing coin-pusher machines for hours on end.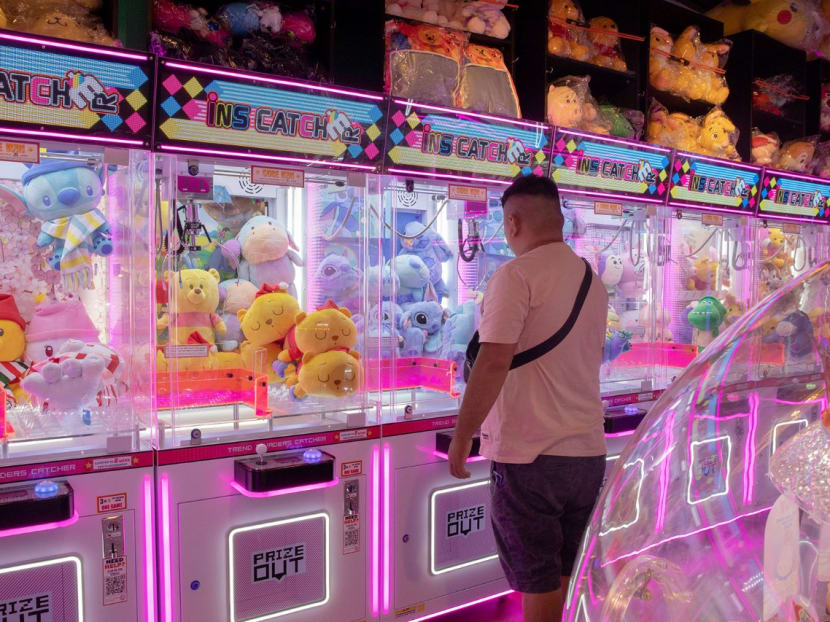 For another patron, Paulyn, visiting the arcade near her home every fortnight is her stress-relieving routine. Aged in her 60s, she started playing coin-pusher machines in about August last year, having gotten bored of a table-top fishing game.
She limits herself to strictly S$20 a week because she is unable to win cash "like in Genting" in Malaysia.
"It's very fun and relaxing, and it's fun to get a jackpot," she told TODAY in Mandarin.
As for Yvonne, she visited the arcade twice a week for about two months in 2020 after being retrenched — the coin-pusher machine provided her with a sense of happiness and joy, she said.
Each visit would last two to three hours, providing her with respite from the stress of job searching.
"But it got depressing when I realised I was hooked on gaining all these tickets I have no idea what to do with," she said. "So I go less, but for fun now."
COIN-PUSHER MACHINES LEGAL; ARCADE PRIZES TO BE FURTHER REGULATED
In response to queries from TODAY, the Singapore Police Force said that game machines deployed at any public entertainment outlet or other public areas must be approved by the police.
There are currently 140 amusement centres with a licence to operate, they added.
However, the Ministry of Home Affairs (MHA) will be imposing restrictions on prizes for games offered at amusement centres and fun fairs, with effect from March 1, 2024.
"Increasingly, the games being offered on amusement machines at amusement centres and fun fairs — such as the game referred to in the query — have elements of chance," said an MHA spokesperson in response to TODAY.
"High-value prizes are also being offered (for example, smartphones and gaming consoles). These two components effectively bring the operation of amusement centres and fun fairs closer to gambling."
Amendments to the country's gambling laws include:
Amusement centres and fun fairs can only offer prizes valued under S$100
Cash, cash equivalent, credit, merchant vouchers or coupons cannot be given out as prizes
Sell-back of prizes to amusement centres and fun fairs operators will be prohibited
"From March 1, 2024, operators who do not comply with these requirements may be subject to regulatory action under the Public Entertainments Act, including but not limited to the suspension or revocation of their Public Entertainment Licence, or a fine of up to S$20,000," said MHA.
"They may also be liable for conducting unlawful gambling under the Gambling Control Act, and face a fine of up to S$500,000 and imprisonment for up to seven years."
NO NEED FOR REGULATION: EXPERTS
So what makes these arcade games so addictive? Experts told TODAY that it is the positive outcome — in this case, the tickets or jackpots — and the randomness of the rewards that keep people hooked.
Likening arcade wins to winning a small gambling prize, Mr John Lim, the chief well-being officer at the Singapore Counselling Centre, said that arcades are created to draw people in.
"It's the colours, flashing lights, music… and watching other people around playing that gets you hooked," he said.
"There's also a promise of a reward. For example, when you win you have congratulatory music playing, tickets being dispensed out that causes an adrenaline rush, a dopamine spike, feelings of pleasure and of winning, and that makes users feel good about it."
Ms Juliana Pang, an addictions therapist from Promises Healthcare said: "Coin-pushers are gaming activities in which one is winning something — be it tokens or tickets on an element of chance. 
"It has the potential to be a gateway to gambling much as drinking alcohol-free beer or wines could sometimes lead to drinking alcohol."
However, not all of those playing coin-pusher machines are necessarily addicted, nor will using the machines necessarily lead them to gambling addiction. 
"These games may induce addiction due to the satisfaction of winning which reinforces the behaviour of playing the game. However, playing the game does not necessarily lead to gambling addiction," said Dr Jeslyn Lim, co-founder of Thrice Psychology Clinic.
Only a "handful" of the clinic's clients have gambling addictions specific to coin-pushers.
Psychiatrist Lim Boon Leng from Gleneagles Medical Centre added that only a minority might get addicted — this could be due to their belief in luck or turning to addictive behaviours to satisfy themselves, among other factors.
But should such machines be regulated? Experts such as Dr Lim say that regulation is not the answer. Rather, the solution involves raising awareness of addiction in socially acceptable behaviours, and seeking help when needed.
"It's about where do you draw the line. Is the harm considered bad enough for society as a whole, or do you allow people to be able to decide for themselves," said Dr Lim.
"Some may find such machines to be of a certain level of entertainment."
Mr Mark Rozario, clinical psychologist at Mind what Matters said: "Regulations can, to a limited extent, have a positive impact on curbing the problems associated with coin-pusher arcade game addiction. 
"However, mental health support to individuals dealing with such challenges may be more useful and pertinent, given the specific psychological needs of the individual."
TODAY has contacted three arcade operators Cow Play Cow Moo, Timezone and PacoFunworld for comment.