Adulting 101: How does one live sustainably and does it hurt your wallet if you do?
SINGAPORE — Not too long ago, a colleague asked me: "Why aren't you green?"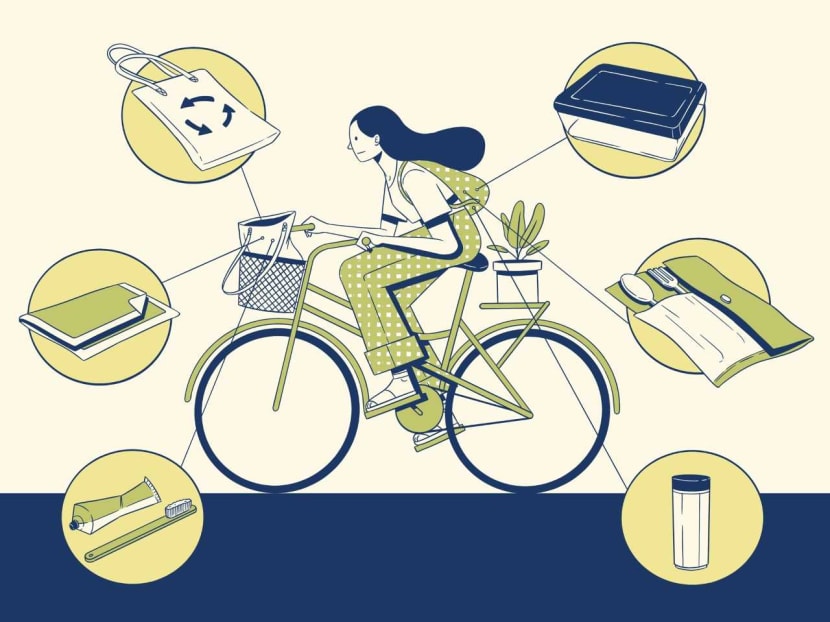 Adulthood is an invigorating stage of life as young people join the workforce, take on more responsibilities and set their sights on the future. But its many facets — from managing finances and buying a home to achieving work-life balance — can be overwhelming.
In this series, TODAY's journalists help young Singaporeans navigate this stage of their lives and learn something themselves in the process.
SINGAPORE — Not too long ago, a colleague asked me: "Why aren't you green?"
For context, we were chatting about a recent Big Read I wrote for TODAY on ethical consumerism in Singapore, and how some of my interviewees were trying their best to live both sustainably and ethically.
In the report, I also quoted a Climate Index published by OCBC bank and digital media company Eco-Business, which found that of the 2,000 Singaporean respondents they polled, 80 per cent listed "sustainable living" as the most important element under Singapore's Green Plan.
Yet, despite scoring a high of 8.3 out of 10 for sustainability awareness — that is, they were well-informed on environmental issues — the index found that the respondents were half-hearted when it came to adopting green practices and advocating them.
"That's you, lah," my colleague said. I countered that I refuse to take straws when buying drinks from the coffee shops, and I stuff most of my purchases into my backpack when I need to shop, rather than use a plastic bag.
Thankfully, our conversation was over text message, and she did not see me sheepishly turning off the air-conditioner for my bedroom-cum-office that, as usual, was on a fairly chilly setting, with the fan on at full blast as well. I like it cold.
She was right. As someone who has covered environmental topics from time to time, I have not been doing my best to live sustainably.
I admit, I have always put my own convenience and comfort first. It has felt like too much of a hassle to change my lifestyle.
But what about my peers? What was stopping them from living sustainably?
An informal poll I did with them found that the most common reason they gave was the perception that it is expensive to adopt a sustainable way of living.
Yet, those who have already made living sustainably as part of their identity disagreed that it was a hassle or expensive to do so.
For this column, I returned to one of my interviewees for The Big Read feature and also spoke with a sustainability advocate to get some practical and achievable tips to inspire those who, like me, would like to make a meaningful change in their lifestyle for the betterment of the environment.
As for those who are more concerned about their wallets than the environment, some of these tips might still be useful since they encourage you to be careful with your money.
WHAT DOES IT MEAN TO LIVE SUSTAINABLY?
Living sustainably does not mean having to buy eco-friendly products, which can be rather expensive.
Ms Jasmine Hussain said that "it is completely unnecessary". She was the 25-year-old interviewee for The Big Read, who set herself down the path of trying to live sustainably at the age of 19 and has kept on it consistently.
"It's about not living excessively, and being conscious about your purchases and whether you really need it. It's as simple as that."
In other words, it is about minimising the need to use more resources than we have to.
Ms Samantha Thian, a sustainability manager and founder of Seastainable, a social business that supports marine conservation, expressed a similar view.
The 27-year-old added that it is also about finding ways to cut down on your carbon footprint.
THE 'BUYERARCHY OF NEEDS'
Ms Thian said that when it comes to making purchases, it will be helpful to think in terms of the "Buyerarchy of Needs".
Created by Canadian illustrator Sarah Lazarovic, it is a hierarchy of behaviour that is inspired by Maslow's Hierarchy of Needs, a psychological theory of human motivation.
Ms Lazarovic treats buying as the top tier of the pyramid — the last resort — after all other options for obtaining the items you need have been tried.
I have categorised the tips shared by Ms Thian and Ms Hussain according to the "Buyerarchy", starting from the bottom tier of the pyramid.
1. Use what you have
Rather than buy fancy, eco-friendly products such as tumblers, bamboo straws or lunch boxes, why not consider if you really need them, they said.
If you do, search your home first as you might already have similar items that could do the job, Ms Hussain said.
For example, if you need to organise your room, you might already have empty shoe boxes that you could use for storage, rather than buying a brand new container.
"It's good to know what you have already because we tend to have a lot of things at home that we don't realise are useful and functional," she said.
2. Borrow or swap
If you cannot find what you need at home, the next thing you could do is ask your friends or family.
"Parents like to have multiples of things that they don't really need," she quipped. "And a lot of people get freebies, too, so I'm sure they may have extra things lying around that you could use."
And in some instances, you might be able to trade the desired item for something the other person needs that you might have as well.
3. Thrift
If borrowing or swapping fails, then you can always consider heading to the thrift stores or online classified platforms such as Carousell for pre-loved items such as clothes or electronics.
More than once, I have also heard accounts from friends that they have encountered sellers on Carousell letting go of items that are almost brand new due to purchasing mistakes on the seller's end.
So why not help them out while scoring yourself a deal?
And when none of the above does it for you, only then do you need to consider buying something new.
LOWERING CARBON FOOTPRINT
Aside from being conscious of our buying habits, we could also find other ways to live sustainably, Ms Thian said.
For meat-lovers hoping to lower their carbon footprint, Ms Thian suggested going meat-free once a week, rather than going completely vegetarian. "This is really achievable," she said.
Ms Thian suggested other achievable ideas to consider to reduce carbon output or resource consumption:
Cycling to nearby locations, rather than driving or being driven there

Limiting the use of the air-conditioner

Collecting rainwater for your plants

Adding water thimbles to your taps to save water
And if you are doing food takeaways, it is good to plan ahead so you will always have a reusable container on hand when you need it.
CHANGING HABITS
As I thought about the feasibility of implementing these ideas for myself, Ms Hussain told me that I should take it at my own pace and "don't feel guilty" if I cannot stick to it.
She said that for someone hoping to embark on their own sustainability journey, the one mistake to make is to commit to a radical change all at once.
This approach is simply not, pardon the pun, sustainable and you will likely be overwhelmed and put off by it.
A friend recommended author James Clear's book Atomic Habits: Tiny Changes, Remarkable Results as a source of inspiration for forming new habits.
Mr Clear states that one of the laws for doing so is to make it as easy for yourself as possible.
So pick what you feel is doable and keep at it. Over time, it will become automatic and you will eventually form a new habit.
As Mr Clear puts it, every action you take is a vote for the type of person you wish to become.
"No single instance will transform your beliefs, but as the votes build up, so does the evidence of your new identity. This is one reason why meaningful change does not require radical change. Small habits can make a meaningful difference by providing evidence of a new identity," he wrote.
ABOUT THE WRITER:
Low Youjin is a senior journalist at TODAY where he covers the environment, manpower, as well as the court and crime beats.